'[A]ny personal relationship is nothing compared to the safety of millions of Filipinos, and to the need for honest science'
The following is the fifth in a series of excerpts from Kelvin Rodolfo's ongoing book project "Tilting at the Monster of Morong: Forays Against the Bataan Nuclear Power Plant and Global Nuclear Energy."
Mark Cojuangco and his allies widely declare that the Bataan Nuclear Power Plant (BNPP) is safe from faulting. They are not only wrong, but they dangerously mislead the public about the earthquake hazard. 
My next two forays will document that the active Lubao Fault runs from the municipality of that name through the entire body of Natib Volcano and emerges at the Natib Point site of the BNPP. 
The BNPP could also easily be damaged by distant earthquakes. Remember how the 1990 earthquake in Nueva Ecija trashed Baguio?
But first, the propaganda out there. Cojuanco's main scientific propagandist is Dr. Carlo Arcilla, Director of the Philippine Nuclear Research Institute (PNRI) since 2017.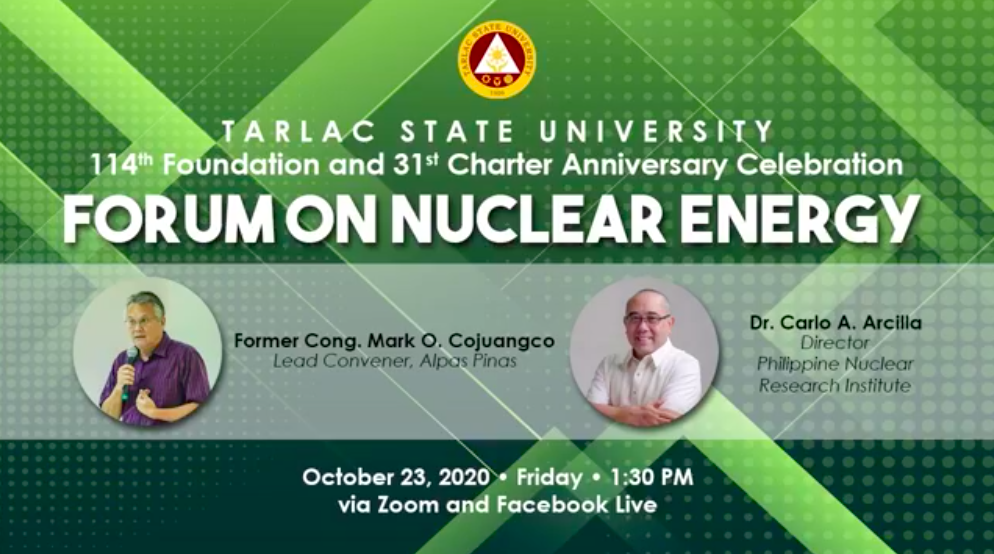 This foray is by far the hardest and most painful to write. I cannot but agonize over having helped to prepare Arcilla for his position of power. 
I facilitated Arcilla's acceptance into our graduate program at the University of Illinois at Chicago. He took my Marine Geology seminar, and I served on his Masters and Doctoral committees.  
But any personal relationship is nothing compared to the safety of millions of Filipinos, and to the need for honest science. My comments are strictly limited to the public record of his participation in the conspiracy to activate BNPP.
Arcilla's statements carry weight because he used to be director of the National Institute of Geological Sciences at UP Diliman. All too often, expertise rests solely on such credentials. But expertise on any subject is best demonstrated by one's publications. Examine Arcilla's record on Google Scholar. Does anything even remotely bear on nuclear power, or on the safety of BNPP at Napot Point? Categorical statements by "experts" in newspapers and on TV simply won't do.  
The Department of Science and Technology, biased in favor of nuclear power, selected Arcilla as PNRI Director because he shares that bias. He did once claim two publications supporting BNPP: a PowerPoint presentation and its abstract at the June 2005 Asia Oceania Geosciences Society meeting in Singapore. They used to be available online through PNRI, but have vanished. I did download them in August 2009, and can share them. 
Slide 30 of his presentation says: "No direct evidence of fault running across facility" and "Latest satellite data suggest also no large structures directly located at nuclear plant." But his Slide 34 is based on a terrain diagram that Mahar Lagmay casually dashed off for him. On it, Arcilla mistakenly located Napot Point about 8 kilometers up the coast. The red lineaments in the diagram are suspected faults; one passes right through BNPP's Napot Point site, which I have relocated correctly here. The diagram also mislocated Pinatubo, which does not drain into Subic Bay and is not next to Natib. The volcanoes are separated by about 17 kilometers of intervening quaternary volcanic terrain.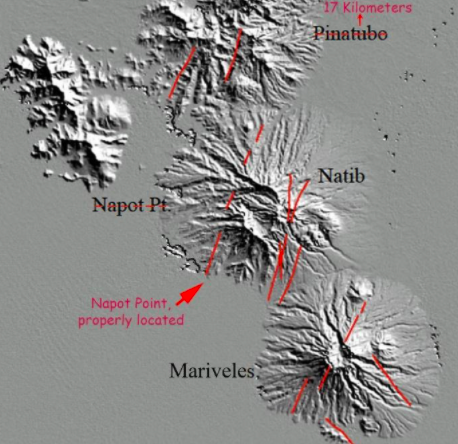 To Mahar's eternal embarrassment, Arcilla made him a co-author without asking. He also used some of my material without permission and thanked me, implying  my support.
The Napot Point lineament is approximately the same one that nuclear technologists Elmer Hernandez and Gabriel Santos reported during construction in January 1977, risking Marcos' wrath. Geophysicist Ernesto Sonido also documented it in 1979.  
So: in 2005, Arcilla accepted the lineament as a suspected fault 8 kilometers away from where he thought BNPP was.  
But shortly after the push to activate BNPP began in 2009, at a Cojuangco-led congressional "ocular inspection" of BNPP, he talked to Inquirer reporter Tonette Orejas:  
 "Arcilla…said the NPP is not located near a fault. 
"An independent study he is starting would confirm that information, Arcilla said."
Should any scientist publicly declare his findings before doing the work?  But my wife and I heard the interview tape. Is it surprising that an electrical-resistivity survey Arcilla conducted later "found no fault"? Electrical-resistivity cannot definitively rule out a fault. The direct evidence presented by Hernandez, Santos, and Sonido is much more meaningful.
Even more is the work by Mahar Lagmay and his associates, as we will see. On Google Scholar, compare Lagmay's world-class tectonic and volcanologic record with Arcilla's.
At the House Appropriations Committee BNPP hearing in February 2009, Arcilla said there was no fault at Napot Point because the government's Mines and Geosciences Bureau had not mapped it. That reasoning means that the Subic Bay faults we mapped in 2005 also do not exist; likewise, the Maraunot Fault cutting into the Pinatubo caldera reported in 2007; and the many Bicol faults mapped and published by Lagmay's Volcano-Tectonic Laboratory at UP-NIGS.  
In another March 8, 2009 Philippine Inquirer interview, Arcilla said that an impending Natib eruption can be predicted in time to shut the plant down.  That may be true, but it would be impossible to move the spent fuel rods and prevent catastrophe. 
He acknowledged that Mt. Natib is potentially active, but said that the risk of an eruption during the 60 years that the BNPP will operate is very small.
The International Atomic Energy Agency is much more cautious. When BNPP was sited on Napot Point in the 1970s, it had no safety standards for siting nuclear plants in volcanic terrain. It now does. Quoting from those standards:
"Within a geographic region, volcanic activity can persist for longer time[s] than…individual volcanoes…. [M]any volcanic arcs exhibit recurring volcanic activity for longer than 10 [million years], although individual volcanoes within the arc itself may remain active only for around 1 [million years].… [V]olcanic regions that have had activity during the past 10 [million years] should be considered to have at least the potential for future activity."
Remember that Pinatubo was "extinct" until a few months before its 1991 eruption, the world's worst of the last century. Also, our last foray documented that a pyroclastic flow from Mt. Natib entered Subic Bay no earlier than 18,000 years ago. Furthermore, evidence says that Mt. Mariveles erupted as recently as 4,000 years ago.
As proof of Natib's harmlessness, Arcilla said that Phivolcs is not monitoring the volcano. But Pinatubo was also unmonitored until it became restless only three months before its 1991 eruption. 
He defended the design of the BNPP by the safety records of "carbon copies" of the plant in Korea and Taiwan since the 1980s. Both countries have healthy "cultures of safety" that we lack, and Korea has neither volcanoes nor frequent seismicity. Furthermore, a 2009 news item details many problems at those Korean plants.
As proof of the BNPP invulnerability to earthquakes, Arcilla said the 1990 Luzon earthquake did not damage it. This is absurd; the plant was not running! Think of the spent-fuel pool, the vulnerable cooling-water intake, and high-tension cables of an operating plant.
He said the BNPP was mothballed because of the Chernobyl catastrophe in Ukraine, but that US-designed nuclear power plants are far safer than their Russian counterparts. That may be true, but Fortune Magazine has described the shoddy BNPP construction in great detail.
The sources backing up everything said here are, as always, available on request.
Our next two forays, like great breaths of cleansing air, will be the pure science about the Lubao Fault and BNPP's volcanic hazards: nothing but the geologic facts. – Rappler.com
Keep posted on Rappler for the next installment of Rodolfo's series.
Born in Manila and educated at UP Diliman and the University of Southern California, Dr. Kelvin Rodolfo taught geology and environmental science at the University of Illinois at Chicago since 1966. He specialized in Philippine natural hazards since the 1980s.
Previous pieces from Tilting at the Monster of Morong: