'[W]hat will cause Lorenzana sleepless nights is that the troops encamped in UP's campuses might flip and go to the dark side. Life at UP has this uncanny way of making you question your beliefs and be open to the other side's arguments.'
If Defense Secretary Delfin Lorenzana thinks he can control UP, he is in for a big surprise. He may get his soldiers to fall in line with a single bark, but if he does the same to UP students, the latter will just break down in laughter.
The institution and its habitués do not look kindly to pushy outsiders. They are incredibly protective of their "academic freedom," and when presidents past tried to take this away, the backlash was intense. The UP community has its share of internal disputes, ideological feuds, bureaucratic battles, and petty quarrels, but these divisions get easily cast aside in the face of a menace.
Also, you may be a corrupt two-legged rat in Congress, a Makati CEO, or a senior communist cadre, but like Pavlov's hounds, when the alma mater is threatened, you sound the clarion and add your name to the protests. Odd but true. Just look at the list of people who expressed uneasiness with Lorenzana's epal. Even Harry Roque, Duterte's mouth, had to do a linguistic twist-and-turn to show that he has always been a UP loyalist.
Everyone doubled down, and in social media, one impish fellow (a UP denizen?) came up with the Mouth's bind: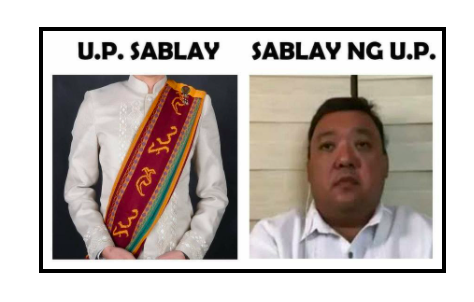 But what will cause Lorenzana sleepless nights is that the troops encamped in UP's campuses might flip and go to the "dark side." Life at UP has this uncanny way of making you question your beliefs and be open to the other side's arguments.
This has happened before. After Marcos declared martial law, military and police agents swarmed UP's Diliman campus to thwart any activists' attempts to revive the movement in Diliman, to make sure activism would not return. The campus also became a "training ground" for would-be spies.
One such spy was an Isagani Laxamana, a member of the UP Security force, who the late Armando Malay described as a "security undercover" agent.
In his "Diary of a Decrepit Dean," Malay introduced Laxamana in a July 16, 1973 entry. Laxamana and another agent had come to see the Dean to get "some info or document" – most likely the membership roll of student organizations.
Laxamana saw Malay again on April 24, 1974, "to borrow OSA's [Office of Student Affairs] list of Alpha Sigma," a fraternity known for its left-wing sympathies. On July 31, the undercover agent returned the "folder of UP Political Science Club" and warned Malay "that campus radicals are active again but are more subtle and insidious than before."
But something else also happened at that meet: they ended up reminiscing "about [the] early days of student activism in UP." One can imagine them puffing their cigs at Malay's office in Vinzon's Hall, with the Dean sitting back in his chair, his head raised as he enjoyed his pequeño cigarillo marrón.
On December 19, 1975, Laxamana told Malay they already knew that activists were planning to "march" to the UP President's Office. But he also alerted the Dean of a plan by two pro-Marcos fraternities – Upsilon Sigma Phi and APO – to harass members of the left-wing-controlled transitory Committee on Student Affairs (COMSA).
Two months later, on February 6, the spy and the dean appeared to be BFF's, bigtime. The former was now giving his insights on campus politics. He seemed to have spoken highly of how the progressive-led Students Rights and Welfare crushed their conservative rivals in the elections for the Student Conference, the first since martial law was declared.
The high point in their "friendship" came on August 11, 1976. Laxamana proudly told Malay how he stood his ground when 3 officers from the AFP's military intelligence came to arrest a suspected activist. He told them that without a warrant and unable to show any formal identification, they would not be allowed to go further in the Diliman campus. He "dissuaded them from carrying out operation unless the 2 conditions were met. The 3 G-men left."
Malay's last mention of Laxamana was on February 17, 1977, when he warned Malay that the Metropolitan Command (Metrocom) had "xeroxed UPSD records on the Delaney Hall raid" (the UP parish priest's residence). After that, Laxamana seemed to have disappeared – perhaps shifting careers if Malay could get him a job at UP's Yakal Residence Hall!
There is no doubt that Laxamana collected information on student activists and sent these to his superiors. But Malay's entries also indicate that he ended up working both sides, updating the Dean with nary a worry that Malay would pass this info on to the students.
In the end, Laxamana and his fellow spies were unable to stop the activist surge. In June 1977, upon learning that UP President Onofre D. Corpuz decreed (unilaterally!) that tuition fees be increased, students in the Diliman campus walked out of their classes in the thousands. And in the seventh anniversary of martial law, they joined workers and urban poor in Manila's first significant demonstration.
Lorenzana can set up camp inside UP's campuses. Still, he better be ready if some of his people "go Laxamana" on him. – Rappler.com
Patricio N. Abinales (Class '72) is the second in his family to enter UP. He is preceded by his late mother Julia (Class '50), and succeeded by his niece Charity (Class '09).