To prevent future, more drastic waves of layoffs and business closures, it is incumbent upon the economic managers to extend help to as many people as possible, fast
Economic misery in the Philippines is at an all-time high.
National output shrank by a record 16.5% in the second quarter of this year – the worst decline in history and one of the worst declines among our major ASEAN neighbors. Unemployment also reached a record high of 17.7% in April.
Meanwhile, one in 5 Filipino families are hungry – the highest rate since 2014 – and as many as 5.5 million Filipinos could join the ranks of the poor due to the pandemic (if they haven't already).
In July, a whopping 79% of adult Filipinos said they became worse off in the past year (see graph below). That number exceeds the rate during all previous economic crises, including the one during Marcosian Martial Law.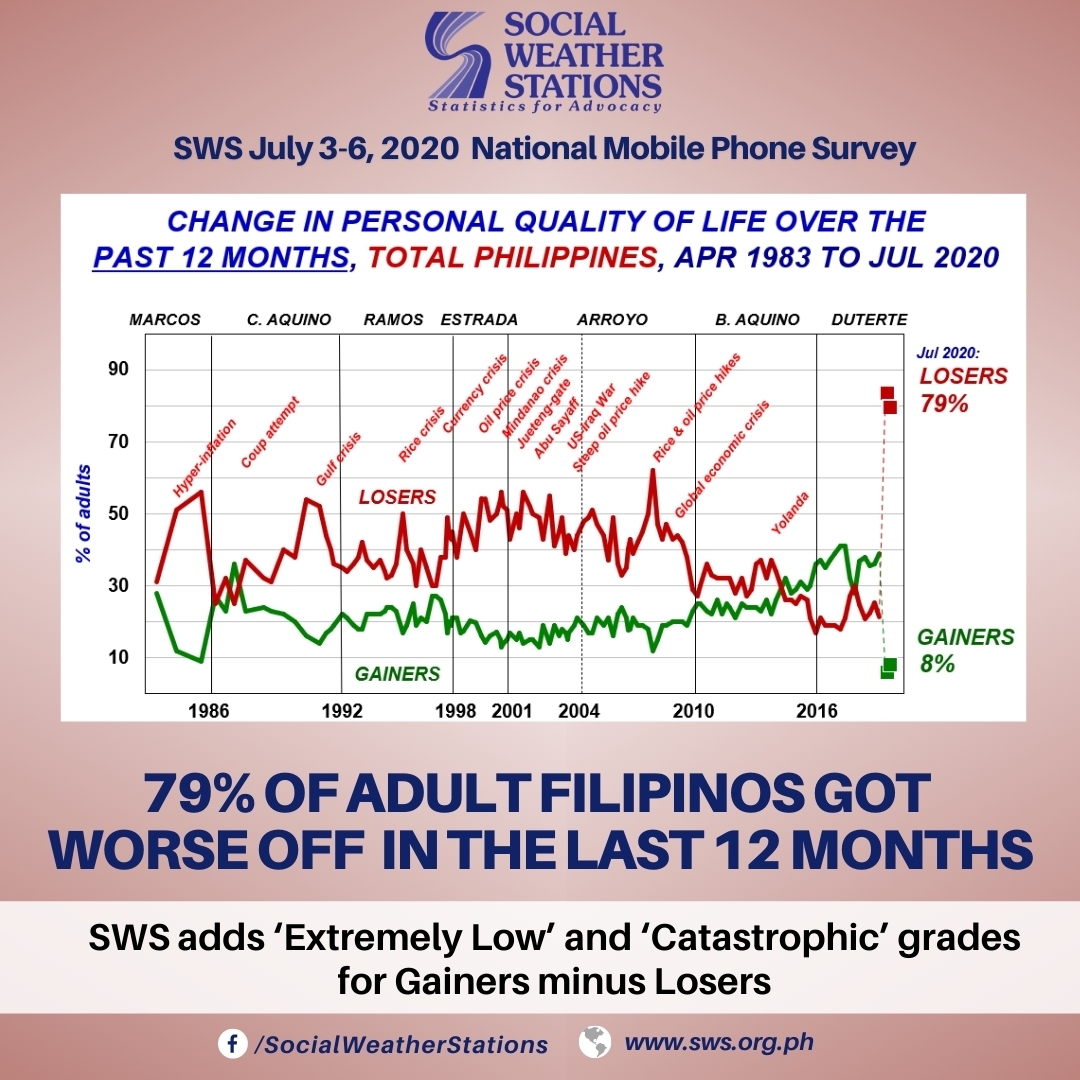 Amid all this economic misery, Duterte and his economic team don't think you deserve to receive more cash aid.
Sure, Congress is now finalizing the Bayanihan to Recover as One Act (a.k.a. Bayanihan 2), an economic rescue package amounting to anywhere from P140 billion to P162 billion.
But upon close inspection, these amounts are astonishingly puny compared with the amounts Filipinos truly need. It's like trying to put out a burning house using a watering can.
What's more, a misplaced sense of fiscal conservatism is holding back Duterte's economic team from pouring more money into economic aid.
Peanuts
Both houses of Congress recently passed on third and final reading their respective versions of Bayanihan 2, which is turning out to be the centerpiece of Duterte's economic rescue plan for the rest of the year.
The House version allots P162 billion in economic aid, while the Senate version allots only P140 billion. The final amount is yet to be determined by the bicameral conference committee, which was scheduled to meet this Friday, August 14.
Assuming the final amount lies somewhere between these figures, it's peanuts for several reasons.
For starters, other economic rescue packages proposed much larger amounts.
The ARISE Philippines bill, championed by Marikina Representative Stella Quimbo and other lawmakers, allotted P1.3 trillion (yes, with a "t") for economic aid, ranging from wage subsidies to zero interest loans and loan guarantees.
This amount is 8 to 9 times as large as the aid in Bayanihan 2.
Another major bill, COVID-19 Unemployment Reduction Economic Stimulus (Cures) Act of 2020, allocated an even larger amount of P1.5 trillion. But this is mainly earmarked for rural infrastructure projects in the next 3 years. (READ: Why we can't Build, Build, Build our way out of this pandemic)
Some budget friends and I proposed an alternative supplementary budget costing P595 billion. (READ: How the Senate can save us from Duterte's ailing pandemic response)
Bayanihan 2 also looks disproportionately small next to the economic damage we have sustained thus far. In the second quarter, the economy's total output shrank by P707 billion in nominal terms. That's more than 4 times the total aid in Bayanihan 2.
With more lockdowns looming in the horizon (due to the continued rise of COVID-19 cases), Filipinos might need to hunker down at their homes for even longer periods. Consequently, the aid in Bayanihan 2 could prove even more inadequate.
As Bayanihan 2 went through the legislative mill, lawmakers also slashed or otherwise realigned much-needed aid for sectors hit badly by this pandemic, including transportation and tourism.
Moreover, only P15 billion to P20 billion was allotted for cash-for-work programs. And in the House version of Bayanihan 2, only P12 billion was allotted for the Department of Social Welfare and Development's programs, including its emergency subsidies.
Recall that the emergency subsidies for April and May under Bayanihan 1 cost around P200 billion. Yet Filipinos need even more subsidies now, what with the new lockdowns in place.
Supercorporation
If the aid involved is too little, how do policymakers hope to rescue the economy with Bayanihan 2?
Evidently they're literally putting their money on ARISE Inc, a new holding company that, in partnership with the Land Bank of the Philippines (LBP) and the Development Bank of the Philippines (DBP), aims to rehabilitate "strategically important companies" in agriculture, infrastructure, manufacturing, and other sectors.
By infusing ARISE Inc with at least P45 billion worth of capital, policymakers hope to spur economic activity through its beneficiary companies.
Finance Secretary Carlos Dominguez III keeps mentioning "multiplier effects": each peso spent on ARISE Inc will supposedly generate P8 to P10 worth of economic activity (thus generating a total of at least P400 billion, according to their estimates).
But this strategy is deeply flawed.
First, government has yet to present the study that estimated these purported multipliers. Even supposing the estimates are accurate, P400 billion will fall short of the total economic losses in the second quarter alone.
Second, there's no word yet on how the beneficiary companies will be selected, and exactly what forms of assistance they might get.
Third, bigger corporations – or those with close relationships with the current administration – might enjoy a disproportionate share of these benefits, effectively crowding out micro, small, and medium enterprises (MSMEs) which need help the most.
Absent good oversight, billions worth of taxpayers' money might simply be pocketed by favored corporations without really stimulating economic activity.
Fourth and last, there are alarming provisions that could exempt certain transactions of ARISE Inc from the Philippine Competition Act, compromising the country's competition environment.
If government wants to assist companies, it would be far better to give out direct aid in the form of, say, wage subsidies or zero-interest loans (in contrast to bailouts, at least taxpayers can still recover their money over time). (READ: Had Duterte acted earlier, PH economy would be safe to open by now)
Even better to tie aid directly to the plight of workers. In the US, they have a Paycheck Protection Program where the government handed out $520 billion worth of loans for businesses. These loans don't have to be repaid if businesses keep their workers on their payrolls.
Credit ratings fetish
The refusal of Congress to spend aggressively on aid can be traced to the inordinate stinginess or "fiscal conservatism" of Duterte's economic managers.
When the latest GDP figures were released, Finance Secretary Carlos Dominguez III told media that just like a boxer we must "conserve" our fiscal resources "for succeeding rounds of this fight" against the pandemic.
This thinking is misguided. Workers are losing their jobs left and right now. Businesses are shutting down now. If we don't rescue all of them soon, our economy will be harder to restart later, and bouncing back will take a much longer time.
But the economic managers fear that pouring money into economic aid might ruin our finances and drag down our credit ratings.
A credit rating is essentially a score assigned to governments to assess their creditworthiness. For years now, our credit ratings have been steadily improving. They have been a singular source of pride for the economic managers, past and present.
But in the middle of a pandemic, this fetish for good credit ratings is unconscionable.
Many other countries are pulling out all the stops to help their citizens, even if it means taking on rising debt and risking credit rating downgrades. Filipinos urgently need help, too, and maintaining our credit ratings should be the least of our economic managers' concerns.
To prevent future, more drastic waves of layoffs and business closures, it is incumbent upon the economic managers to extend help to as many people as possible, fast. Their refusal to do just that betrays how unmoored they are from reality.
And no, we can't help businesses by simply relaxing quarantine restrictions. That will only exacerbate the pandemic. (READ: Kalusugan muna bago ekonomiya)
If there's anyone to blame for the necessity of lockdowns now, it is government itself: they acted too late against the pandemic. (READ: Had Duterte acted earlier, PH economy would be safe to open by now)
Missing the spirit of bayanihan
Secretary Dominguez recently rebuked critics pressuring government to borrow more and forget about credit ratings. He supposedly said, "That's very anti-Filipino."
Since when did credit ratings figure in Filipino culture? Note that when Dominguez assumed the post of finance secretary back in 2016, he gave a speech accusing the previous administration of obsessing over credit ratings. The tables have turned.
Here's what's truly anti-Filipino: not helping each other in times of crisis.
With the insultingly low amounts in Bayanihan 2, it's as if government doesn't want to save the millions of Filipinos currently drowning in a sea of economic uncertainty and misery.
Isn't that antithetical to the very spirit of bayanihan? – Rappler.com
The author is a PhD candidate and teaching fellow at the UP School of Economics. His views are independent of the views of his affiliations. Follow JC on Twitter (@jcpunongbayan) and Usapang Econ (usapangecon.com).