The Philippine delegation at COP21 in Paris welcomes the UN climate official's call as the hard work begins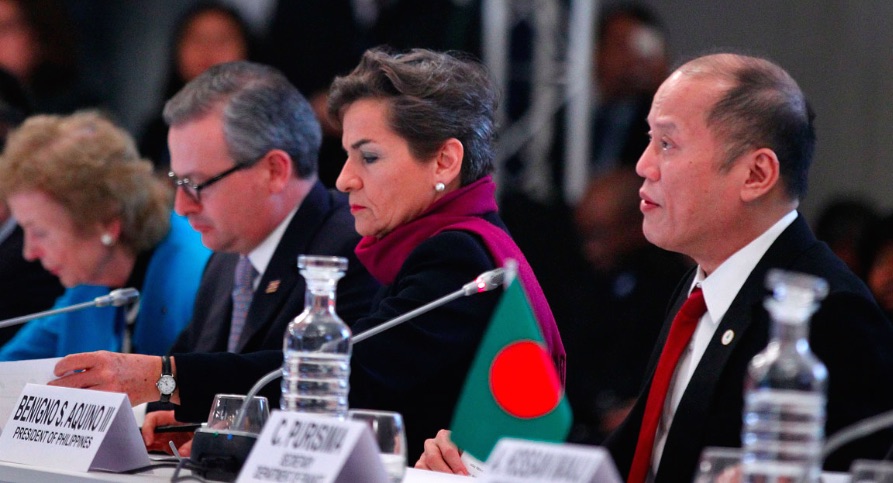 PARIS, France – President Benigno Aquino III left Paris for Rome Tuesday, December 1, on a high note. The Philippines, on behalf of the Climate Vulnerable Forum (CVF) which it chairs, received the Ray of the Day award Tuesday night from The Climate Action Network (CAN) for its "bold call for 100% renewable energy."
A day earlier, the High-Level event CVF headlined Aquino after he gave a statement at the world leaders' event of the COP21 or the 21st Conference of Parties of the UN Convention Framework on Climate Change.
At the well-attended CVF forum, he joined other leaders from vulnerable countries in calling for full decarbonization of the world economy by shifting 100% to renewable energy by 2050, and zero emissions by mid-century to keep global warming at bay. 
However, a UN climate official was not entirely pleased even as she hailed the long-term goal of the vulnerable countries. 
In a candid but awkward moment at the CVF event, Christiana Figueres, Executive Secretary of the United Nations Framework Convention on Climate Change (UNFCCC), who was seated beside Aquino, called out the governments of vulnerable countries.
"May I raise a voice of concern. I do not see the countries around this table working in an articulated and coordinated fashion," Figueres told the leaders. "This is an urgent matter. I very much appreciate that you're already looking beyond Paris, but many countries around this table and many others outside (will) determine whether we have an ambitious agreement or we just have an agreement," Figueres said. 
Challenge accepted 
President Aquino did not directly address Figueres' concern, but the Philippine delegation here welcomed the UN climate official's remark.
Speaking for the group, Dean Tony La Viña said that they considered it a challenge as the hard work at COP21 began on Tuesday.
"Recognizing this challenge and that we all belong to the G77 and China as well as our own negotiating groups, we will continue to work together to influence the Paris negotiations so it adopts the 1.5 target and the inclusion of a loss and damage mechanism and human rights into the agreement," La Viña told Rappler.
Noting that CVF has expanded under the leadership of the Philippines, La Viña said that the group will push for the following immediate demands during the negotiatons: 
International goal of 2 degrees to below 1.5°C

Adequate, predictable, and scaled up finance and other support

Strong loss and damage mechanism

Inclusion of human rights
"Of course, because its members are mostly small countries, the group is not as powerful as we want ourselves to be. But that is precisely why we band together as a leadership group to have a bigger megaphone in the negotiations," La Viña said.
#COP21: The Rappler climate coverage
A force to reckon with?
The CVF originally included 20 countries: Afghanistan, Bangladesh, Barbados, Bhutan, Costa Rica, Ethiopia, Ghana, Kenya, Kiribati, Madagascar, Maldives, Nepal, Philippines, Rwanda, Saint Lucia, Tanzania, Timor-Leste, Tuvalu, Vanuatu, and Vietnam. 
On Monday, it reaffirmed the Manila-Paris declaration adopted in November 2015 and launched the CVF roadmap 2016-2018.
The group welcomed 23 new member countries: Burkina Faso, Cambodia, Comoros, Dominican Republic, DR Congo, Fiji, Grenada, Guatemala, Haiti, Honduras, Malawi, Mongolia, Morocco, Myanmar, Niger, Palau, Papua New Guinea, Senegal, South Sudan, Sri Lanka, Sudan, Tunisia, and Yemen. 
The 43 countries are home to a billion people who are vulnerable to rising sea levels, expanding deserts, and extreme weather condiitons. 
The High-Level meeting on the sidelines of COP21 was a culmination of two years of expert, diplomatic, and senior official discussions that paved the way for the bold Manila-Paris Declaration which Aquino described as the group's "shared aspirations for a world that is more just and more sustainable."
"Individually, we are already survivors," Aquino stressed in his keynote speech at CVF. "Collectively, we are a force towards a fairer, more climate-proactive world." – Rappler.com