EXCLUSIVE: Rappler gets a copy of the passport of Indonesian extremist Bahrun Naim who is said to have organized the Jakarta attacks from Syria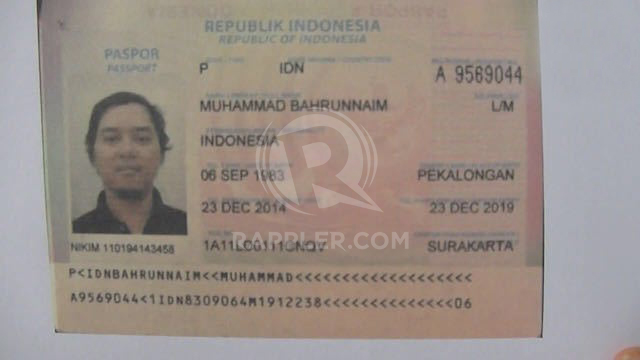 JAKARTA, Indonesia – The terrorist attacks that hit the Indonesian capital on Thursday, January 14 were claimed by the Islamic State of Iraq and Syria (ISIS) – the first in Asia so far.
On the same day, Indonesian police pointed at Bahrun Naim as the man who organized the attacks, an Indonesian who is said to have left the country for Syria and is still based there, fighting with ISIS.
But who exactly is Bahrun Naim?
Rappler sourced Naim's passport, which says he was born on September 6, 1983. The 32-year-old was born in Pekalongan, Central Java.
In November, Naim wrote a blog praising the Paris attacks that killed 130 people. He also encouraged Indonesians to follow suit, calling the attacks "inspirational."
According to the S. Rajaratnam School of International Studies, Naim also allegedly "funded several foiled bomb plots in Solo, Central Java, targeting a Buddhist temple, a church, and police stations during the Indonesian Independence Day anniversary" on August 2015.
That same month, he also posted a blog supporting lone wolf attacks "to rise up against the Indonesian archipelago."
He is also said to have been in communication with at least one of those arrested in December after the police foiled a major New Year's terror plot, as well as with other cells and individuals who were planning attacks in Indonesia.
Naim is reportedly a founding member of Katibah Nusantara, the grouping of Southeast Asian fighters in Syria. (READ: 4 things you need to know about ISIS in Indonesia)
Police chief Tito Karnavian, who also used to head the Indonesian counterterrorism agency Densus 88, said he believes Naim's perpetrator network is based in Raqqa, and that Naim is one of those competing for leadership of ISIS in Southeast Asia. He hopes to unite all ISIS-linked groups in Indonesia, Malaysia, Thailand and the Philippines to gain power in the region.
Naim was arrested in November 2010 and was sentenced to 2.5 years in prison for possession of illegal ammunition but the court said there was not enough evidence for terror charges.
He was released in June 2012, and staged the latest Jakarta attacks about 3 and a half years later. – Rappler.com