(8th UPDATE) Vice President Jorge Glas says the earthquake is the 'worst seismic movement we have faced in decades'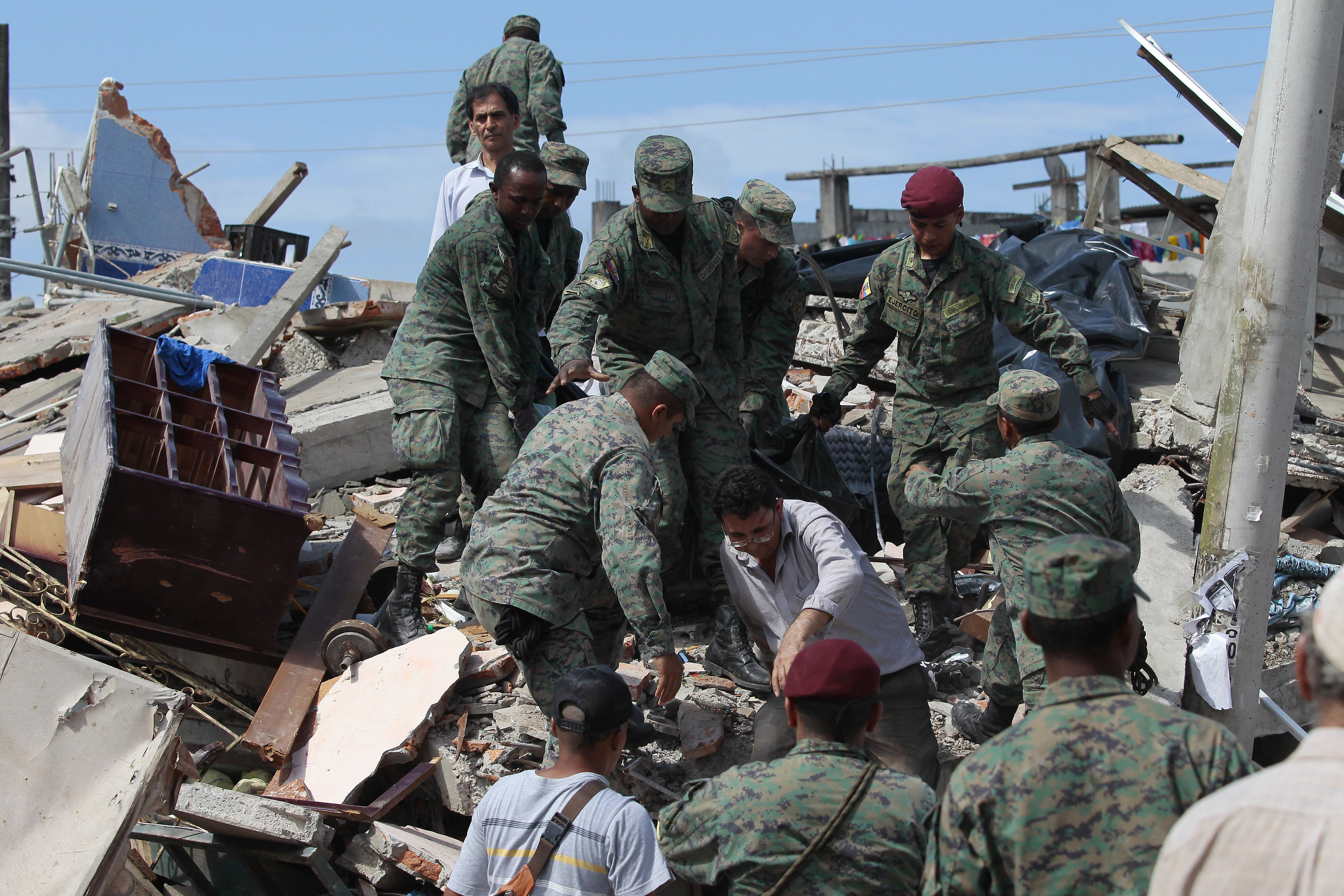 PORTOVIEJO, Ecuador (8th UPDATE) – Rescuers in Ecuador raced to dig out people trapped under the rubble of homes and businesses on Sunday, April 17, following a powerful 7.8-magnitude earthquake that killed at least 233.
Vice President Jorge Glas called it the "worst seismic movement we have faced in decades."
President Rafael Correa said on Twitter that the death toll Sunday had risen to 233, up from an initial count of 77 dead and 600 injured. He added that Glas was on his way to the hard-hit city of Portoviejo on the Pacific coast.
The quake, felt across Ecuador, northern Peru and southern Colombia, struck at 6:58 local time Saturday evening (2358 GMT), lasting for about a minute and was centered approximately 170 kilometers northwest of the capital Quito. 
No casualties were reported in Peru or Colombia.
Devastation
In Portoviejo, the temblor reduced houses to rubble, brought down a local market in a nearby community, and left streetlights and debris scattered helter-skelter.
"It was horrible, this is the first time I feel an earthquake like this," resident Macontos Bibi, 57, told AFP, still in shock a day later. "I thought my house was going to collapse."
According to Glas, 14,000 security forces, 241 medical staff and two mobile hospitals were being rushed to the most devastated areas, with reinforcements arriving from Colombia and Mexico.
"We know that there are citizens trapped under rubble that need to be rescued," he said in a special TV and radio broadcast.
In the town of Abdon Calderon near Portoviejo, 73-year-old resident Nelly, who would not give her last name, told AFP in tears that she had rushed into the street after the quake and saw that the covered market had collapsed.
"There was a person trapped who screamed for help, but then the screaming stopped. Oh, it was terrible," she said.
Maria Torres, 60, who lives in Quito, said the quake lasted so long it made her dizzy.
"I couldn't walk … I wanted to run out into the street, but I couldn't."
In the Pacific port city of Guayaquil, home to more than two million people, a bridge collapsed, crushing a car beneath it, and residents were picking through the wreckage of houses reduced to heaps of rubble, an AFP photographer reported.
At the city's airport, passengers awaiting flights ran out of the terminals when they felt the ground shake.
"Lights fell down from the ceiling. People were running around in shock," said Luis Quimis, 30, who was waiting to catch a flight to Quito.
Ecuador's Geophysical Office reported "considerable" structural damage "in the area near the epicenter as well as points as far away as Guayaquil."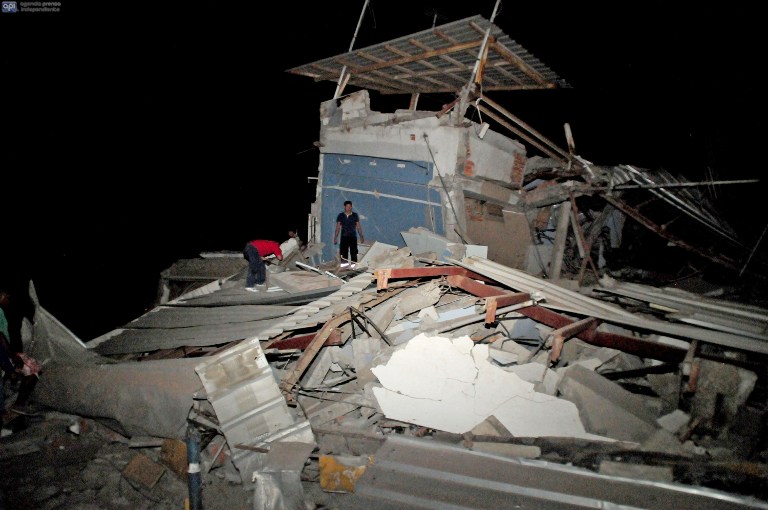 Earthquake zone
Officials declared a state of emergency in the 6 worst-hit provinces.
The US Geological Survey (USGS) said the 7.8-magnitude quake struck off the northwest shore of Ecuador, just 27 kilometers from the town of Muisne. The vice president gave a slightly lower measurement of magnitude 7.6.
Ecuador lies near a shifting boundary between tectonic plates and has suffered 7 earthquakes of magnitude 7.0 or higher in the region of Saturday's quake since 1900, the USGS said. One in March 1987 killed about 1,000 people, it said.
At least 55 smaller aftershocks rattled the country after the main quake, Glas said.
The Hawaii-based Pacific Tsunami Warning Center initially issued a warning for the nearby Pacific coastline but later said the threat had passed.
David Rothery, a professor of geosciences at The Open University, said the quake's 7.8 magnitude meant that "shaking at its underground source was about 6 times stronger than in the magnitude 7.0 earthquake in southern Japan just over a day before."
"The total energy involved was probably about 20 times greater," he said, adding that there was no causal relationship between the two quakes.
The quake that hit Japan early Saturday left at least 41 dead.
'Severe damage'
Miriam Santana, a 40-year-old resident of the western city of Manta, described scenes of devastation.
"It was as if the world was about to end," she told AFP by phone. "Homes were coming down – around my house 3 homes collapsed, and street lights fell."
"There are people trapped under the rubble," she said, adding that local residents were in a state of "total desperation." 
Authorities closed the city's airport, saying the control tower suffered "severe damage."
In northern Quito, people ran out of their homes in terror as power lines swayed back and forth, knocking out power to some areas.
Correa, who was on a visit to the Vatican when the quake struck, called for "calm and unity" in a phone interview with Radio Publica.
In Rome, Pope Francis urged prayers for Ecuador quake victims.
US Secretary of State John Kerry expressed his "heartfelt condolences" to the quake victims and said Washington was ready to assist and support Ecuador.
Federica Mogherini, chief diplomat for the European Union, announced that it would help the South American country. – Santiago Piedra Silva, AFP / Rappler.com