Indonesia has also placed a temporary ban on sailing permits for ships going to the Philippines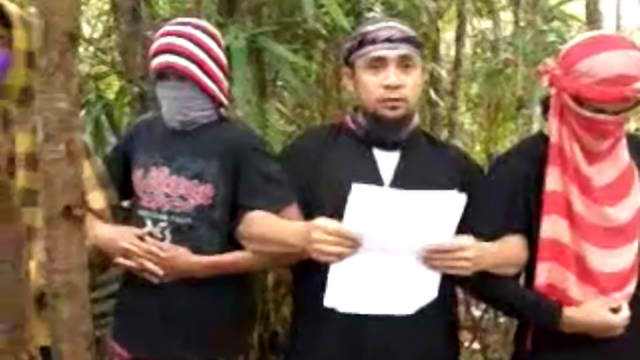 JAKARTA, Indonesia – Weeks after the kidnapping of 10 Indonesian sailors in waters off the southern Philippines, Chief Security Minister Luhut Pandjaitan said the company who owns the ship, Patria Maritime Lines, has agreed to pay $1 million or Rp 14.3 billion worth of ransom for their release.
Luhut also said they are still investigating the location of the other 4 Indonesians that were kidnapped last week. On Saturday, April 16, gunmen abducted 4 Indonesians and wounded one crew member. 
Initial information indicates they 10 sailors may have been taken by an Abu Sayyaf faction to Sulu, a remote southern island that is a hideout of the militant outfit.
In the past, Abu Sayyaf, whose leader has pledged allegiance to ISIS, has mainly targeted tourists as they can demand high ransoms for foreigners. 
Many Western and other embassies routinely issue warnings against travelling to most of the Philippines' Muslim-populated southern regions, which lie just northeast of Sabah, because of the risk of being abducted by the group.
Ships banned from sailing
Meanwhile, ships are not being allowed to sail to the Philippines – for now. As for those with permits already, they must be escorted by the military.
The temporary ban on the release of sailing permits comes after the two separate kidnappings of Indonesian groups.
Transport Minister Igansius Jonan told local media that coal barges currently in Philippine waters will be escorted back the Indonesian military. For ships that cannot be escorted back by the military for the moment, like those in Tarakan and Manado, Jonan said the ships will remain there.
The ban will be lifted after Indonesia and the Philippines reach an agreed solution to the problem.
Earlier, in a bid to curb kidnappings, Malaysia also imposed a temporary ban on the trade route between Sabah and the southern Philippines.
"The government has suspended barter trade between the two regions until a comprehensive plan is formulated to ensure the safety and security of Sabah state. It is a temporary ban," marine police chief Abdul Rahim Abdullah told AFP. 
"We have deployed marine police boats along with ships from the maritime enforcement agency and the navy to enforce the ban," he added. – with reports from AFP/Rappler.com