The National Electoral Board says it will hand over the paperwork allowing the opposition to seek nearly 200,000 signatures needed as a first step towards calling a referendum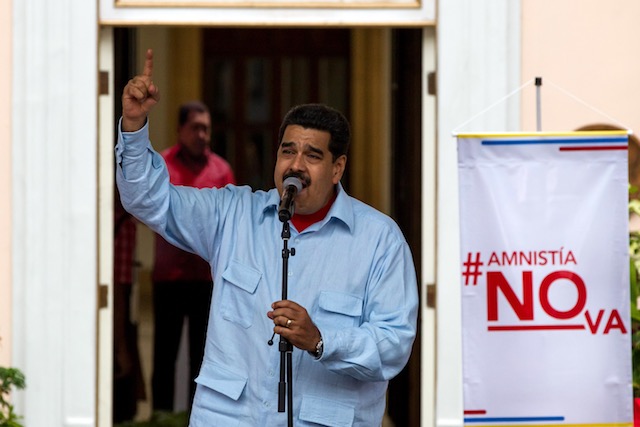 CARACAS, Venezuela – Venezuelan President Nicolas Maduro's opponents advanced Tuesday, April 26, in their mission to drive him from office when electoral authorities gave them authorization to take initial steps seeking a recall referendum.
The National Electoral Board said it would hand over the paperwork allowing them to seek nearly 200,000 signatures needed as a first step towards calling a referendum.
It is one of the legal means the opposition is trying to use to oust Maduro, whom it blames for the country's severe economic crisis.
He has vowed to hold onto power and continue the socialist "revolution" of the past 17 years.
The electoral board said in a statement it "will hand over the form for launching presidential recall referendum proceedings" to members of the opposition coalition, the Democratic Unity Roundtable (MUD).
Under electoral law the coalition first needs to gather signatures from one percent of the electorate – just under 200,000 – to approve launching the process.
If it gets them, it can then launch formal proceedings to try to call the referendum. To do that it needs to gather a further four million signatures.
"The good news is that this afternoon we are going to have the paperwork. A group of deputies is going to pick it up," said Julio Borges, leader of the opposition majority in the legislature.
The opposition had called for demonstrations Wednesday, April 27, in front of the electoral board's offices to demand it hand over the forms after it had earlier declined to do so.
After Tuesday's announcement by the electoral board, Borges said they would decide later whether to go ahead with the plan to demonstrate.
Maduro's opponents say he controls the electoral authorities and the Supreme Court, which has blocked several of their bills in the legislature.
Venezuela's economy has plunged along with the price of the oil on which it relies for foreign revenues.
Citizens are suffering shortages of medicines and goods such as toilet paper and cooking oil.
"The country's energy is on the move to achieve democratically what is allowed under the constitution: to hold a referendum this year and then elect a new government of national unity that can get us out of this chaos," Borges said.
Maduro blames the crisis on an "economic war" against Venezuela by capitalists. – Rappler.com