(UPDATED) Preliminary results put Norbert Hofer 3.8 percentage points ahead, but this slim lead could be erased once postal votes are counted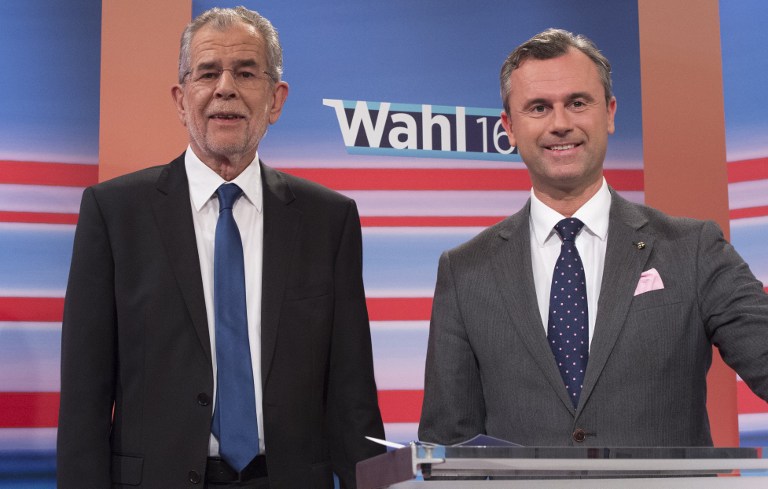 VIENNA, Austria (UPDATED) – Austria stood at a political crossroads Monday, May 23, ahead of the final result of a knife-edge election that could make it the first EU country with a president from the anti-immigration far-right.
Preliminary results late Sunday, May 22, put Norbert Hofer, presented as the friendly and moderate face of the late Joerg Haider's Freedom Party (FPOe), 3.8 percentage points ahead in the race for the largely-ceremonial post.
But this paper-thin margin of just 144,006 votes could well be erased once around 700,000 postal votes are counted, with projections indicating that former Greens chief Alexander van der Bellen might emerge as victor in the final furlong.
A final result is expected between 5 pm and 7 pm (1500-1700 GMT), said interior ministry election official Robert Stein.
Smiling gun enthusiast Hofer, 45, has tapped into unease about the record number of people claiming asylum last year at the height of Europe's migrant crisis, with his typical supporters made up of working-class men who do not have a high-school diploma.
But this self-proclaimed "gladiator" has also toned down the FPOe's message to appeal to voters disillusioned with the centrist parties in the current government that have dominated national politics since 1945.
"I'm happy that we have finally rid ourselves of the cliches attached to the party," said supporter Henriette Hakl at the FPOe's beery post-election party on Sunday evening.
"I get offended when someone says I'm from the extreme-right. I'm a post-war child, I love life but I want order in my country."
Hofer's winning strategy has mirrored the success of other fringe political figures across Europe, as well as further afield as seen with the success of Donald Trump in the United States.
In a first round of voting on April 24, candidates of the Social Democrats (SPOe) and their center-right coalition partners People's Party (OeVP), came a disastrous 4th and 5th with just 11% of the vote.
Their failure means that for the first time since 1945, the two parties are having to watch the second round from the sidelines. This was the final straw for Werner Faymann of the SPOe, who quit as chancellor on May 9.
His successor, railways boss Christian Kern, now has two years to win voters back from the arms of the far-right – which is leading in the polls with more than 30% – before the next scheduled general election.
'Election thriller'
Few observers thought that the professorial and somewhat dishevelled Van der Bellen, 72, could beat his polished younger rival after lagging 14 points behind him in the first round.
"Very few people thought I could catch up," Van der Bellen said late Sunday.
"But in the last 14 days there has been such a momentum among voters – musicians, actors, workers, totally different people across all generations, professions, and all sections of society."
Karin Cvrtila from polling institute OGM called his surprise success an "election thriller."
"He has really recovered in the past couple of weeks, partly because of a good campaign," she told AFP.
The FPOe has shaken up Austrian politics and sent shock waves through Europe before.
In 2000, under then-leader Haider – who memorably praised Hitler's employment policies – it entered a coalition with the OeVP.
The result was international isolation and Austria temporarily becoming a pariah in Europe.
This time, however, observers note there could be less of a backlash in light of surging support for populist parties elsewhere in Europe.
But other dangers lurk.
Since the end of World War II, the Austrian head of state has performed a largely ceremonial role in the gilded halls of the Hofburg, the former Habsburg palace in Vienna.
But the new president could potentially shake things up, by using hitherto untapped powers to dissolve parliament or fire the government.
"You'll be amazed what a president is capable of," Hofer said during the campaign. – Nina Lamparski and Simon Sturdee, AFP / Rappler.com