Siapa sebenarnya iblis berwujud suster menyeramkan ini?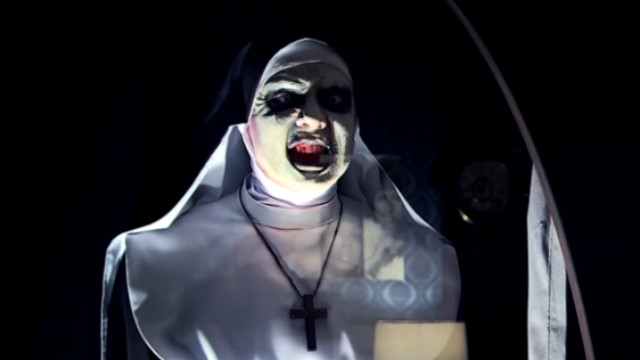 JAKARTA, Indonesia — (UPDATED) Film The Conjuring 2: The Enfield Poltergeist yang sudah ditunggu-tunggu para pecinta film horor baru saja rilis di bioskop Tanah Air.
Selain jalan ceritanya yang misterius, efek menyeramkan dari film ini juga bertambah dengan kehadiran sosok Valak, seorang hantu berwujud suster menyeramkan.
Siapa sebenarnya sosok hantu yang akhir-akhir ini memenya ramai bergentayangan di media sosial?
(BACA: Meme Valak 'The Conjuring' berkeliaran di media sosial)
Nama Valak yang muncul dalam berbagai dokumen kuno. Berbeda dengan di film, dalam dokumen-dokumen tersebut, Valak disebut sebagai iblis bertubuh anak kecil bersayap malaikat yang mengendarai naga berkepala dua dengan tangan memegang ular.
Namun situs Live Sci Fi mengatakan bahwa Valak yang dimaksud dalam film ini merupakan gambaran dari iblis bernama Bezzlebub.
Dalam studi tentang iblis atau demonologi, Valak atau Valac disebut-sebut sebagai pemimpin terbesar di neraka yang memiliki 30 legiun iblis di bawah komandonya. Valak merupakan satu dari 72 iblis yang dijelaskan dalam buku Lesser Key of Solomon, buku panduan demonologi yang ditulis pada abad ke-17.
Dalam demonologi yang dijelaskan di kangibay.net, Valak merupakan iblis kelas Apokomistai, iblis paling tua dan paling kuat. Ia bisa merasuki makhluk apapun, termasuk manusia dan makhluk halus lainnya.
Tapi, Valak hanya bisa dipanggil oleh iblis sesama Apokomistai atau oleh manusia, khususnya anak kecil karena anak kecil yang masih polos adalah makanan kesukaannya.
Aktris Bonnie Aarons dipercaya menjadi karakter hantu biarawati tersebut. Agar terlihat meyakinkan, wajah Aarons harus rela dimake up sehingga terlihat menyeramkan. 
Setelah menjadi populer berkat The Conjuring 2, dikabarkan akan diliris film spin-off khusus untuk menceritakan sosok iblis Valak. Rencananya film yang diberi judul "The Nun" itu akan tayang pada tahun 2017. Kita tunggu saja. —Rappler.com