But the White House quickly said it had no intention of pardoning Snowden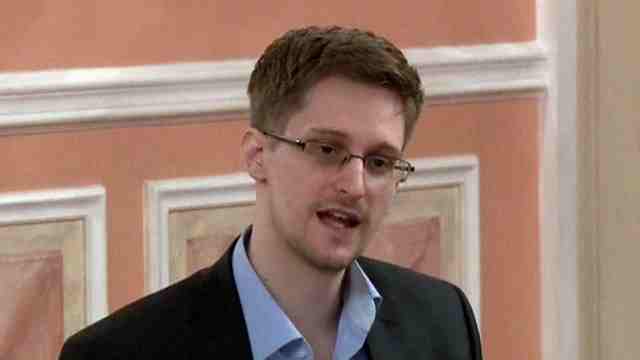 NEW YORK, USA – Amnesty International, Human Rights Watch and the American Civil Liberties Union launched a campaign Wednesday, September 14, to push President Barack Obama to pardon Edward Snowden, the fugitive intelligence whistleblower living in Russia.
High-profile lawyers and celebrities including writer Joyce Carol Oates and actor Martin Sheen have already signed the campaign's main prod, a petition at pardonsnowden.org that urges Obama to grant Snowden clemency before the president leaves office in January.
But the White House quickly said it had no intention of pardoning Snowden, a former contractor for the National Security Agency who released thousands of classified documents in 2013 revealing the vast US surveillance put in place after the September 11, 2001, attacks.
White House press secretary Josh Earnest disputed that Snowden was a whistleblower and said he would enjoy legal due process at a trial in the United States, where he faces up to 30 years in prison for espionage and theft of state secrets.
"His conduct put American lives at risk and it risked American national security. And that's why the policy of the Obama administration is that Mr. Snowden should return to the United States and face the very serious charges that he's facing," Earnest told reporters.
In July, the White House rejected an earlier petition to pardon Snowden that had garnered more than 160,000 signatures.
The 33-year-old fled with documents to Hong Kong, where he hid among Sri Lankan refugees in cramped tenements, and later received political asylum in Russia after the United States revoked his passport while he was en route to Ecuador.
Anthony Romero, executive director of the American Civil Liberties Union, said that despite the White House's "not very positive reaction" initially, "we think it will change with the public's response" to the campaign.
Bernie Sanders, who ran a leftist campaign for the Democratic Party nomination to succeed Obama, offered his support, writing on Twitter: "The interests of justice would be best served if our government granted Snowden some form of clemency."
Leaks morally 'necessary'
Snowden and his supporters argue that although he stole information, the revelations have benefited the public because they led to improved privacy protection laws.
In a videoconference Wednesday, Snowden reiterated that he could not receive a fair trial in the United States under the Espionage Act.
"It does not permit a whistleblower defense," he said. "The law does not distinguish between those who give free sensitive information to journalists and spies who sell it to foreign powers."
Snowden himself asked Obama for a pardon in an interview with The Guardian published on Tuesday, September 13, telling the British newspaper by video-link: "If not for these disclosures, if not for these revelations, we would be worse off."
"Yes, there are laws on the books that say one thing. But that is perhaps why the pardon power exists – for the exceptions, for the things that may seem unlawful in letters on a page but when we look at them morally, when we look at them ethically, when we look at the results, it seems these were necessary things," he said. 
The rights groups launched the campaign on the heels of a release of a biopic thriller, Snowden, by anti-establishment director Oliver Stone.
"We hope that Mr. Obama has a stroke of lightning and he sees the way," Stone said last week at a screening at the Toronto Film Festival.
Clock ticking on Russia residency
Pop great Peter Gabriel released a song, "The Veil," to accompany the film. The video features cameos of Snowden himself, staring at a computer screen and walking through the woods, interspersed with footage of US analysts poring over photos of ordinary citizens in various states of undress.
The English singer said that Snowden's revelations "shocked the world and made it very clear why we need to have some way to look over those who look over us."
"With increasing terrorist attacks, security is critical, but not without any accountability or oversight," Gabriel said in a statement.
Sarah Harrison, a representative of the website WikiLeaks who helped Snowden flee Hong Kong and seek refuge in Russia, hoped the film would help rehabilitate his image but acknowledged she would be "very surprised" if he wins a pardon.
Snowden's residency permit in Russia runs out next year.
"Then the question comes up again of where he can be safe. Obviously, he'd love to go back home," Harrison told Agence France-Presse last week.
Alternatively, "he'd really like asylum in a number of other countries, some European countries," she added.
"Maybe the situation will have changed in some of those, but sadly so far he's always been denied." – Rappler.com