Around 50 protesters chant 'Pardon Snowden' and 'We are not criminals' as they marched to the US consulate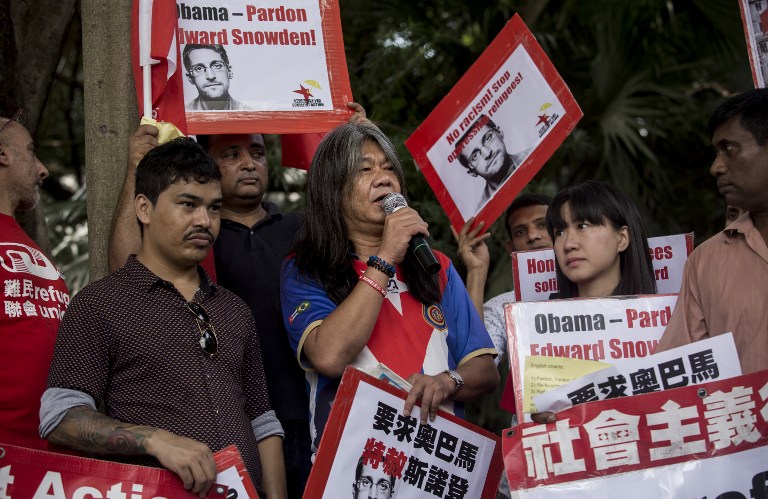 HONG KONG – Activists and refugees staged a protest in Hong Kong on Sunday, September 25, calling on Washington to pardon fugitive whistleblower Edward Snowden, with protesters describing refugees in the city as "heroes" for helping him evade authorities in 2013.
The former National Security Agency contractor, who released thousands of classified documents revealing the vast US surveillance put in place after the September 11 attacks, currently lives in Russia.
He fled with documents to Hong Kong, where he hid among Sri Lankan refugees in cramped tenements, and later received political asylum in Russia after the United States revoked his passport while he was en route to Ecuador.
The New York Times reported he stayed with at least 4 refugees with the help of a human rights lawyer in the southern Chinese city.
Protesters said the city's refugees, many of them forced to live in slum-like conditions, and Snowden both suffered rights abuses. 
"We are forced to leave our country like Snowden. We stand together with him to fight for pardon," a 36-year-old refugee from Indonesia, who only gave her name as Dede, told AFP. 
Around 50 protesters chanted "Pardon Snowden" and "We are not criminals" as they marched to the US consulate, with some holding placards that read "No racism. Stop Oppressing refugees."
Protest organizers said 11,000 refugees have applications for protection pending but have no official status and no right to work.
"The Hong Kong government thinks refugees are criminals… but they are true heroes. They helped Edward Snowden escape the US government back in 2013," Sally Tang of Socialist Action told reporters at the rally. 
Amnesty International, Human Rights Watch, and the American Civil Liberties Union have launched a campaign to pressure President Barack Obama to pardon Snowden, who is also the subject of an Oliver Stone movie. – Rappler.com