A CBS/New York Times survey shows Clinton leading 45% to her Republican rival's 42%, with the vast majority of supporters saying their minds are made up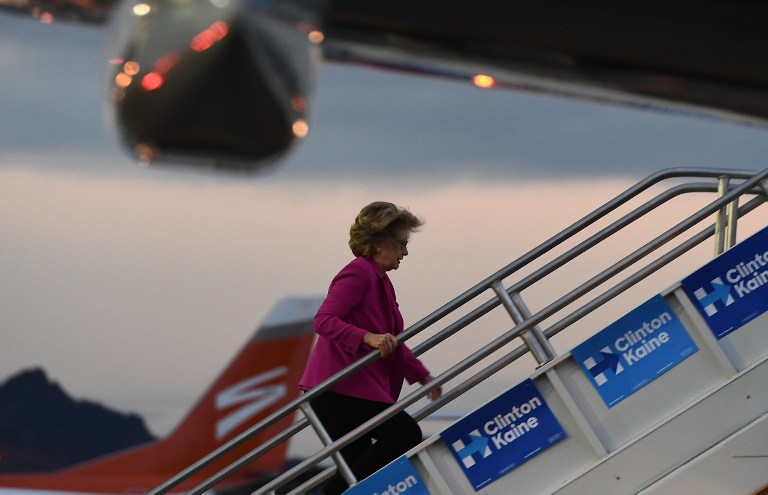 WASHINGTON, DC, USA – The battle for the White House tightened Thursday, November 3, with a fresh poll showing Hillary Clinton's lead ebbing and Donald Trump winning over once wary Republican voters days before the monumental vote.
A CBS/New York Times survey showed Clinton leading 45% to her Republican rival's 42%, with the vast majority of supporters saying their minds are made up.
After months of vitriolic and turbulent campaigning, political tribalism appears to be returning to the fore in the deeply divided nation ahead of Election Day on November 8.
Profound Republican skepticism about Trump's controversial candidacy appears to be ebbing. 
Despite the Manhattan real estate mogul's boasts about sexual assault and allegations of groping by about a dozen women, white women are evenly split between the two candidates, the poll showed.
Similarly, Clinton's troubles with the FBI over her use of a private email server appears to have dissuaded few Democrats, with only eight percent saying it would make them less likely to vote for the former secretary of state.  
With the campaign now in its final stages, each candidate is making final arguments to voters, crisscrossing battleground states and carpet-bombing the airwaves with high-priced ads.
But neither candidate wants to make a mistake and the race has taken on a frenetic yet formulaic quality.
Even Trump is sticking to the teleprompter and avoiding his most explosive rhetoric as the campaign winds down.
"Nice and cool. Right? Stay on point, Donald, stay on point. No sidetracks, Donald – nice and easy," the 70-year-old billionaire said out loud during a rally in Florida.
Instead he has warned voters that a Clinton presidency would be overshadowed by indictments, and renewed his vow to "drain the swamp" of corruption in Washington. 
Clinton and her phalanx of high-powered surrogates – among them presidents Barack Obama and Bill Clinton – have argued Trump is "uniquely unqualified" for the Oval Office.
On Monday, the eve of the election, Clinton, her husband and the Obamas will campaign together in Philadelphia in a show of Democratic force.
Shock election
Trump has ridden the aftershocks of the Great Recession and waves of antipathy toward the political elite to the gates of the White House.
Could he yet cause an upset?
"Democrats are quite right to be nervous about the outcome," said a team of political analysts at the University of Virginia.
But, they added, there was no "compelling argument" that the race favors Trump or is even a toss-up.
Financial markets have lurched as the race has tightened – trying to "price-in" a Trump victory that they had long thought impossible.
But even at this late stage, a Trump win would be a political surprise on par with Harry Truman's victory over Thomas Dewey in 1948.
As Trump and Clinton try to energize their base and mop up as many votes as possible, attention is increasingly turning to the political landscape after the election.
The November 8 polls will not only decide who wins the White House, but the scale of the new president's mandate and who controls Congress.
Clinton will want to run up a massive margin to silence her legions of virulent critics and put Trump's unfounded allegations of vote rigging to bed.
Republicans are strongly favored to retain control of the House of Representatives, but a renewed majority in the Senate is less clear.
They got a major boost on Thursday from a WBUR poll showing New Hampshire's incumbent Republican Senator Kelly Ayotte leading her Democratic rival by 6 points in that must-win race.
Obama will spend the eve of the election in the state, hoping to turn that race around and tether Ayotte to Trump's more extreme positions.
But with 5 days to go until the election and time running out to sway undecided voters, Obama was stumping Thursday in the bitterly contested must-win state of Florida.
"You don't just have to vote against this guy because you have a candidate who is actually worthy of your vote," Obama said. 
"She made me a better president. She understands policy. She understands how the world works."
Trump will hold a rival rally in the city of Jacksonville not long after Obama's event, highlighting both candidates' laser focus on the Sunshine State.
Long-shot bets
The long 2016 race is now being fought in a few corners of a few states, most notably Florida, Ohio and North Carolina.
These 3 states offer the best chance for both candidates to cross the winning threshold of 270 out of 538 electoral college votes.
But the two hopefuls have also placed some long-shot bets.
Clinton traveled to Arizona, which Democrats haven't won since 1996 when her husband Bill claimed the presidency by a landslide.
An Emerson poll on Wednesday had Clinton losing the state by only 4 percentage points, and both of its Republican senators oppose Trump, offering the prospect of a shock Clinton win.
Meanwhile, Trump campaigned in Wisconsin and Michigan, both traditionally Democratic states where polls show Clinton leading by 6 points or more. 
Both candidates are already planning for a favorable outcome on Election Night.
Trump's campaign said Wednesday its invitation-only "victory party" will be held at the Hilton Midtown hotel in New York, a short distance from Trump Tower.
Clinton has booked the glass-enclosed Jacob K Javits Convention Center, also in New York – a wink to the "glass ceiling" she would be breaking as the first woman elected to the White House. – Rappler.com