A snowballing political scandal has led to Park Geun-Hye to become the first sitting South Korean president to be interrogated in a criminal case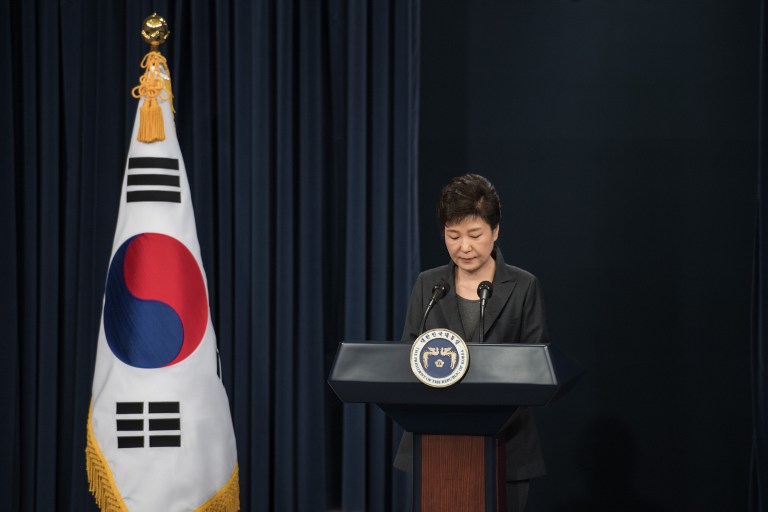 SEOUL, South Korea – South Korean President Park Geun-Hye has hired a lawyer ahead of questioning by prosecutors over a snowballing political scandal that has engulfed her administration, her spokesman said Tuesday, November 15.
Park, who would be the first sitting president to be interrogated in a criminal case, has seen her approval ratings plunge, with hundreds of thousands of protesters taking to Seoul's streets on Saturday, November 12, demanding she resign.
The scandal centers on Park's shadowy confidant Choi Soon-Sil, who is accused of using her ties with the president to coerce local firms to donate millions of dollars to non-profit foundations that Choi then used for personal gain.
Prosecutors on Sunday, November 13, announced a plan to formally quiz Park this week over allegations she helped Choi extract money from the firms and allowed presidential aides to leak documents to Choi.
Park's newly retained lawyer, Yoo Young-Ha, will discuss with Seoul prosecutors exactly when, where and how Park would be questioned, Park's spokesman told reporters.
Choi, 60, is also accused of interfering in state affairs to the extent of nominating officials and editing Park's speeches even though she has no official title or security clearance.
Choi, whose father was an elusive religious figure and a long-time mentor to Park until his death in 1994, was arrested earlier this month for abuse of power and fraud. Two presidential aides have also been arrested.
The probe widened again Tuesday, when prosecutors raided the office of Samsung's advertising unit, Cheil Worldwide, as part of an investigation into Choi's relatives, the Yonhap news agency said.
Samsung made the largest donation of some 20 billion won ($17.5 million) to Choi's foundations and is accused of separately offering 2.8 million euros ($3.1 million) to Choi to bankroll her daughter's equestrian training in Germany.
Prosecutors found evidence that Cheil had made questionable donations to a non-profit sports foundation controlled by Choi's niece, Jang Si-Ho, Yonhap said. 
"The raid is in connection with Cheil's donation to (Jang's) foundation," Yonhap quoted a Seoul prosecutor as saying.
Jang, described by local media as a key Choi aide, is accused of using the foundation and a sports management firm controlled by her to funnel state funds and to extract donations from local firms.
The Tuesday raid came after prosecutors quizzed the Samsung group scion Lee Jae-Yong and other heads of the powerful conglomerates including Hyundai over the scandal. 
The "donations" from the conglomerates to the two foundations controlled by Choi amount to about 77 billion won. 
Shin Dong-Bin, chairman of Lotte Group, was also summoned to the prosecutors' office on  Tuesday to answer questions. The country's fifth largest business group donated 4.5 billion won to the two foundations.
Under South Korea's constitution, the incumbent president may not be charged with a criminal offence except insurrection or treason.
But many have argued the sitting president can be investigated by prosecutors and then charged after leaving office. – Rappler.com