Official: 'This is an isolated event that has nothing to do with APEC'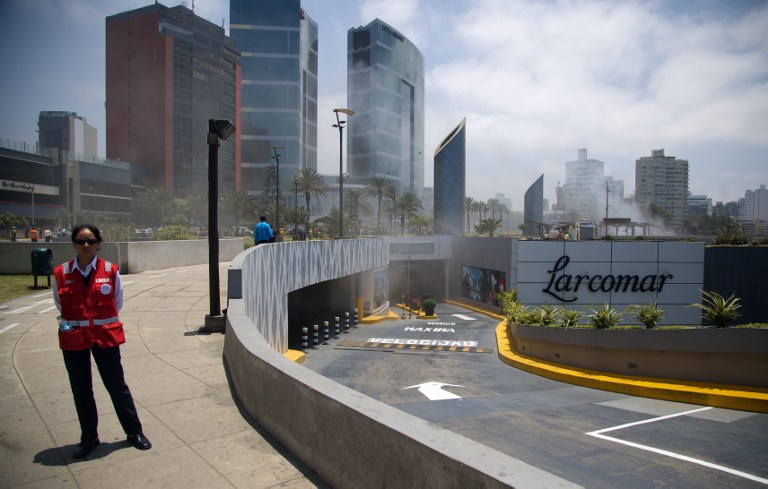 LIMA, Peru – At least 5 people died Wednesday, November 15, in a fire at a shopping mall steps away from a Lima luxury hotel where some APEC Asia-Pacific trade summit delegations were expected to stay, officials said.
Five bodies – 4 men and one woman – were found near the mall's movie theater, and a search for additional victims is under way, police said.
"All had been asphyxiated and the woman had second-degree burns," Anselmo Talledo, commander of the fire brigade, said at a news conference.
The fire was 90% contained but firefighters were continuing to  look for missing people amid thick smoke, he said. 
The fire began around 9:45 am (1445 GMT) at the upscale Larcomar shopping center in the Peruvian capital city's Miraflores district.
The mall, which sits perched on a cliff, has sweeping views of the Pacific. And it is hugely popular with tourists as well as locals.
The nearby Marriott Hotel, steps away, was slated to host several delegations and attendees of a leaders summit of the Asia-Pacific Economic Cooperation forum.
Reports had suggested the delegation accompanying US President Barack Obama at the summit had planned to stay at the hotel.
Police chief Hugo Begazo acknowledged that Lima police had contacted the US delegation, and were working in coordination with US security operations.
But he said the fire's proximity to the hotel was a coincidence.
"This is an isolated event that has nothing to do with APEC," Begazo said.
Firefighters said the blaze started in a movie theater on one of the mall's lowest levels, and frightened workers, citizens and tourists were evacuated from the area. – Rappler.com