Les Cayes Mayor Gabriel Fortune uses military tactics to evacuate schools-turned-shelters into voting centers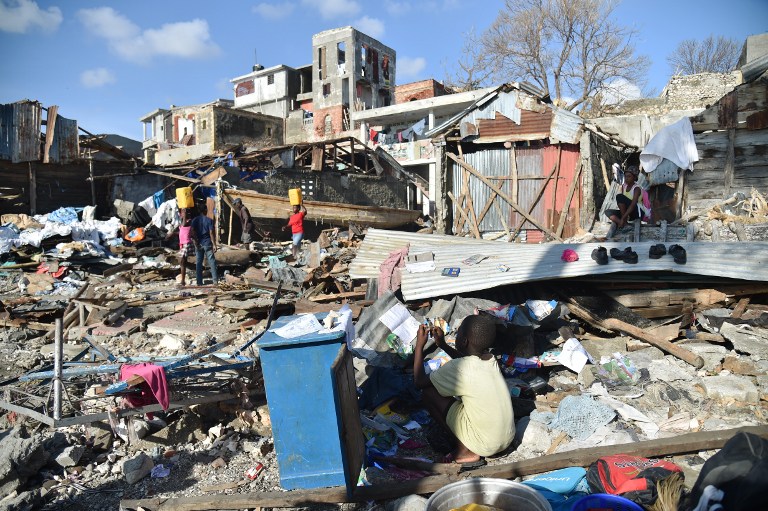 LES CAYES, Haiti – Tensions are high at a school in the Haitian city of Les Cayes, where victims of Hurricane Matthew have been housed for 6 weeks but worry they will be thrown out to make way for voting Sunday, November 20.
The 181 families sheltering in the Jean-Claudy Museau school are blaming the mayor of the southern city, who they say allowed them in the facility then tried to evict them.
"We all lost our homes. Our kids don't have clothes to change into," said Marie-Merlande Nicolas, a 32-year-old mother of 3.
The mayor "can't move us out of this shelter with dignity, there will be no elections. It's the mayor who put us here before the storm," she said.
A day earlier Gabriel Fortune, mayor of the third-largest city, had evacuated another school-turned-shelter using military tactics to make way for a voting center.
"Yes, I asked the enforcement forces and the public prosecutor's office to evacuate the shelters," Fortune said in a phone interview with AFP.
"I don't call that a solution – it's a real dilemma because these families don't have a viable solution, but they can count on their relatives," he said.
Some families who remained in shelters despite evacuation have been thrown into the street by police officers using clubs and tear gas. 
At the Jean-Claudy Museau school, however, residents have been allowed to stay through a twist of fate – about 30 people among them have handicaps that prevent their eviction.
'Nothing significant happens'
Gripping a white cane, Dusnel Fontaine rages against the authorities' harsh treatment, saying it only reinforces his distaste for political life.
"We don't believe in elections because, when we vote, nothing significant happens," said Fontaine, who has been blind since birth.
The fate of thousands of victims of Hurricane Matthew, which slammed into Haiti on October 4, has been a concern for the international community as the poorest country in the Americas tries to dig out from massive destruction.
Nearly 175,000 people have lost their homes to the storm. Several hundreds of them are still occupying public buildings, a problem that goes beyond the demands of the simple voting agenda.
Haiti goes to the polls on Sunday in hopes of dragging itself out of a long-standing political crisis and choosing a leader from a 27-strong roster of presidential candidates.
Forced evictions, ordered by local officials although contrary to national policy, are anathema to members of the international community stationed in the country.
"The need for voting centers perhaps can be resolved in different ways and not only by evicting people – we have a supply of tents," said Mourad Wahba, the humanitarian coordinator of the United Natioins mission in Haiti (MINUSTAH).
Haiti faces many challenges, among which are poverty, civil unrest, corruption, plus the lingering effects of the 2010 earthquake and a cholera epidemic.
Faith lost in government
In front of a barrier blocking the entrance of the Museau school, dozens of students demonstrated in a protest that cut off the national highway.
"We want to return to school and as long as that's impossible we will stay in the street," shouted Joseph David, who is in his final year of high school.
The small demonstration paralyzed traffic at the entrance of the city. The public prosecutor, Yvon Pradel, tried to defuse the situation.
"I can't accept that students are in the street like that every day. My job is to ensure a calm climate during the election period," he told them.
Wahba reminded the students that they were in the middle of a grave situation.
"All these people are human beings. They have rights. They are your brothers and sisters. If you want to throw them out, go look them in the eyes and tell them," he said.
The students dissolved their demonstration and left without meeting the families sheltered in their classrooms nearby. – Rappler.com