Netizens call out that the media and authorities didn't hesitate to label Stephen Paddock a 'lone wolf,' even as investigations just started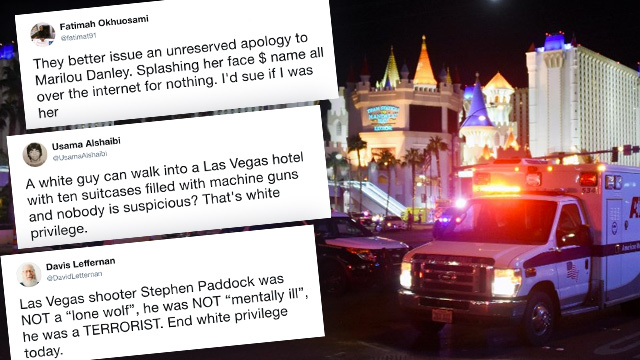 MANILA, Philippines – At least 59 people were killed in the deadliest mass shooting incident in modern United States history on Sunday, October 1.
A heavily-armed gunman, which the police identified as 64-year old retired accountant Stephen Paddock, opened fire from a hotel room on people attending the Route 91 Harvest Music Festival on the Las Vegas Strip. 
An outpouring of messages of support for the families of victims flooded social media, and netizens condemned the massacre which US President Donald Trump called "an act of pure evil."
But people also noticed something different with the way both the police and the media reported the case: They were more protective of the white shooter's rights compared to other similar cases involving people of other races.
When news broke out about the shooting, in fact, the Clark County sheriff who heads police in Las Vegas himself refused to call Paddock a terrorist and instead called him a  "lone-wolf-type actor." The reason behind it was that they believed that the gunman was a "local individual."
The media picked up the same line, calling Paddock a lone wolf, even though investigations had just started and his motivations remained unclear.
In a piece published on The Intercept, Shaun King wrote, "Stephen Paddock was declared a 'lone wolf' before analysts even started their day, not because an exhaustive investigation produced such a conclusion, but because it is the only available conclusion for a white man in America who commits a mass shooting."
Paddock was also called many other things by the media. TMZ reports called him a "typical Las Vegas guy" and someone who "doesn't fit mass shooter profile." CBS News quoted Paddock's brother describing him as "just a guy who lived in Mesquite who liked burritos." 
"He's just a guy who lived in Mesquite who liked burritos," is how Eric Paddock described his brother, Las Vegas gunman Stephen Paddock pic.twitter.com/q3MUgIa2Ws

— CBS News (@CBSNews) October 2, 2017
Many netizens quickly pointed out Paddock's seemingly white privilege on social media and called out the media and police for its rather tame reporting of the incident.
 White privilege in the US – Curated tweets by rapplerdotcom
Netizens also noticed that even before releasing the name of the gunman, police and the media released the name of an Asian 'person of interest,' who was Paddock's roommate but was later on cleared for being out of the country when the shooting happened. 
They better issue an unreserved apology to Marilou Danley. Splashing her face $ name all over the internet for nothing. I'd sue if I was her

— Fatimah Okhuosami (@fatimat91) October 2, 2017
So sad for Marilou Danley her name and photos are all over the internet. How come they name her before investigating.

— MYK (@63927xxxxxxx) October 2, 2017
Why report the companion's name Marilou Danley and not the dead suspect's name? Was this another Muslim murderer being delayed, managed,hid? https://t.co/pwG1xxUtNC

— Linda Sax (@LQSax) October 2, 2017
This is not the first time a white man went on a shooting spree in the US. In 2012, James Holmes went inside a movie theater, dressed in tactical clothing, and shot into the audience, killing 12. A white supremacist, Dylann Roof, also killed 9 when he walked into a church in Charleston, South Carolina. Both were also labelled acts by a "lone wolf" by authorities and the media.
The Quartz's Annalisa Merelli meanwhile, pointed out that the terrorist is "bandied about almost casually" when there are attacks perpetrated by non-whites, especially people of Muslim heritage. – Rappler.com