Authorities in Bangladesh say the boat was carrying 60 to 100 people when it overturned and sank in rough seas on Sunday night, October 8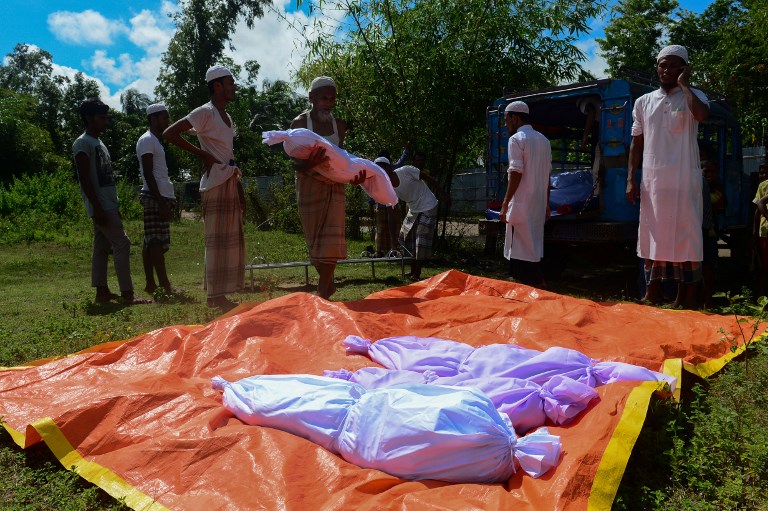 SHAH PORIR DWIP, Bangladesh – At least 14 Rohingya refugees, most of them children, drowned and scores more were missing Monday, October 9, after their overloaded boat capsized, the latest tragedy to strike those fleeing violence in Myanmar.
Authorities in Bangladesh said the boat was carrying 60 to 100 people when it overturned and sank in rough seas on Sunday night, October 8.
The bodies of 11 children, two women and a man were washed up on Shah Porir Dwip island in Bangladesh and border guards pulled 13 survivors from the sea, but the fate of the others remains unknown.
Alif Jukhar, a Rohingya refugee who has long lived in Bangladesh, lost nine relatives in the disaster including his mother and father.
"Yesterday I spoke to my parents on the phone and they told me they would arrive in Shah Porir Dwip tomorrow," he told Agence France-Presse as he used his bare hands to bury their bodies.
Shortly afterwards, overcome with grief, he collapsed screaming in the middle of the cemetery.
More than half a million Rohingya have left Myanmar since militant raids on police posts on August 25 prompted a brutal military backlash against the Muslim minority, which the United Nations has said could amount to ethnic cleansing.
Around 150 have drowned trying to make the journey in small and rickety fishing boats that coastguards say are woefully inadequate for the rough seas.
A survivor, Sayed Hossain, wept as he watched the body of his two-year-old son being taken away to the local cemetery.
"We set off at around 6 pm. We did not have any choice but to leave our village," he said, telling how the overloaded boat overturned when it hit a shoal and sank in rough water.
"They (security forces) have restricted our movements. Many are starving as we could not even go to shop or market to buy food," said the 30-year-old Rohingya farmhand, who lived in a village east of Myanmar's Buthidaung township.
Hossain's mother, his pregnant wife and two children were all still missing.
The International Organization for Migration said some children on board had lost their entire families in the disaster and were now alone in a strange country.
Dangerous journey
Jashim Uddin, a teacher at the local Islamic religious school, or madrassa, said he received a call from the coastguards at 5:00 am to tell him that bodies had been found on the beach.
As tracking down their relatives is often impossible, the victims are routinely taken to the madrassa to perform their last rites.
Late last month more than 60 refugees are feared to have died when the boat carrying them from Myanmar capsized in rough weather in the Bay of Bengal.
Villagers at Shah Porir Dwip, where most of the boats land, told Agence France-Presse the Rohingya were increasingly traveling at night to avoid strict border patrols in Bangladesh, making the journey even more dangerous.
Last week the guards destroyed at least 30 wooden fishing vessels amid increased concern they were being used to bring the popular methamphetamine drug known locally as Yaba into the country, using the refugee crisis as cover.
Gangs of boat owners, crew and fishermen have also been charging the fleeing Rohingya upwards of $250 for the two-hour journey that normally costs no more than $5.
The government of Buddhist-majority Myanmar refuses to recognize the Rohingya as a distinct ethnic group and considers them illegal migrants from Bangladesh.
While the worst of the violence appears to have abated, insecurity, food shortages and tensions with Buddhist neighbors are still driving thousands of Rohingya to make the arduous journey to Bangladesh.
Several thousand new arrivals surged into Bangladesh on Monday after the influx had slowed recently to around 2,000 a day.
Lieutenant Commander Manzurul Hassan Khan, a local border guard commander, estimated that 6,000 had arrived during the day after crossing the Naf river at the border village of Anjumanpara.
An Agence France-Presse correspondent at the scene saw at least 10,000 arrive throughout the day and into the evening.
Among the latest influx were two young boys, aged two-and-a-half and three years old, who died due to hunger and exhaustion as they entered Bangladesh.
"Their parents told us that they died due to starvation … They were buried in our village graveyard," Khan said. – Rappler.com