It is Donald Trump's first trip to the Philippines as US President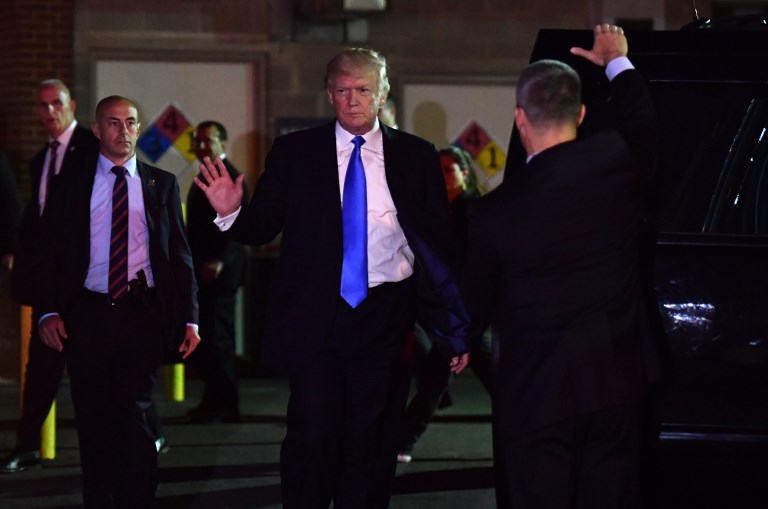 MANILA, Philippines – US President Donald Trump landed in Manila for the Association of Southeast Asian Nations (ASEAN) Summit and Related Meetings, his first ever visit to the Philippines as a world leader.
Air Force One landed at the Ninoy Aquino International Airport at around 6 pm Sunday. Trump is expected to stay until Tuesday, November 14.
As soon as he landed, Trump tweeted, "Just landed in the Philippines after a great day of meetings and events in Hanoi, Vietnam!"
Just landed in the Philippines after a great day of meetings and events in Hanoi, Vietnam! pic.twitter.com/YxHRNhhPWo

— Donald J. Trump (@realDonaldTrump) November 12, 2017
The American leader is fresh off his trip to Vietnam, where he attended the Asia-Pacific Economic Cooperation (APEC) summit. Trump's Philippine stop caps off his 12-day, 5-nation Asia tour, that has also seen him visit Japan, China, and South Korea.
Trump and Philippine President Rodrigo Duterte met for the first time a day earlier on Saturday, November 11 at the APEC Summit. According to Malacañang, Trump told Duterte, "See you tomorrow," likely referring to his visit to Manila.
The two are set to engage in bilateral talks during Trump's visit, their first since they both were elected to their countries' top posts.
Trump and Duterte had spoken twice over the phone in the past. 
Their first phone conversation was after Trump's victory in the US presidential elections last year. Duterte spoke with him on the phone to congratulate him. (READ: Duterte impersonates Trump, shares their conversation)
The second was when Trump called Duterte after the ASEAN Summit in Manila in April. (READ: Duterte told Trump to 'keep the pressure' on N. Korea) 
Issues raised?
Before Trump's trip to the Philippines, two American lawmakers wrote Trump, urging him to raise the issue of human rights violations in relation to Duterte's controversial drug war. Duterte has since said that he will tell Trump – or any other world leader – to "lay off" if he brings up human rights and the drug war.
He also said on Sunday, upon his return from Vietnam, "I'm sure he will not take it up."

Meanwhile, Trump has been urged to return the historic Balangiga bells, once found in Balangiga Church in Eastern Samar, which were taken by the Americans as spoils of war. The tolling of these bells in 1901 had led to the massacre of American troops, in the US military's worst single defeat in the Philippines.
Duterte earlier called on the US to return the bells. In response, the US vowed to resolve the Balangiga bells issue, but without a specific timeframe in mind.
It remains to be seen whether either of these issues would be discussed.
Presidential Spokesperson Harry Roque has said that Trump and Duterte "have warm rapport" and can have "candid and productive discussions."
Duterte has also said of Trump, "I feel that we share so many ideas around the same line of problems of governance." 
Last stop
During his Asia tour, Trump emphasized his "America First" doctrine in a speech at APEC, vowing his country will "no longer tolerate" unfair trade, closed markets and intellectual property theft, as he seeks to rewrite the rules of global commerce.
In China he was gushing in his praise of President Xi Jinping, calling his host "a very special man" in a trip rich with photo opportunities but lacking concrete outcomes on tackling key issues such as North Korea.
He also held talks with Japanese leaders about tackling the threat posed by nuclear-armed North Korea.
Trump is in Asia while tensions over North Korea are at fever pitch, as US bombers fly sorties over the Korean peninsula and concerns mount that Pyongyang might stage another nuclear or missile test. – with reports from Pia Ranada and Agence France-Presse / Rappler.com