Japan's government approves the introduction of the US military's land-based Aegis missile interceptor system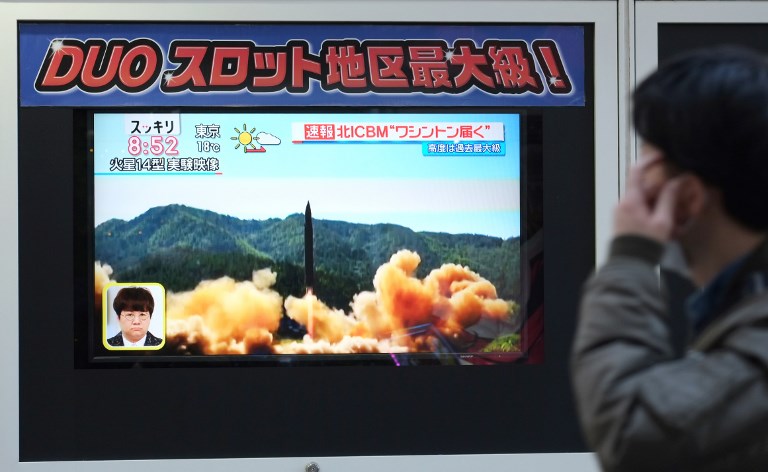 TOKYO, Japan – Japan's government on Tuesday, December 19, approved the introduction of the US military's land-based Aegis missile interceptor system, beefing up its defense against "serious" and "imminent" North Korea threats.
The regime in Pyongyang has fired two missiles over Japan this year and has threatened to "sink" the country into the sea.
Last month, North Korea test-fired an intercontinental ballistic missile (ICBM) that plunged into the waters of Japan's exclusive economic zone. 
"North Korea's nuclear and missile development has entered a new stage of threat that is more serious and imminent to our country's security," the government said as it endorsed the introduction of Aegis Ashore at a cabinet meeting.
Japan needs to drastically improve its missile defense, Tokyo added.
Japan plans to introduce the Aegis Ashore system at two locations, covering the entire nation with powerful radars.
The deployment will hand the US ally another layer of defense in addition to SM-3 guided missiles launched by Aegis destroyer vessels and Patriot Advanced Capability-3 (PAC-3) missiles.
However, it will take years before the Aegis Ashore system is operational, according to Japanese officials.
The contract is yet to be signed with the United States and deployment at two locations could cost a total of 200 billion yen ($1.8 billion), including the cost of building new facilities.
However, officials insisted the new system would boost Japan's missile defense.
"Naval vessels need to return to their ports regularly for rest and refueling, but if it's ground deployment, we will be able to operate almost 24-7," an official said. 
"We can be on permanent vigilance even when signs (of missile firing) are hard to detect," he said.
Japan is reportedly planning a record $46 billion defense budget for the next fiscal year in the face of the North Korean threat.
Defense Minister Itsunori Onodera said this month the country also plans to purchase long-range cruise missiles from US firms with a range of some 900 kilometers (560 miles).
The move would be controversial as Japan's pacifist constitution bans the use of force as a means of settling international disputes. – Rappler.com