Judge Winnie Tsui calls the abuse committed by Law Wan-tung as 'inhumane, degrading, and abhorrent'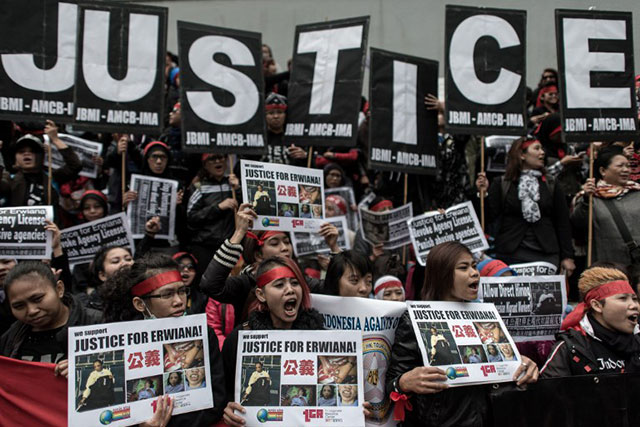 HONG KONG – A Hong Kong woman jailed for six years for starving and beating her Indonesian domestic helper was ordered by a court on Thursday, December 21, to pay more than $100,000 in damages for the "inhumane" abuse.
Law Wan-tung was convicted of grievous bodily harm, assault, criminal intimidation and failure to pay wages in 2015 and is still serving a jail term after losing an appeal.
The plight of her former helper, Erwiana Sulistyaningsih, and pictures of the injuries she suffered made her the face of a movement determined to force change for Hong Kong's army of helpers.
More than 340,000 domestic helpers, mostly from the Philippines and Indonesia, work in Hong Kong, often performing menial tasks for low wages while being forced to live in poor conditions.
Calling the abuse inflicted on Sulistyaningsih "inhumane, degrading and abhorrent", Judge Winnie Tsui ordered Law to pay around $103,400 (HK$809,000) as she delivered her judgment, reports said. 
The court awarded Sulistyaningsih the full amount of damages she claimed for injuries, medical expenses and other losses, local media reported.
Sulistyaningsih previously described how for months she lived on nothing but bread and rice, slept only four hours a day and was beaten so badly that she was knocked unconscious.
The then-23-year-old was admitted to hospital in Indonesia in 2014, emaciated and in critical condition, sparking international outrage as pictures of her spread on social media.
Following a series of high-profile abuse cases, concerns over the welfare of Hong Kong's migrant domestic workers have grown.
Rights groups say unscrupulous employment agencies plunge helpers into debt and withhold their passports while the legal requirement for helpers to live with their employers makes it difficult for them to escape abuse.
Rights advocates have long sought reforms, including ending a rule where domestic workers must leave the city 14 days after they quit a job unless they can find other employment within that time.
Campaigners say the rule discourages workers from leaving abusive employers.
The government has shown no sign it plans to update the regulations. – Rappler.com