New US Secretary of State Mike Pompeo says each member of his new staff is critical to the department's 'ultimate objective, which is to deliver President Trump's and America's foreign policy around the world'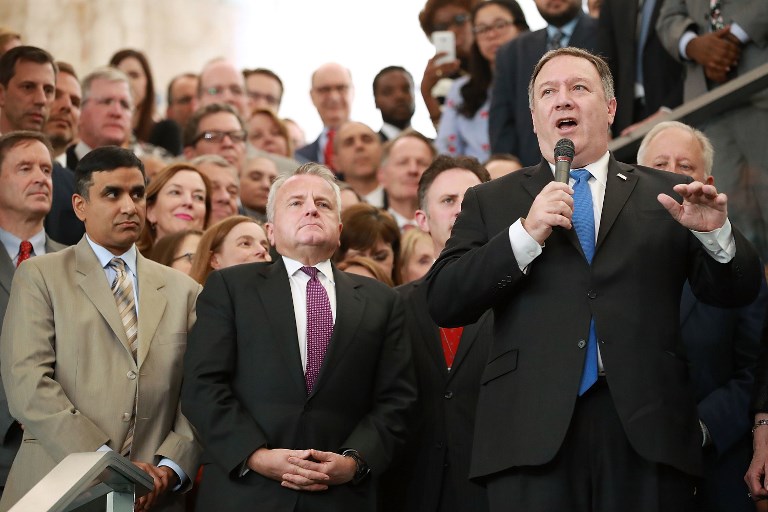 WASHINGTON DC, USA – New US Secretary of State Mike Pompeo vowed Tuesday, May 1, to harness the might of US diplomacy in service of President Donald Trump to achieve "the outcomes that America so desperately needs."
"I think I have the record for the longest trip to the first day of work," joked Pompeo at a gathering of staffers at the State Department headquarters.
Pompeo took office last Thursday, April 26, but immediately set out for a NATO meeting in Brussels followed by a trip to the Middle East, before returning to Washington to address his new staff.
He thanked personnel for their "amazing work" in his first address to them since the dismissal of his predecessor Rex Tillerson, a former oil executive who advocated widespread cuts to the department.
"To stand here and look at the most important diplomatic corps in the world is enormously humbling to me," said Pompeo, who headed the CIA before being switched by the president to the State Department.
Pompeo repeatedly lauded his department's work and its importance, in an apparent attempt to distance himself from his sacked predecessor, who was criticized for doing little to defend its budget or staff.
Fifteen months after Trump took office, numerous key posts have yet to be filled and Pompeo promised during his confirmation hearings before the Senate to fast-track those nominations.
"I know for certain that America can't… achieve its objectives absent you all, absent executing American foreign policy in every corner of the world with incredible vigor and incredible energy," he said.
"I have an enormous amount to listen and learn from you," he said. "But as people I'm confident that I know who you are."
Pompeo said that each member of his new staff was critical to the department's "ultimate objective, which is to deliver President Trump's and America's foreign policy around the world."
With key deadlines looming in dealing with Iran and North Korea's nuclear ambitions, Pompeo promised to elaborate on his priorities after his official swearing-in ceremony with the president on Wednesday, May 2, the first time Trump will have visited the State Department since taking office.
In his former role as CIA chief, it was Pompeo who travelled to Pyongyang to meet Kim Jong Un, and lay the groundwork for an upcoming summit between Trump and the North Korean leader. – Rappler.com