Parliamentary officials say the president suspended the 225-member parliament until November 16 in the aftermath of ousted prime minister's demand for an emergency session to prove he still commanded a majority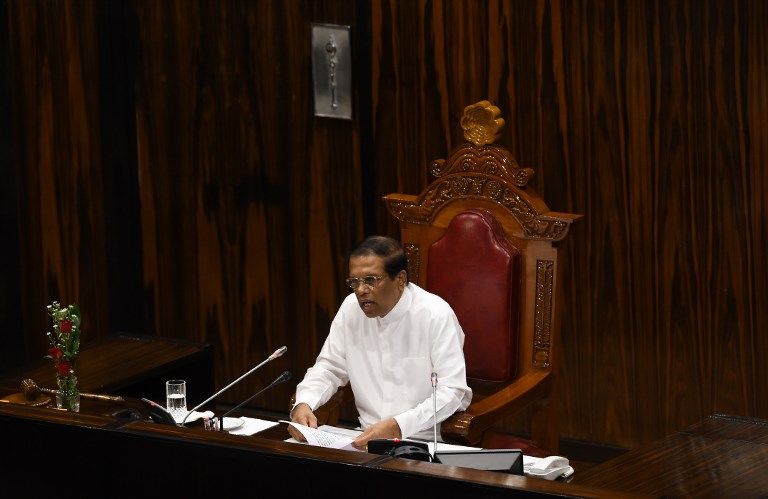 COLOMBO, Sri Lanka – Sri Lankan President Maithripala Sirisena suspended parliament Saturday, October 27, to forestall a challenge against his surprise ouster of the prime minister, deepening a sudden swell of political turmoil in the island nation.
Police cancelled all leave as tensions heightened in Colombo a day after the president's dismissal of rival Ranil Wickremesinghe, who was replaced by controversial former strongman leader Mahinda Rajapaksa.
Parliamentary officials said the president had suspended the 225-member parliament until November 16. Wickremesinghe had earlier demanded an emergency session to prove he still commanded a majority.
Wickremesinghe continued to occupy Temple Trees, the official residence of the prime minister, and insisted in a letter to Sirisena that he was still in office. 
"Get this controversy out of the way," Wickremesinghe told reporters in a press conference at the residence. "Reconvene parliament immediately so that I can prove my majority."
Parliamentary sources said Speaker Karu Jayasuriya would now have to decide if he recognised Rajapaksa or Wickremesinghe as the prime minister.
The crisis, which follows similar turmoil in the neighbouring Maldives, has stirred international concern.
The United States called on all sides to abide by Sri Lanka's constitution and refrain from violence. European Union ambassadors in Colombo issued a similar message on Saturday.
Regional power India was also "closely watching" developments in Colombo, official sources in New Delhi told Agence France-Presse.
Standoff
Overnight, Rajapaksa loyalists stormed two state-owned television networks – which they regard as loyal to Wickremesinghe's outgoing government – and forced them off the air. They resumed broadcasting Saturday and were supporting Rajapaksa.
There were reports of sporadic attacks against supporters of Wickremesinghe's United National Party in several parts of the country after Rajapaksa was sworn in late Friday.
The streets of the capital remained mainly calm Saturday but security was tightened around Temple Trees and Rajapaksa's residence.
Wickremesinghe, 69, who trained as a lawyer and has established a name for his management of the economy, insisted that he can be removed only by parliament.
His party has the largest number of seats but lost its majority shortly before his dismissal on Friday, when the president's United People's Freedom Alliance announced it was walking out of the governing coalition. 
This is the second time that a president has ousted Wickremesinghe from office. In 2004, just two and a half years into a 6-year term, the then president sacked him and called snap elections.
After winning the premiership a third time in August 2015, Wickremesinghe amended the constitution to remove the head of state's power to sack prime ministers to prevent a repeat of his earlier ouster.
Sirisena proceeded on Friday despite the insistence of many political observers that he lacked the power to remove the premier.
Wickremesinghe had survived an no-confidence vote backed by Sirisena earlier this year.
No cabinet 
Since his rushed swearing in, Rajapaksa has yet to announce any official moves such as naming a new cabinet.
Speaking to jubilant supporters outside his Colombo home late Friday, Rajapaksa called on Wickremesinghe to step down. 
Members of the rival party must "respect democracy, respect the country and respect the law", the former president said through a loudhailer from a balcony. 
Rajapaksa, 72, is a controversial figure at home and abroad but has pushed for a return to frontline politics since he lost a presidential election to Sirisena in 2015.
His decade in power saw Colombo crush a decades-long Tamil Tiger uprising.
Rights groups say tens of thousands of Tamil civilians were killed in the final stages of the campaign, but Rajapaksa has refused to acknowledge any abuses in the civil war. 
He also leaned heavily on China for political support and took loans to build infrastructure which the new government described as white elephants. His reliance on Beijing angered India, who Rajapaksa blamed for his defeat in the last presidential polls.
After Sirisena became president, Sri Lanka has moved to reconcile with India, the United States and other Western powers.
It promised the UN it would investigate allegations of rights abuses during the civil war but has been criticised for a lack of progress in the years since. – Rappler.com