The mother of ailing imprisoned Chinese dissident Huang Qi is in Beijing to plead his case, fearing he will die behind bars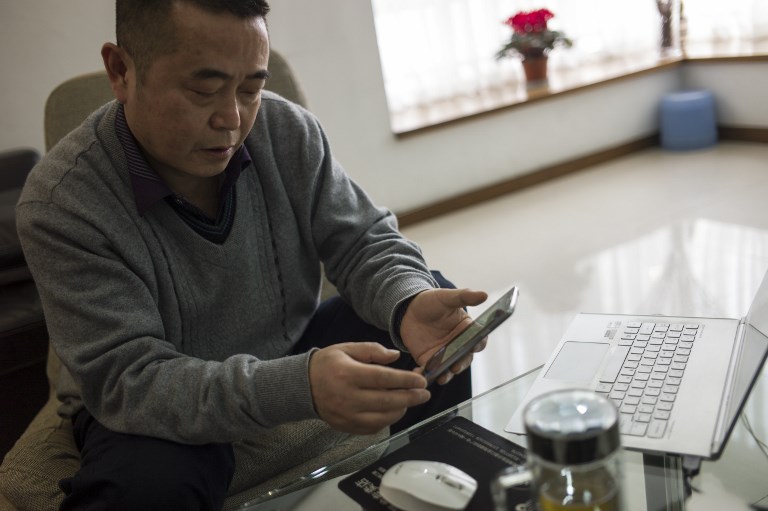 BEIJING, China – Unable to see her ailing son in prison, the 85-year-old mother of China's first "cyber dissident" has come to Beijing to plead his case, fearing he will die behind bars.
Pu Wenqing said scrutiny had now fallen on her – local police have started calling her since she arrived in the capital in October to try and secure the release of her 55-year-old son, Huang Qi, for medical treatment.
He was arrested in 2016 for "leaking state secrets" and Pu has not been allowed to visit him in prison since then, she said.
Huang, who suffers from high blood pressure and late-stage kidney disease, is being held at the Mianyang Detention Center in southwestern Sichuan province, his home region. He has yet to have a trial date set.
"He's been beaten in jail and abused, and the money his family sent has been withheld from him," Pu told AFP, citing Huang's account to his previous lawyer, whose legal license was reportedly cancelled earlier this year.
"Without medical treatment, my son will die in prison – under false accusations – very soon," Pu added.
The octagenarian mother is worried that her son will suffer the same fate as dissident Nobel Peace Prize laureate Liu Xiaobo, who died from liver cancer while under police custody in 2017.
Dissident website
Huang ran a website called "64 Tianwang," named after the bloody June 4, 1989 crackdown on Tiananmen Square pro-democracy protesters.
The site, which has reported on local corruption, human rights violations, and other topics rarely seen in ordinary Chinese media, is blocked by the Great Firewall.
Last month, Pu travelled to Beijing to submit documents to China's Ministry of Public Security detailing her son's alleged abuse at the detention centre and requesting medical release.
But the Supreme People's Procuratorate, the highest legal supervision body in the country, refused to accept her paperwork, she said.
The ministry and the procuratorate did not immediately respond to requests for comment.
On Monday, 14 non-profit organizations, including Amnesty International and Human Rights Watch, called for Huang's immediate and unconditional release.
Pu, who is temporarily based in a relative's apartment in the capital, said she doesn't dare leave the house, fearing authorities might pick her up and place her under house arrest back in Sichuan.
"I'm already 85, I'm sick all over," Pu told AFP, tears welling up in her eyes. "I have high blood pressure, diabetes, etc. I have a lot of illnesses."
"I'm afraid I won't be able to see my son before I die in this enormous prison," she cried, referring to China.
Shortly after her son was bundled away by police in 2016, Pu said she was held for 19 days at a local hospital in Neijiang city in Sichuan province. Security guards kept her under watch 24/7.
Neijiang authorities told AFP they would not comment on the case over the phone.
'Mental pressure'
It is not uncommon for police in China to place family members of activists under house arrest – especially those who draw attention to their loved ones' plight.
In April, Li Wenzu, the wife of rights attorney Wang Quanzhang, was placed under house arrest after marching nearly 100-kilometers in a bid to shine light on her husband's disappearance after a 2015 police sweep on more than 200 attorneys and rights campaigners.
Liu Xia, the widow of Liu Xiaobo, suffered from years of de facto house arrest after her husband won the Nobel Peace Prize in 2010 – an award that infuriated Beijing.
Liu Xiaobo passed away last year, the first Nobel Peace Prize laureate to die in custody since Nazi Germany and his wife was finally allowed to travel to Germany in July.
Chinese authorities want detainees to "worry about the suffering of their spouses and children and especially their elderly parents," explained Joshua Rosenzweig, East Asia research director at Amnesty International.
"They're hoping that mental pressure will lead even the most committed activist to cave in and confess to some ridiculous political charges," he told AFP.
Huang's work has repeatedly drawn the ire of Chinese authorities.
In 2009, he was sentenced to three years in prison after campaigning for parents of children killed in the 2008 Sichuan earthquake, which left nearly 87,000 people dead or missing and authorities facing huge public anger over shoddy building construction.
Five years later Huang and at least three citizen journalists who contribute to 64 Tianwang were detained by police after the site reported on a woman who set herself on fire in Tiananmen Square.
The website was awarded a Reporters Without Borders prize in early November of 2016. A few weeks later, Huang was detained in his hometown of Chengdu, according to Amnesty International. – Rappler.com