President Barack Obama also calls on North Korea to end its 'belligerent approach,' as the world waits for Pyongyang to carry out an expected missile launch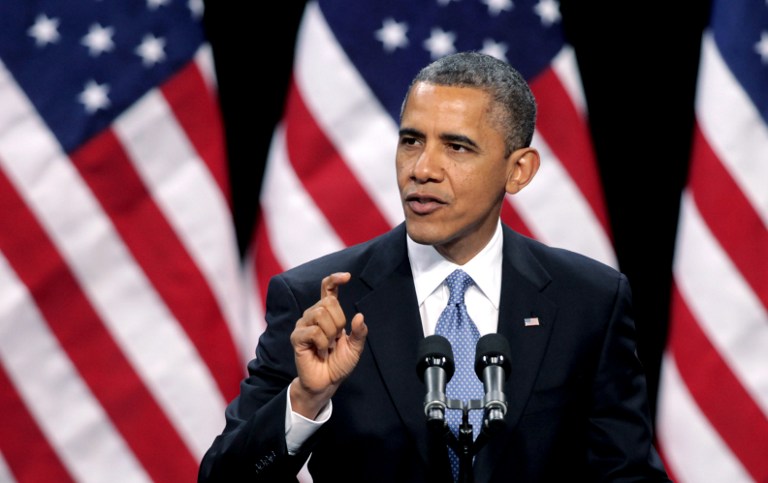 MANAS, Kyrgyzstan – Top US officials urged China Friday, April 12, to use all its leverage to stop North Korea's "destabilizing" actions on the Korean peninsula, saying it was in regional and global interests.
"China has a huge stake in stability, and the continued North Korean pursuit of a nuclear armed missile capability is the enemy of stability," a senior US administration official told reporters travelling on board Secretary of State John Kerry's plane to Seoul.
"That gives us and the Chinese a very powerful objective in common in denuclearization," he said, adding the US wanted Beijing to evoke "a new sense of urgency" in its conversations with Pyongyang about its nuclear program. (Read: US seeks China cooperation on North Korea)
Kerry's first trip to Asia since becoming the US top diplomat has been overshadowed by weeks of tension on the Korean peninsula, following a series of threats and bellicose rhetoric from North Korean leader Kim Jong-Un.
Obama's message
President Barack Obama Thursday, April 11, called on North Korea to end its "belligerent approach" as the world waited for Pyongyang to carry out an expected missile launch.
"It seems quite clear that they are preparing for at least another missile test," a senior State Department official said, also asking not to be identified. If the test happened while Kerry was in the region, the US "would have no option but to condemn it."
Kerry's trip, which will also take him to Beijing and Tokyo, will be "very important… to show our allies… that we are prepared. And that alliance matters, that we will defend them," he said.
The United States has already bolstered its missile defences in the region to help protect South Korea and Japan as well as US bases in Guam, while US and South Korean forces have been placed on alert.
Kerry will be briefed first-hand by top US military officials on the tensions when he arrives in Seoul later Friday, after a refuelling stop in Kyrgyzstan.
He will then meet with new South Korean President Park Geun-Hye and Foreign Minister Yun Byung-Se.
But the focus is heavily on China, North Korea's closest ally, which for years has helped finance the isolated Marxist hermit state.
US officials said that since Pyongyang's latest sabre-rattling began earlier this year they have noticed a change from the Chinese leadership.
"We all hear a growing tone of frustration and urgency in the official statements from the Chinese," the first senior administration official said.
"China is increasingly concerned about the downstream effects of North Korea's reckless pursuit of a nuclear missile capability, and the implications for China's own strategic environment.
"In a Marxist system like North Korea, particularly one that is so heavily dependent on China for resources, for access to the international system, those signals carry a great deal of weight."
The officials suggested China was already moving to protect its interests despite "a long tradition of turning a blind eye to efforts by its companies to do business with North Korea."
Meet with Chinese leaders
Kerry will meet with Chinese leaders including Foreign Minister Wang Yi in Beijing on Saturday, April 13, seeking "to define the areas of common interest between the US and China. We have a common interest in putting an end to North Korean proliferation", the senior administration official said.
Washington "would hope that China would do a lot of things to restrain the flow of energy and food to North Korea… hold back on new investment," said expert Douglas Paal from the Carnegie Endowment for International Peace.
And as all sides seek to stop the situation from spiralling out of control, experts also say it might be time to revisit the 1953 armistice which ended the Korean War with a ceasefire pact, rather than a full peace treaty.
Carnegie expert James Schoff called the armistice "tattered and frayed on the edges". Much could be done to "update the armistice" and help "reduce tension or the potential for conflict or accidental conflict on the DMZ," he said.
Kerry's final stop will be in Japan for talks on Sunday and Monday, before flying back to Washington. – Rappler.com