The August job growth was tepid, with the figure falling below the average analyst estimate of 177,000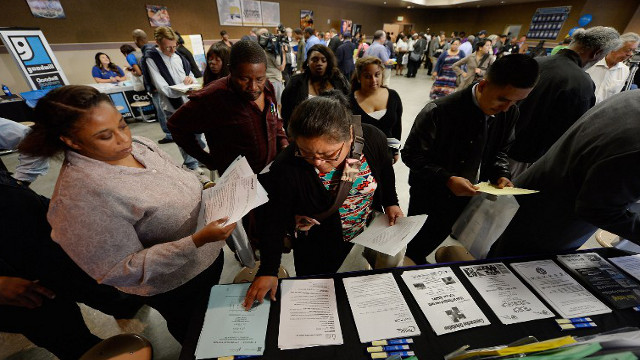 WASHINGTON DC, USA – US job growth was tepid in August but the unemployment rate ticked down to 7.3 percent, the Labor Department reported Friday.
The United States added 169,000 jobs last month and the prior two months' job numbers were revised sharply lower, slashing July job growth to 104,000.
August job growth fell below the average analyst estimate of 177,000.
The slight decline in the jobless rate was unexpected, and was due to fewer people participating in the labor force.
Most analysts projected a 7.4 percent jobless rate , unchanged from July.
The private sector added 152,000 jobs, short of analyst expectations of 180,000.
Significant downward revisions to job growth for the prior two months cut 74,000 jobs.
The July number was slashed to 104,000 from 162,000, and the June total was lowered to 172,000 from 188,000.
Though the 7.3 percent jobless rate marked a new low after the Great Recession ended four years ago, it was due to the lower labor force participation rate, which fell to 63.2 percent in August from 63.4 percent in July.
The mixed August job report came as the Federal Reserve plans to scale down its massive bond-buying program, known as quantitative easing (QE), if economic conditions continue to improve.
Analysts said the new data would be strong enough for the Fed to start tapering its $85 billion a month asset purchases at its September 17-18 monetary policy meeting.
"The combination of an OK August payroll and another dip in the unemployment rate, to just 0.3 percent above the point at which the Fed wants to stop QE altogether, means that the tapering announcement is still very likely to come this month," said Ian Shepherdson of Pantheon Macroeconomics. – Rappler.com