(UPDATED) ASEAN leaders agrees on Saturday, December 14, to strive for civil aviation safety freedom of movement in the region's skies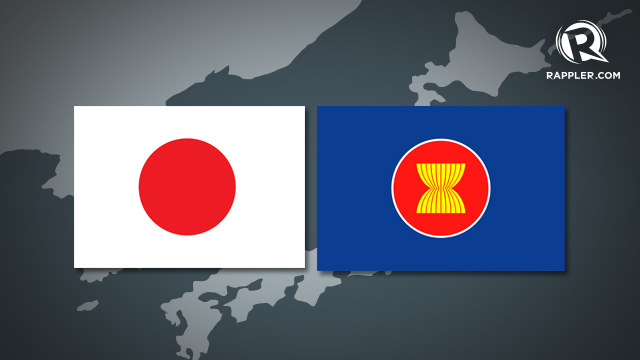 TOKYO, Japan (UPDATED) – Japan and Southeast Asian countries agreed Saturday, December 14, on the importance of freedom in the skies, in the first major gathering of the continent's leaders since China ramped up regional tensions with a controversial air defense zone.
The cautious show of support for Tokyo in its bitter row with Beijing came as Japan pledged $20 billion in aid and grants for the region.
At a summit in Tokyo, Japanese Prime Minister Shinzo Abe and the leaders of the Association of Southeast Asian Nations (ASEAN) "agreed to enhance co-operation in ensuring freedom of overflight and civil aviation safety".
"We underscored the importance of maintaining peace, stability and prosperity in the region and promoting maritime security and safety, freedom of navigation… and resolution of disputes by peaceful means."
The statement will be seen as a mild regional rebuke for China, which has sovereignty disputes with Japan and with four members of the bloc, and which has been repeatedly accused of intimidation and coercion.
The gathering also offered encouragement for Abe's more muscular military stance, which some see as a possible check on the rising might of China, and which the communique described as a "proactive contribution to peace".
"The ASEAN Leaders looked forward to Japan's efforts in contributing constructively to peace, stability, and development in the region," the statement said.
China and South Korea frequently invoke the horrors of the last century in warnings against a more engaged Japanese military, but Tokyo's relations with Southeast Asia – much of which it also brutally invaded – are less colored by history.
The endorsements for Japan came at the end of a special summit to mark its 40 years of ties with ASEAN, which saw Tokyo promise two trillion yen for the region over five years.
The meeting was the first significant gathering of Asian leaders since China declared an Air Defense Identification Zone over the East China Sea, including the airspace above the Tokyo-administered Senkaku Islands, which Beijing claims as the Diaoyus.
Beijing said all aircraft entering the zone have to submit flight plans and obey orders issued by Chinese authorities, in an announcement that was criticized as inflammatory, and flouted by Washington, Seoul and Tokyo.
That came after more than 12 months of confrontations between Japanese and Chinese coastguards in the seas near the islands, as well as forays by military and paramilitary planes, and shows of strength by naval vessels.
Some fear the ADIZ in the East China Sea is a forerunner to a similar zone in the South China Sea, which Beijing claims almost entirely.
Charm offensive
The summit and Japan's cash pledge crown a charm offensive by Abe, who has visited all 10 countries in the grouping since he came to power last year, always with one eye on wresting back influence in the region from China.
"Japan and ASEAN are true partners for prosperity. To achieve this we have to preserve peace, we have to protect navigation freedoms in the sea and sky," Abe told a press conference Saturday.
"Since taking office my diplomatic strategy is one that involves looking at the whole world. In it ASEAN has always been a special partner."
Japanese diplomats had been pushing for a forceful communique, although they acknowledged that an explicit reference to China was always going to be hard for countries in Beijing's immediate economic orbit.
The Philippines, Vietnam, Malaysia and Brunei all have their own disputes with China over territory in the East China Sea, and are thought to be receptive to Japanese overtures.
But all 10 members of the bloc, which also includes Cambodia, Indonesia, Laos, Myanmar, Singapore and Thailand, have to tread a fine line to avoid irritating China, whose vast economy is vital to the region.
Corey Wallace, a Japan specialist at Auckland University, said Tokyo's financial assistance to the region would help provide a counterweight where reliance on China could otherwise be the default setting.
"If Japan helps ASEAN in its region-building goals… not only will Japan be seen favorably as a leader, but it will enable ASEAN itself to assert increased independence in the future distribution of power.
"This is in contrast with an ASEAN that is overly reliant on the Chinese economy for trade and investment.
"It is particularly important for Japan to ensure that key geopolitical nations within ASEAN, such as Indonesia, Vietnam, Philippines, and now Myanmar, will not be easily diplomatically, economically or militarily coerced due to a dependent relationship on a PRC hostile to Japan," he said. – Rappler.com