Opposition leaders are due to meet Kerry for the first time Saturday, a meeting sure to infuriate Russia, which has warned against foreign interference in Ukraine; meanwhile, the army has vowed to remain neutral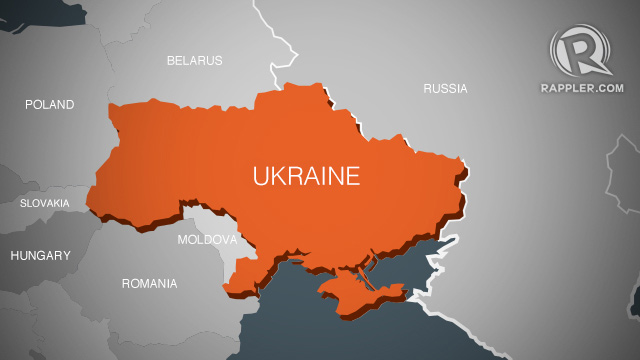 KIEV, Ukraine – Ukraine's opposition leaders were set to meet US Secretary of State John Kerry on Saturday, February 1, after the army urged embattled President Viktor Yanukovych to act urgently to end two months of turmoil.
Yanukovych on Friday scrapped controversial anti-protest laws but the reappearance of a leading protester, his face swollen and caked in blood, did little to win over the opposition or international opinion.
Yanukovych, who has been on sick leave since Thursday, repealed draconian anti-protest laws passed in January that had radicalized the two-month anti-government protest movement. The street rallies first erupted when the president backed out of a key pact with the European Union in favour of closer ties with Moscow.
He also signed an amnesty bill for jailed opposition activists, but it will only take effect if protesters vacate the public buildings they have occupied within 15 days. (READ: Ukraine president approves amnesty, repeals anti-protest laws)
The maneuvres came after opposition activist Dmytro Bulatov, who went missing more than a week ago, reappeared Thursday night, saying he was tortured by abductors who cut off his ear and drove nails through his hands before dumping him in a forest.
"They crucified me, nailed me, cut my ear off, cut my face," Bulatov said in televized remarks.
White House spokesman Jay Carney said the US was "appalled" at the "obvious signs of torture" inflicted on Bulatov.
EU foreign affairs chief Catherine Ashton also said she was "appalled" while Amnesty International said the "barbaric" act should be immediately investigated.
Ashton said she would return next week to Ukraine, condemning what she described as instances of intimidation and torture against the opposition there.
Ukraine's interior ministry was reported by Interfax as saying Bulatov would be placed under house arrest for a week under suspicion of organiing major unrest.
The protest movement's leaders claim that abuse and beatings of activists are widespread.
A recent outbreak of violence in the protests saw several people shot dead and turned parts of the capital Kiev into a battle zone.
Army weighs in
Weighing in on the crisis for the first time, the Ukrainian armed forces called for Yanukovych to act urgently to stabilize the situation.
The defense ministry, which previously said it would not interfere in the crisis, said the seizure of government buildings was unacceptable and warned that "further escalation of the confrontation threatens the country's territorial integrity".
Ukraine's security service soon after announced a criminal probe into an opposition attempt to seize state power, after information on confiscated computers allegedly revealed the mass protests were "pre-planned".
"An investigation for an attempted takeover of power has been opened," Maxime Lenko, head of the investigations department of the Ukrainian Security Service (SBU), was quoted as saying by Interfax news agency.
NATO chief Anders Fogh Rasmussen said he was "very concerned by attempts to involve the military in the crisis".
"Ukraine's military is highly respected and must remain neutral," he said on Twitter.
Political analyst Vadym Karasyov said the military's statement indicated it would side with the president.
The amnesty leaves open the possibility that protesters could be allowed to stay at their barricaded camp on Kiev's Independence Square.
Opposition supporters are refusing to leave the camp despite a string of concessions from the authorities, including Yanukovych's acceptance of the resignation of prime minister Mykola Azarov and the entire cabinet.
John Kerry to meet opposition leaders
Kerry said in Berlin that the measures pledged by Yanukovych did not go far enough.
Opposition leaders including boxer-turned-politician Vitali Klitschko are due to meet Kerry for the first time Saturday, a meeting sure to infuriate Russia, which has warned against foreign interference in Ukraine.
The announcement of the meeting, on the sidelines of a security conference in Munich, came as the White House said it was consulting with Congress over possible sanctions on Ukraine.
On Friday, opposition leader Arseniy Yatsenyuk of the Batkivshchyna party met German President Joachim Gauck and Foreign Minister Frank-Walter Steinmeier, saying they had voiced support of his people's "fight for freedoms and liberties".
Yatsenyuk also met the EU's Ashton separately.
In November, Yanukovych scrapped an integration deal with the EU in favour of closer ties with Kiev's historical master Moscow, sparking huge protests.
The unrest has since spiralled into an uprising demanding the president's removal.
Yanukovych on Thursday attacked the "irresponsible" opposition for inflaming tensions but also admitted the authorities had made mistakes and that he needed to take more account of the country's mood. (READ: Ukraine leader slams opposition after taking sick leave)
An advisor to Russian President Vladimir Putin warned Friday that the Ukrainian president would lose power if he did not "quash the rebellion".
"The president has no choice," said Kremlin economic advisor Sergei Glazyev.
Meanwhile, rating firm Moody's downgraded Ukraine's sovereign debt rating a notch, citing the escalating political crisis and concerns about whether it would continue to have Russian financial support.
Moody's cut the country's rating, already in speculative territory, to Caa2 from Caa1, and put the country on "negative outlook," signalling it could be downgraded again in the medium term. – Rappler.com