Two persons' initial frustration over missing their flight from KL to Beijing has turned into more than just a feeling of relief – flight MH370 has gone missing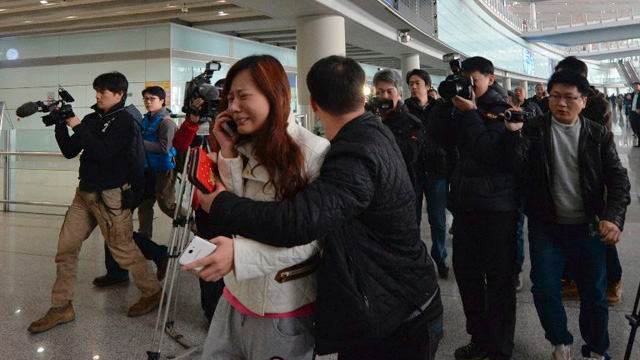 MANILA, Philippines – The initial frustration over missing a flight has turned into more than just a feeling of relief.
Based on a Twitter conversation, two passengers apparently missed Malaysia Airlines flight MH370 that left Kuala Lumpur past midnight Saturday, March 8, and which was expected to arrive in Beijing at 6:30 am local time (2230 GMT Friday).
The Boeing 777-200 – carrying 12 crew members and 227 passengers, including two infants, of 14 different nationalities – disappeared at 2:40 am local time (1840 GMT Friday), about two hours after leaving the Kuala Lumpur International Airport.
The man exchanging tweets with a friend said he and another friend missed their flight – a fortuitous turn of events that saved their lives. Tweets from user @KaidenDL showed the series of events that led to their escape from the ill-fated plane.
Twitter user @KaidenDL initially expressed anger at missing their flight bound for China. A friend had gotten sick and he had to cover for her work. But after news broke of the missing plane, their mistake turned out to have been a life-changing one.
"I was very angry at Ria, because she'd gotten sick and I had to cover her. I was working on that, missed my flight to China. Grew angrier," he tweeted.
"By the Grace of God we missed our flight to China. I am okay, as is Rory, my companion," he added. "Now Rory and I shake. But for the Grace of God we'd be on that flight. Damn my ego."
By the Grace of God we missed our flight to China. I am okay, as is Rory, my companion. I'm sorry to worry people or @Cylithria

— Kaiden IV (@KaidenDL) March 8, 2014
I was very angry at Ria, because she'd gotten sick and I had to cover her. I was working on that, missed my flight to China. Grew angrier.

— Kaiden IV (@KaidenDL) March 8, 2014
Now Rory and I shake. But for the Grace of God we'd be on that flight. Damn my ego. Instead of updating her, the office, I stewed.

— Kaiden IV (@KaidenDL) March 8, 2014
The incident has triggered a Southeast Asia search for the plane, with Malaysia, Vietnam, China, and the Philippines sending vessels to their respective waters where the plane could have crashed. – Rappler.com