Latest satellite data indicate the Boeing carrying 227 passengers may have gone in either 2 "corridors": from the border of Kazakhstan and Turkmenistan to northern Thailand, or from Indonesia to southern Indian Ocean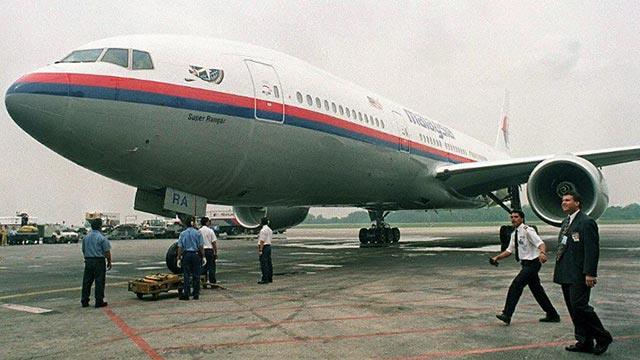 MANILA, Philippines (4th UPDATE) – A week after a Malaysia Airlines flight went missing, Malaysian Prime Minister Najib Razak revealed on Saturday, March 15, that the movement of the missing plane was "consistent with deliberate action by someone on the plane."
However, there was no confirmation yet of whether the plane was hijacked. He also announced that Malaysia is ending its search operations in the South China Sea and reassessing the redeployment of its assets.
"Despite media reports that the plane was hijacked, I wish to be very clear: We are still investigating all possibilities as to what caused Malaysia Airlines flight MH370 to deviate from its original flight path," said Najib in a press conference live streamed from Kuala Lumpur.
He said the last satellite contact from the plane was more than 6 hours after its contact with the primary radar was lost.
According 2 d new data,the last confirmed communication between the plane&the satellite ws at 8:11AM Msian time on Saturday 8th March.-Admin

— Mohd Najib Tun Razak (@NajibRazak) March 15, 2014
"The aircraft communication addressing and reporting system (ACARS) was disabled just before the aircraft reached the east of peninsular Malaysia. Shortly afterwards, near the border between Malaysia and Vietnam air traffic control, the aircraft transponder was turned off."
From that point onwards, said Najib, "the Royal Malaysian Air Force primary radar showed that an aircraft which was believed – but not confirmed – to be MH370 did indeed turn back."
It then flew in a westerly direction back over peninsular Malaysia before turning northwest, towards the Indian Ocean.
These movements are consistent with deliberate action by someone on the plane, Najib said.
Based on raw satellite data obtained from a service provider, "we can confirm that the aircraft shown in the primary radar data was flight MH370," he added. 
The prime minister said, however, that due to the type of satellite data, "We are unable to confirm the precise location of the plane when it last made contact with the satellite." The investigation team, he said, is making further calculations to indicate how far the aircraft may have flown after the last point of contact.
"However, based on [new satellite] data, Malaysian aviation authorities and their international counterparts have determined that the plane's last communication with the satellite was in one of two possible corridors: a northern corridor, stretching approximately from the border of Kazakhstan and Turkmenistan to northern Thailand, or a southern corridor, stretching approximately from Indonesia to southern Indian Ocean."
The investigation team is working further to refine these information, the prime minister added.
In view of this latest development the Malaysian authorities have refocused their investigation into the crew and passengers on board.-Admin

— Mohd Najib Tun Razak (@NajibRazak) March 15, 2014
Relevant foreign embassies have been invited to a briefing, said Najib, on the new information by Malaysia's foreign ministry and technical experts.
'Without precedent'
"It is widely understood that this has been a situation without precedent," Najib said.
He said that he was briefed on Saturday morning by the investigation team, which includes United States agencies the Federal Aviation Authority (FAA) and the National Transportation Safety Board (NTSB), the United Kingdom's Air Accidents Investigation Branch (AAIB), Malaysian authorities, and the acting Malaysian transport minister.
He acknowledged that there has been intense speculation as to the fate of MH370, but he said that they have the responsibility to the investigation and the families of the passengers and crew to only release information that has been corroborated.
No words can describe the pain they must be going through. Our thoughts and our prayers are with them. – Admin

— Mohd Najib Tun Razak (@NajibRazak) March 15, 2014
Malaysia Airlines flight MH370 disappeared early Saturday, March 8, about two hours after leaving Kuala Lumpur International Airport. It had been due to arrive in Beijing at 6:30 am local time (2230 GMT Friday).
The Boeing 777-200 was carrying 227 passengers – including two infants – from 14 different nationalities, and 12 crew members.
It was last tracked over waters between Malaysia and southern Vietnam before it disappeared from radar screens. The night was clear and no distress signal was received. (READ: 'Good night' – last known words of MH370 revealed)
The hunt had initially focused on the South China Sea but has shifted dramatically given the absence of any findings, and following the indications the plane altered course.
A senior Malaysian military official, speaking to Agence France-Presse (AFP) on condition of anonymity, cited Malaysian military radar data that investigators believe indicate the Boeing 777 may have radically changed course and headed northwest toward the Indian Ocean.
"It has to be a skilled, competent and a current pilot," the official said. (READ: Military data suggests 'skilled' flyer turned Malaysia jet)
The search area for the missing jet has been expanded into the Indian Ocean on Friday, March 14. 
As of March 15, 14 countries, 43 ships, and 58 aircrafts from neighboring countries have been involved in the search, Najib said.
Five possible scenarios have been weighed up by industry experts regarding the fate of the Boeing 777, which has one of the best safety records of any jet. 
Captain and first officer
Malaysia reporters told Agence France-Presse that police visted MH370's Captain Zaharie Ahmad Shah's house on March 15. The visit lasted for 2 hours. However, the police did not respond to Agence France-Presse.
Meanwhile, an Australian television station had broadcast an interview with a South African woman who alleged MH370's First Officer Fariq Abdul Hamid of inviting them into the cockpit of a flight Fariq co-piloted in 2011. This act was a breach of post-9/11 security rules.
Gerry Soejatman, a Jakarta-based aviation analyst, told Agence France-Presse that the new information on MH370's captain and first officer makes the terror conspiracy angle "extremely difficult to understand."
"If that was deliberate, we may be dealing with something beyond the mission planning for 9/11," Soejatman said. – with reports from Agence France-Presse/Rappler.com