The South Korean defense ministry denies the allegation their military scattered leaflets denouncing North Korea's regime and leader Kim Jong-Un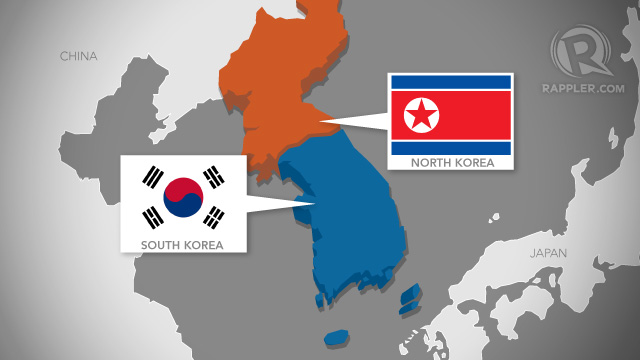 SEOUL, South Korea – North Korea said Saturday, March 29, its relations with South Korea had been driven into a "catastrophic" phase again, warning the South's scattering of anti-Pyongyang leaflets could spark a war.
The statement came hours after Pyongyang's foreign ministry said the North would bolster its "war deterrent", accusing the United States of deliberately escalating tension through ongoing joint military drills with the South.
Earlier, North Korea's military condemned the South Korean navy's seizure of a North Korean fishing boat near the disputed sea boundary as a "grave provocation" and threatened to retaliate.
South Korea handed back the boat which was captured with three sailors aboard near the disputed Yellow Sea border late Thursday, March 27.
"The North-South relations have been driven into a catastrophic phase again due to the South Korean authorities' frantic scattering of anti-DPRK (North Korea) leaflets", said a spokesman for the North's delegation to the high-level contact with the South.
"The leaflet scattering operation and smear campaign…going beyond the tolerance limit are undisguised acts of declaring a war", he said.
The North's Committee for Peaceful Reunification of Korea said Wednesday, March 26, the South's military scattered leaflets denouncing its regime and leader Kim Jong-Un by using gas-filled balloons floated from frontline islands near the disputed sea border in the Yellow Sea.
The South Korean defense ministry denied the allegation. An unidentified military official told Yonhap news agency the leaflets were launched by a local Christian group.
"Does she really want to see such leaflets becoming a source of war for reducing the base of provocations to ashes? She should bear in mind that now is the time to make a choice herself", the North's spokesman said, referring to South Korean President Park Geun-Hye.
Missile launches
Pyongyang was also angered by a speech Park made Monday, March 24, at a nuclear summit in The Hague in which she voiced concern that Pyongyang's nuclear material could end up in terrorist hands.
On Thursday, nearly 15,000 South Korean and US troops kicked off a 12-day amphibious landing drill, the largest for two decades, a day after North Korea launched two mid-range ballistic missiles. (READ: North Korea test-fires missiles as Obama hosts summit)
Code-named Ssang Yong ("Twin Dragons"), the exercise on the South's southeastern coast will last until April 7 and involve around 10,000 US troops.
North Korea views such exercises as provocative rehearsals for invasion and there is a risk they could further fuel already simmering military tensions. (READ: North Korea threatens to flex nuclear muscle)
Pyongyang has carried out a series of rocket and short-range missile launches in recent weeks, sparking condemnation from Seoul and Washington. (READ: North Korea fires short-range missiles, South says 'provocative')
On Wednesday, March 26, it upped the ante by test-firing two mid-range ballistic missiles capable of striking Japan.
United Nations resolutions prohibit North Korea from conducting ballistic missile tests. The UN Security Council on Thursday condemned the missile tests.
There are 28,500 US troops permanently stationed in South Korea and the two countries stage annual military drills that are routinely condemned by Pyongyang.
Earlier this month, the North's powerful National Defence Commission threatened to "demonstrate" its nuclear deterrent in the face of what it called US hostility.
Seoul's defense ministry warned Wednesday that North Korea could be building up towards a major provocation, but added there were "no signs" of Pyongyang preparing an imminent nuclear test.
Rare talks between the two Koreas last month ended in a rarer note of agreement, with the high-level contact resulting in the realization of a one-off reunion of families separated by the 1948 division of Korea. – Rappler.com