Agitated lawmakers representing both Russian and Ukrainian speakers unanimously agreed on Tuesday that it was time for the police to break up these "armed formations"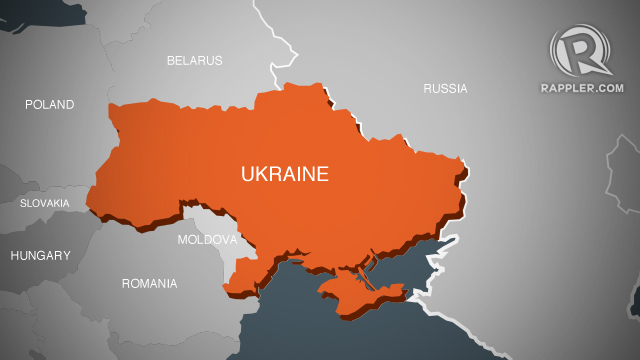 KIEV, Ukraine – Ukraine's parliament Tuesday, April 1, met a key demand of both Russia and the West by voting to disarm self-defense groups that sprang up during months of deadly protests against Kiev's pro-Kremlin regime.
The decision came in the wake of a nighttime police raid on the central Kiev hotel headquarters of a far right nationalist organization that was instrumental in the February rise to power of a new team of pro-European leaders who are seeking to end decades of Russian dominance over the ex-Soviet state.

Balaclava-clad members of Pravy Sector (Right Sector) still roam the barricade-clogged capital with clubs in hand – an ominous presence Russia has used in its campaign to delegitimize Ukraine's new authorities.
But the culturally splintered nation of 46 million has also seen armed Slavic-pride groups such as Oplot (Bastion) emerge in heavily Russified eastern regions that are looking at the Kremlin's annexation of Crimea with envy and hoping to break their own ties with Kiev. (READ: UN rejects Russian annexation of Crimea)
Agitated lawmakers representing both Russian and Ukrainian speakers unanimously agreed on Tuesday that it was time for the police to break up these "armed formations" and reestablish a semblance of stability after four months of unrest.
"The Ukrainian people are demanding order," acting president Oleksandr Turchynov said ahead of the 256-0 vote.
"Those who carry arms – besides the police, the security services and the national guard – are saboteurs who are working against the country."
A top member of Pravy Sector later told AFP that his group intended to keep the weapons its has legally register but could give up those it seized during protests from the fallen government's police force.
"The so-called illegal arms that we grabbed from law enforcement officers who were committing crimes against the Ukrainian people have all been stockpiled," Andriy Bondarenko said in an interview conducted outside his group's new office in Kiev.

"We have been negotiating with the interior ministry and the security service about either legalizing these 'trophy guns' or giving them up," he said.
"We do not intend to do anything else with them," said Bondarenko. "The only question is why these negotiations have dragged on for so long."
Disarming provocateurs

Russian President Vladimir Putin has used Pravy Sector's example to justify his decision to both order troops into Crimea and use any means necessary to "protect" compatriots throughout Ukraine against attacks by militants that he says have been given free reign by Turchynov and his ministers.
The Kremlin's subsequent buildup of troops along Ukraine's eastern frontier has sparked the worst East-West crisis since the Cold War era and forced Kiev's new leaders to fear the possibility of a further dismemberment of their state.
Both Washington and EU nations have been putting pressure on the interim cabinet to take measures against Pravy Sector and thus limit the arguments Putin had for intervening in Ukraine's internal affairs.
US Secretary of State John Kerry said Sunday, March 30, after his latest round of crisis talks with Russian Foreign Minister Sergei Lavrov that the "demobilization and disarmament of irregular forces and provocateurs" was a top priority for Ukraine. (READ: Kerry, Lavrov fail to break Ukraine deadlock)
Gunshots outside hotel
Pravy Sector was forced to move offices Tuesday after one of its members allegedly opened fire outside a central Kiev restaurant and then took refuge in the city's prominent Dnipro hotel.

A top Kiev city administrator and two other were wounded in the incident. A subsequent raid on the hotel unearthed a cache of arms and led to the prime suspect's arrest.
But law enforcement agents have been treading carefully in their dealings with Pravy Sector after the shooting death of one of its leaders during an altercation with the police.
About a thousand Pravy Sector members held an angry rally outside parliament Thursday, March 27, night demanding that lawmakers sack the head of the country's interior ministry. – Rappler.com