A few people decided to stay at home to protect their property against looters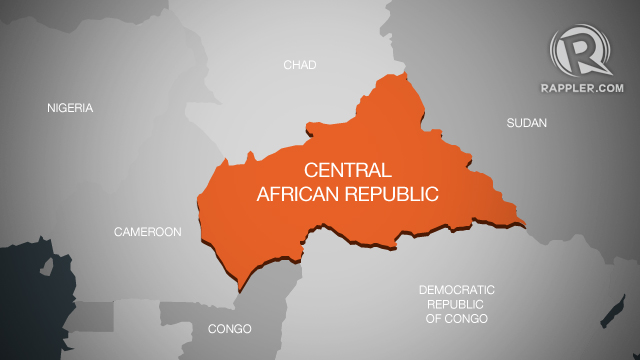 BANGUI, Central African Republic – Hundreds of residents of the Central African Republic capital Bangui were still fleeing on Tuesday after an attack in which Chadian soldiers fired into a crowd, killing at least 24.
Most of the mainly Christian people leaving northern Bangui headed for displaced persons' camps scattered throughout the city, where flags flew at half-mast as part of three days of national mourning for the latest casualties. (READ: 'Catastrophe of unspeakable proportions' in Central Africa) 
A few people decided to stay at home to protect their property against looters, who have taken advantage of the chaos caused by clashes that have claimed thousands of lives and taken on religious and ethnic dimensions.
On Saturday, soldiers from Chad, which sits on the northern border of the impoverished and landlocked CAR, opened fire on a crowd, killing at least 24 people and wounding about 100 more in unclear circumstances.
The troops had come to repatriate Chadians eager to go home. An officer in the African Union's peacekeeping force, MISCA, who asked not to be named, said that the Chadian soldiers were "targeted by a grenade that wounded one of them and they retaliated".
Numerous cartridges from heavy machine-gun bullets have been found in northern parts of Bangui since Saturday's bloodshed, while bodies have been recovered from inside houses as well as the streets.
Both local residents and representatives of the mainly Christian "anti-balaka" vigilantes, formed last year to combat a mostly Muslim rebel militia, charge that the Chadian troops deliberately opened fire on civilians and shot in all directions.
Transitional President Catherine Samba Panza on Tuesday announced in Paris an official investigation into Saturday's events "to enable us to identify exactly what happened (and find out) who was behind the troubles, and why."
'No impunity'
After meeting Abdou Diouf, secretary general of the Francophonie organization that brings together French-speaking countries, Samba Panza added that her "wish is to … listen to the anti-balaka to find out what we can do together for this country that has suffered so much."
She said she had asked the French-speaking group of nations to plead "with the international community, so that the Central African authorities have the means to bring peace to the country, to bring humanitarian aid to the people and above all to re-establish the authority of the state."
French foreign ministry spokesman Romain Nadal said Tuesday that "France deplores (the weekend bloodshed), responsibility for which lies in large part with the anti-balaka militia," according to the Paris government. He called for an inquiry and "no impunity for those who commit atrocities."
UN Secretary-General Ban Ki-moon on Monday strongly condemned the upsurge of violence in the CAR, without referring directly to Saturday's slaughter, and stressed "the importance of ensuring the protection of civilians at all times", according to his spokesman Stephane Dujarric. (READ: Food crisis looms in strife-torn Central Africa – UN)
The capital, which has already been abandoned by scores of thousands of its inhabitants, has seen an escalation of bloodshed, which claimed 40 lives in a week as anti-balaka forces and looters battled Muslims.
The chronically unstable former French colony sank into chaos after mainly Muslim Seleka rebels who helped oust president Francois Bozize a year ago refused to lay down their arms and went rogue.
Their campaign of killing, rapes and pillage prompted the formation of the vigilante forces in Christian majority communities. Fear of the rival sides has driven hundreds of thousands to flee abroad or internally.
France has deployed about 2,000 troops to back the 6,000 Africans of the MISCA contingent in efforts to keep the peace and undertake the uphill task of disarming fighters. The European Union is also endeavoring to raise an intervention force. – Rappler.com