Malawi's President Joyce Banda is calling for a manual audit of the vote following allegations of ballot tampering and the collapse of the computerized voter counting system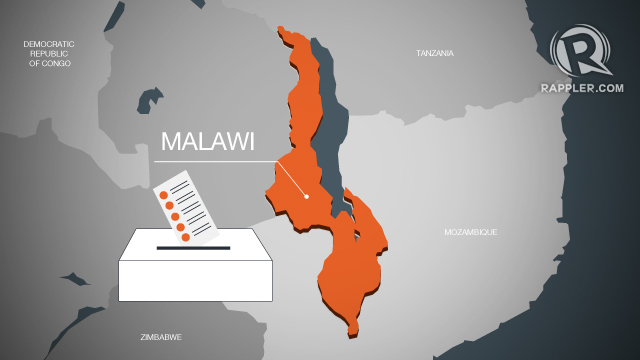 BLANTYRE, Malawi – Malawi's President Joyce Banda on Thursday, May 22, claimed "serious irregularities" in this week's highly-charged election, which her main rival – also her predecessor's brother – claimed to have won.
Banda said the vote has seen ballot tampering, presiding officers arrested, people voting multiple times and the collapse of the computerized voter counting system.
"It has come to my attention that there [are] some serious irregularities in the counting and announcement of results in some parts of the country," she said, calling for an "immediate manual audit of the whole process."
Malawi's political parties held a crisis meeting to discuss the situation on Thursday night, although the head of the country's electoral body said that while there had been "challenges of slow transmission of results," the vote "had not been compromised."
This is the first major electoral test for 64-year-old former vice-president Banda, who came to power when president Bingu wa Mutharika died in office two years ago.
After Mutharika's corruption-tainted rule, Banda was feted by the West as one of Africa's rare women leaders, even receiving a high profile visit from then US Secretary of State Hillary Clinton.
But her government has since been ensnared in a $30 million government corruption scandal dubbed "Cashgate" that has seen foreign donors freeze badly needed aid.
Amid unconfirmed reports that Banda is trailing in the polls to Peter Mutharika, the former president's brother, she warned the media against "creating a false impression of the possible winners."
Earlier on Thursday a junior minister in Banda's government Godfrey Kamanya committed suicide, apparently because of the election result.
"He shot himself this morning at around 3 am," at his house in Lilongwe, police spokesman Kelvin Maigwa told Agence France-Presse (AFP). "He lost elections as an MP."
Voting had been scheduled to take place on Tuesday, but was extended through to Thursday when delays of up to 10 hours prompted riots in the commercial capital Blantyre, where the army was deployed.
'Election is valid'
But Banda's request for an audit was rebuffed by the country's electoral commission chief, who told AFP that despite problems with the electronic counting system, the tally was continuing manually.
Maxon Mbendera insisted the election was "valid" and said Banda's claim was caused by "desperation."
"The case for recounting is not made out. Perhaps they should go to court," he said.
He told politicians at Thursday's emergency meeting that the results system "had not been compromised and the results transmitted are secure." He also said all parties would be able to "verify the data received."
Election observers from the European Union have described "considerable organizational shortcomings" in the vote and "isolated incidents of unrest."
They have so far not given a verdict on the fairness of the poll, but said the election commission had "acted impartially throughout."
The African Union concluded that voting was "conducted in a largely transparent manner."
Ahead of the vote, analysts had placed Banda as the favorite, despite a scandal over taxpayer funds being siphoned off into the hands of government officials.
Her main competitor, 74-year-old Peter Mutharika, was allowed to run in the election despite facing a trial for treason.
He is accused of trying to stage a constitutional coup by concealing his brother's death in office, and flying his body around Africa as he plotted ways of preventing Banda from being sworn in.
Mutharika told local radio station Capital FM his party had a lead over Banda and her People's Party (PP).
"PP should not feel scared when I become president. We'll not prosecute them; I don't have intentions of victimizing anybody."
He claimed the army and police had on Wednesday arrived at his house to conduct a search, but did not have a warrant.
"The sending of the army to my house is completely uncalled for because the army is there to protect the country and not to intimidate individuals," he told reporters on Thursday.
Mutharika claimed police have issued an arrest warrant for his running mate Saulos Chilima who is a former CEO with the telecommunications giant Airtel.
He denied suggestions his party could have been involved in any electoral skullduggery.
"I don't see how an opposition party can rig elections," he said. – Rappler.com