Thai General Prayut Chan-O-Cha receives an endorsement as the leader of the regime from Thai King Bhumibol Adulyadej
BANGKOK, Thailand (UPDATED) – Thailand's coup leader received royal endorsement to lead the politically divided kingdom on May 26, Monday, warning that he would brook no further opposition to his takeover in the face of angry street protests. (READ: The Thai coup and the risk of democracy fatigue)
In his first press conference as junta head, army chief Prayut Chan-O-Cha said elections would be held as "soon as possible" but that he had no timetable for returning the nation of 67 million people to civilian rule after seizing power last Thursday.
The top general said his military junta would move firmly to prevent any recurrence of the months of political protests and political violence that have plagued the kingdom. (READ: Defiant anti-coup protesters)
He urged demonstrators defying harsh restrictions on freedom of assembly "to stop their actions as it will harm them and their families because the law is now strict".
The tough-talking commander-in-chief has curbed civil liberties and restricted the media, imposed a nightly curfew and abrogated most of the constitution. He also has assumed all authority to make laws.
But the army's power grab has triggered a small but growing backlash with scores of people gathering at Victory Monument in Bangkok late Monday, in a tense standoff with soldiers and police that ended peacefully. (READ: Thailand's army seizes power in coup)
"Thailand has had too many coups already," said financial consultant Meem, 27.
"We are paying for the weapons of the soldiers that they want to use on us," he said.
Army loudspeakers hurled taunts at the protesters and foreign media during a rally that attracted several hundred onlookers, some who appeared to be out in support of the army.
Royal blessing
Hours earlier television footage showed Prayut standing to attention in the crisp white dress required for royal occasions, as the palace proclamation was read out.
He then knelt down before a full-size portrait of King Bhumibol Adulyadej during the ceremony at army headquarters in Bangkok.
The 86-year-old monarch, who was not present, lives at his seaside palace in the coastal town of Hua Hin and rarely speaks in public nowadays.
Bhumibol commands great respect among many Thais, and his blessing is traditionally a key step in legitimizing the country's recurring military takeovers.
Thailand has now seen 19 actual or attempted coups since 1932.
The current political turmoil centers on the divisive figure of Thaksin Shinawatra, who was deposed as prime minister by royalist generals in a 2006 coup and now lives in self-exile to avoid prison for a corruption conviction.
More than 1,000 people had marched through Bangkok on Sunday in an angry demonstration that sparked minor scuffles.
Prayut said demonstrators could be tried in tough military courts, and warned against social media postings that "create conflict".
The junta has detained former premier Yingluck Shinawatra — Thaksin's sister — along with about 200 ousted government leaders, political figures, critics and academics in a sweeping roundup since the coup, which has drawn sharp international criticism.
Some have since been released.
An army commander on Monday indicated Yingluck remained under military control, but declined to reveal her whereabouts.
"We are taking care of her. She is fine. She can choose to stay wherever she wants," Lieutenant General Thirachai Nakwanich, central region army commander, told Agence France-Presse.
Yingluck was ousted by a court ruling earlier this month, but her embattled government had remained in place under a caretaker premier until the coup.
Elections 'as soon as possible'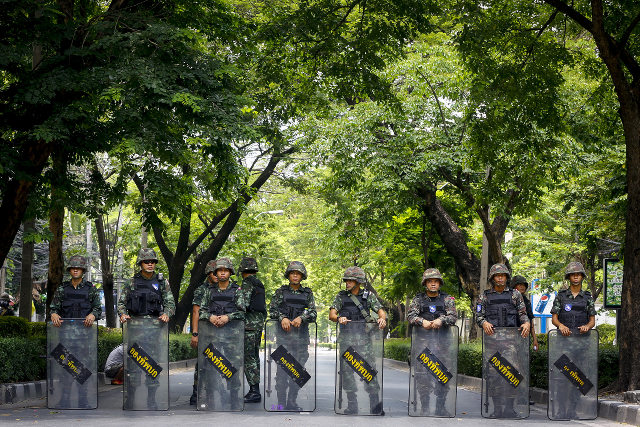 Asked when elections would be held, Prayut said: "It depends on the situation. As soon as possible."
Thaksin or his allies have won a string of election victories, with strong support from the working class and rural communities in the north and northeast.
But he is reviled by a military-backed royalist establishment, Bangkok middle class and southerners who see him as corrupt and a threat to the monarchy.
The current tumult began late last year when anti-Thaksin forces launched a protest campaign in Bangkok calling for the ouster of Yingluck's government and eradication of her brother's political dominance.
At least 28 people have died in related violence.
While most Thaksin supporters detained since the coup were believed to still be in custody, authorities on Monday released rival protest leader Suthep Thaugsuban, who faces charges of insurrection for the anti-Thaksin pressure campaign.
Suthep also faces a murder charge for a bloody military crackdown on pro-Thaksin opposition protests in 2010, when he was deputy premier in a previous government.
Political analysts believe a new constitution will be introduced by the junta, featuring measures intended to weaken Thaksin's power base.
Some experts believe a struggle is unfolding to decide who will be in power when the revered king's more than six-decade reign eventually ends.
The succession issue cannot be openly discussed in Thailand because of strict royal defamation laws. The junta said Sunday that any cases under those rules would now be tried in military courts. – Rappler.com