(UPDATED) 'External forces have no right to make irresponsible remarks'
BEIJING, China (UPDATED) – Beijing on Monday, November 24, dismissed as "irresponsible" US criticism of its construction of an artificial island reportedly large enough for an airstrip in a disputed section of the South China Sea.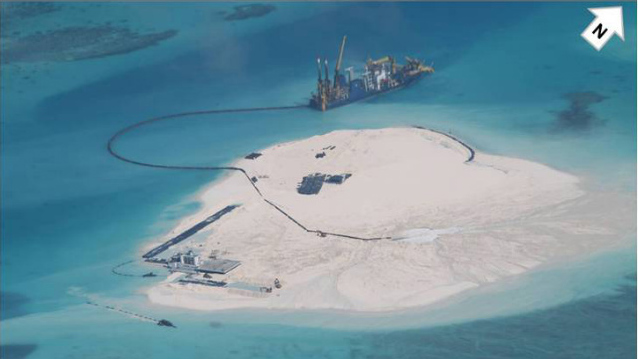 The statement by China's foreign ministry came after a US military spokesman urged Beijing to stop what it described as a vast land reclamation project on the Spratly Islands.
The island chain, which the Chinese call Nansha, is also claimed in whole or part by Brunei, Malaysia, the Philippines, Taiwan and Vietnam.
"External forces have no right to make irresponsible remarks," foreign ministry spokeswoman Hua Chunying said at a briefing when asked about Washington's comments.
"The construction activities China is undertaking are for the improvement of the working and living conditions of the island-stationed personnel, so that they can better fulfill their international obligations and responsibilities in search and rescue."
A report last week by IHS Jane's Defence revealed new details of a land reclamation project China is undertaking on Fiery Cross Reef, known as Yongshu in Chinese.
Beijing claims nearly all of the resource-rich South China Sea, while Brunei, Malaysia, the Philippines, Taiwan and Vietnam have their own claims, several of them also building structures on reefs or occupying islands.
According to the report, the artificial island is 3,000 meters (9,842 feet) long and 200-300 meters wide, one of several reclamation projects being pursued by China in the region but apparently the first that could accommodate an airstrip.
A harbor has been dug out on the east side of the reef that appears large enough for tankers and naval warships, it said.
Days after the report, US military spokesman Lieutenant Colonel Jeffrey Pool called on China and other governments to cease such construction.
Reiterating Washington's stance, a State Department spokesman on Monday said "large-scale construction… would seem to complicate or escalate the situation in our view."
"The Chinese government can speak for themselves, but we would urge China as well as all the claimants of the South China Sea to be transparent about their activities in disputed areas," Jeffrey Rathke told reporters.
Outspoken People's Liberation Army Major General Luo Yuan defended the project, which he called "completely legitimate and justifiable" in an interview with the state-run Global Times newspaper.
"The US is obviously biased considering that the Philippines, Malaysia, Vietnam have already set up military facilities," Luo was quoted as saying.
In a separate editorial, the newspaper contended that China was building on the reef "mainly to improve the living standards of the reef-stationed soldiers."
"China's construction on the Yongshu Reef will not be affected by US words," the paper wrote.
"The Yongshu Reef is becoming a big island, which shows China's prominent construction capabilities." – Rappler.com