'But I do have to say that it is incumbent upon us to respect the systems that other countries have,' Tony Abbott says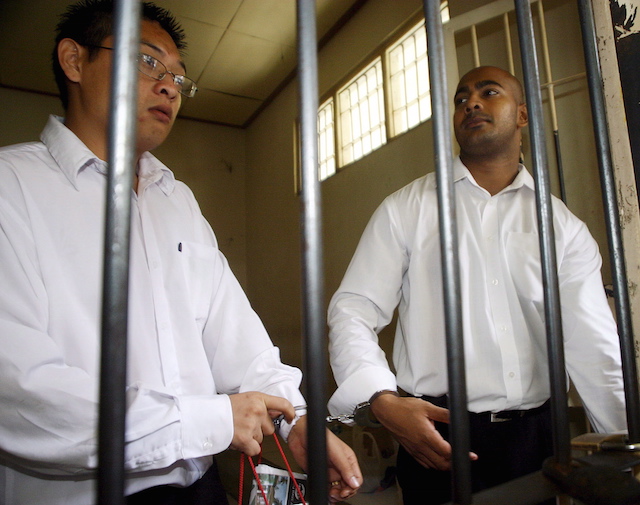 SYDNEY, Australia – Prime Minister Tony Abbott on Friday said Canberra was asking Jakarta not to execute a convicted Australian drug smuggler, but would not risk friendly relations with Indonesia over the affair.
"We are making urgent representations to the Indonesian government through the usual diplomatic channels," Abbott said.
"We oppose the death penalty for Australians, we oppose it at home – we oppose it abroad," he told Channel Nine.
Myuran Sukumaran, one of 9 Australians arrested in 2005 for attempting to smuggle 8.2 kilograms of heroin out of Bali, this week learned he had lost a bid for presidential clemency, his final chance to avoid execution. He will be executed by a firing squad.
Abbott made it clear Australia would respect the Indonesia justice system.
"But I do have to say that it is incumbent upon us to respect the systems that other countries have," Abbott told Channel Nine's Today show.
"While I would absolutely deplore the carrying out of the death sentence we are an important partner of Indonesia, friendship with Indonesia is important for Australia, and I want that to continue."
The other 7 members of the "Bali Nine" were given life sentences. One later had her sentenced reduced to 20 years. There was no information yet on the appeal of the other member given the death penalty, Andrew Chan.
'We've changed'
On Wednesday, Sukumaran told Australian media he was shocked to find out his final bid for clemency had been denied.
"We've changed," Sukumaran wrote, according to the Sydney Morning Herald. "We've done so much in the last six to seven years … We rehabilitated ourselves with the help of the guards here … we were doing good things…"
"What use will executing us be? … We don't deserve to be executed. Our families shouldn't have to suffer like this." 
Indonesia enforces tough punishments for narcotics offenses, with strong public support for executing drug traffickers. 
Despite criticisms from human rights activists, President Joko "Jokowi" Widodo has maintained he won't grant clemency to drug traffickerson death row, including foreigners.
Indonesia last carried out executions in 2013, including a Nigerian drug smuggler, Adami Wilson Bin Adam, aka Abu. – with a report from Agence France-Presse/Rappler.com