This is AI generated summarization, which may have errors. For context, always refer to the full article.
(2nd UPDATE) At least 7 French citizens and 5 Thais were among those killed when the plane hit "extreme" bad weather and crashed into the Mekong River as it prepared to land at the airport in Paske town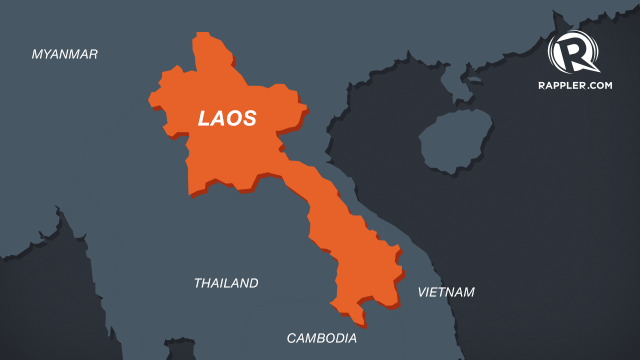 BANGKOK, Thailand (2nd UPDATE) – A Lao Airlines plane carrying 44 people, including French and Thai citizens, from the capital Vientiane to the southern town of Pakse crashed, killing all on board on Wednesday, October 16, officials said.
At least 7 French citizens and 5 Thais were among those killed when the plane carrying 39 passengers and 5 crew went down around 8 kilometers (5 miles) from the airport in Champasak province in southern Laos, officials said.
French Foreign Minister Laurent Fabius said he had learned of the deaths with "deep shock and great sadness" and that France was rushing embassy officials to the site of the crash.
Pakse is a hub for tourists travelling to more remote areas in southern Laos.
"I can now confirm, according to our reports, that all 44 people on board have died, including five Thai," Thai foreign ministry spokesman Sek Wannamethee told AFP.
Pictures on Thai television showed a small plane, half submerged in the river, with what appeared to be bodies lying on the banks.
An official at the South Korean embassy in Bangkok told Yonhap news agency that three South Koreans were also among the dead.
State-owned Lao Airlines confirmed the crash in a statement on its official Facebook page, in which it expressed "our condolences to family, friends, colleagues and relatives" of the passengers.
It said the aircraft hit "extreme" bad weather and had crashed into the Mekong River.
"There were no news of survivors at this time," it said, but did not confirm the number of deaths.
"Lao Airlines is taking all necessary steps to coordinate and dispatch all rescue units to the accident site in the hope of finding survivors and at the same time informing relative of the passengers," the English language statement said.
The QV301 flight set off from Vientiane on time at 2:45pm (3:45 pm Manila time) and was supposed to arrive in Paske just over an hour later, but crashed as it prepared to land.
A spokesman from aircraft manufacturer ATR in France confirmed the crash and told AFP that the state-owned Lao Airlines flight was one of its twin-engine turboprop ATR-72 planes. He said Lao Airlines has a fleet of 6 ATR-72 planes.
An official at the Vietnamese Embassy in Laos told AFP on condition of anonymity that all on board the plane had been killed.
Founded in 1976, the carrier operates a fleet of ATR-72 turboprop, Airbus A320 and Chinese-made MA60 planes, serving domestic airports and destinations in China, Thailand, Cambodia and Vietnam, according to its website.
It has a chequered safety record.
The country has had 29 fatal air accidents since the 1950s, according to the Aviation Safety Network, whose data showed that the country's safety record has improved dramatically in the last decade.
The last fatal air accident was in October 2000 when eight people died when a plane operated by the airline — then called Lao Aviation — crashed in remote mountains in the northeast of the country.
Communist Laos, landlocked between Thailand, Vietnam, Cambodia, Myanmar and China, is a closed country with a secretive one-party government.
The nation of about seven million people is one of Asia's poorest countries and is highly dependent on foreign donors.
The economy is relatively insulated from global trade and financial networks, though Laos has become a popular tourism destination and mining has played an increasingly important role in growth. – Rappler.com