This is AI generated summarization, which may have errors. For context, always refer to the full article.
Rebel group BIFF spokesman Abu Misry, however, denied using child soldiers and charged the military with planting or staging the evidence against them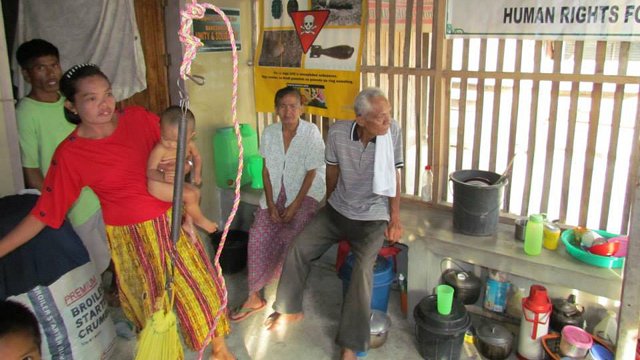 SHARIFF SAYDONA MUSTAPHA, Philippines – Photographs of child soldiers were among the items left behind as the military overran a camp of hardline Muslim rebels in Mindanao, a military commander said on Saturday, February 1.
Colonel Edgardo Gonzales said that he found the photos when he inspected the 7.5-hectare (18-acre) camp of the Bangsamoro Islamic Freedom Fighters (BIFF) rebel group in the remote town of Shariff Saydona Mustapha in Southern Philippines on Saturday.
"There were pictures of children carrying rifles. Some looked like they were 12 years old," Gonzales told Agence France-Presse (AFP) as he searched through the abandoned camp about 800 kilometers (500 miles) south of Manila.
"They were showing off their capability. There were 4 kids posing with guns. I believe it was not just for show. I believe those rifles were issued to them," he said.
The military launched an offensive against the BIFF on Monday, January 28, just two days after the government successfully concluded peace talks with the main Muslim rebel group, the Moro Islamic Liberation Front (MILF).
The week's fighting left one soldier and at least 53 BIFF members dead, including 3 child soldiers recruited by the rebels, the military said.
Gonzales said the military would eventually release the pictures, which have not been seen by AFP.
The colonel said he had not personally seen child soldiers but his men had reported encountering them in battles with the BIFF.
"My men have said they have seen kids. Some of them have no guns. They just follow a comrade from the BIFF and when the comrade is shot, they pick up his gun and start fighting," he said.
The BIFF is a small group of militants opposed to the peace effort with the MILF, which has carried out many deadly attacks in recent years in a bid to derail the peace process.
On Saturday, the rebels set off two improvised explosive devices near the camp that wounded 6 soldiers and 6 civilians, including two crewmen of a major TV broadcaster.
President Benigno Aquino's spokeswoman Abigail Valte said "the news that they used 3 child soldiers is shocking, beyond the fact that it violates so many laws, not just ours but international laws."
She condemned the use of minors in combat and said government child support services would address the problem.
She also called on parents not to allow their children to be recruited.
A spokesman for the BIFF, Abu Misry, told AFP his group did not use child soldiers, however, and charged that the military was planting or staging the evidence against them.
"Those kids who died were not used as soldiers. They were civilians, killed by (military) airstrikes or by their 105 mm howitzers," he said angrily.
National military spokesman Lieutenant Colonel Ramon Zagala denied the claim, saying the 3 slain youths, aged 15-17, were uniformed BIFF fighters.
He also said there were previous videos and photographs of the BIFF conducting military-style training of children.
Zagala stressed that it was difficult to recognize child soldiers during combat.
"It is very hard to distinguish especially in the heat of battle when they are carrying firearms and shooting at you," he said.
The military has already reported the incident to the government's Commission on Human Rights and is awaiting further action, he added.
The website of the UN special representative on children and armed conflict said that it "continued to receive credible reports that the (BIFF) armed group was actively training and providing weapons to children." – Rappler.com