This is AI generated summarization, which may have errors. For context, always refer to the full article.
Jokowi emphasized his new maritime direction for the archipelagic nation, calling himself the captain of the ship
JAKARTA, Indonesia (UPDATED) – Joko "Jokowi" Widodo took his oath on Monday, October 20, as Indonesia's 7th president and emphasized his new maritime direction for the archipelagic nation. 
At a ceremony in parliament, Jokowi, wearing a black suit and traditional cap, stood for the national anthem alongside outgoing president Susilo Bambang Yudhoyono, before taking the oath.

"In the name of God, I swear that I will fulfill my obligation as the president of Indonesia as best as I can and as fairly as possible," he said.
#PresidenJokowi memberikan pidato pertamanya sebagai Presiden RI pic.twitter.com/ifXnxpvWao

— Rappler Indonesia (@RapplerID) October 20, 2014
Jokowi, a 53-year-old former furniture exporter and small town mayor, is from outside an aging band of political and military figures who have ruled the world's third-biggest democracy since the end of the three-decade Suharto dictatorship in 1998. He rose to national fame when he became governor of the capital Jakarta in 2012.
His vice president, Jusuf Kalla, is a second-term vice president. Kalla was elected vice president in 2004 alongside former President Susilo Bambang Yudhoyono.
---
Follow the inauguration on Monday through Rappler's Live Blog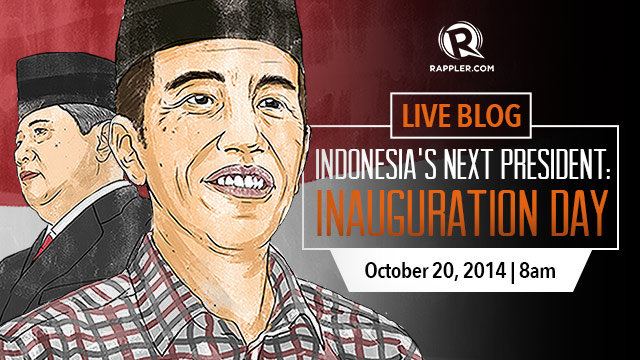 ---
During his first speech as president, he called for unity following the most bitterly fought election in Indonesian history.
"I am certain that we can share this heavy task together with unity and through gotong royong (working together) and hard work. Gotong royong is a prerequisite to becoming a big nation," Jokowi said. "We will never become a big nation if we're divided, we will never be truly free without hard work." (READ: Full text of Jokowi's speech)
Jokowi also emphasized the maritime direction his administration will focus on. "We have to work hard to restore Indonesia as a maritime country. The oceans, the seas, the bays, and the straits are the future of our civilization," he said.
"We have far too long turned our back on the seas, the oceans, the straits, and the bays. It's time to restore everything so that 'jalesveva jayamahe' (in the sea we will triumph), a slogan used by our forefathers, will echo again."
The new leader also referred to defeated presidential candidate Prabowo Subianto as "my best friend" during the speech, and the ex-general responded by standing up and giving a salute.
Prabowo salutes the new President. pic.twitter.com/ckQaQBI6pv

— NewMandala Indonesia (@IndoNewMandala) October 20, 2014
Lawmakers and visiting dignitaries packed out the parliament for the ceremony, and there was applause when Prabowo walked in after speculation he would not attend, the latest sign of a thaw after weeks of political tensions. Jokowi and Prabowo held a reconciliation meeting on Friday, October 17.
Outside, crowds gathered across Jakarta to celebrate the inauguration of Jokowi, who won legions of fans with his man of the people image during his time as Jakarta governor.
"I am proud of him. I don't mind spending money to travel here to watch this first-hand," said Sunti, who and had traveled a long distance from her hometown for the inauguration.
The inauguration was attended by several heads of state and high-ranking representatives from other countries, including Australian Prime Minister Tony Abbott, Malaysian Prime Minister Najib Tun Razak, Singaporean Prime Minister Lee Hsien Loong, and US Secretary of State John Kerry.
It will be followed by a parade from the iconic Hotel Indonesia traffic circle to the State Palace, where an official welcoming ceremony will be open to the public.
In the nearby National Monument (Monas), thousands of supporters will gather for a party and concert that will last to 10pm in the evening. It will feature dozens of bands, including rock band Slank and international act Arkarna. – with a report from ATA and Agence France-Presse/Rappler.com