Ka Dodoy's dedication to his family and community has earned him the 2021 Ramon Magsaysay Award, considered the most prestigious award in Asia
For decades, the vast sea has been witness to Roberto Ballon's transformation from a young fisherman to a leader who's helped buoy the fishing industry in his town.
Ballon, or Ka Dodoy to many, is among the recipient of the 2021 Ramon Magsaysay Award, which is considered the most prestigious award in Asia. It is given to exemplary individuals who have made a big difference in people's lives.
The fisherman from Mindanao, who has relied on the sea all his life, combined his passion for fishing and dedication to help others as he started a "green movement" in Zamboanga Sibugay. In 1994, he led the planting of mangroves in Kabasalan to save the aquaculture in their humble town.
Safety net
With at least three generations of fishers in his family, Ballon's life has been tied to the sea since he was 13 years old.
One of the worst storms he's had to face is the shrinking of catch in Kabasalan that started in the 1990s, no thanks to illegal fishing practices such as dynamite fishing.
"Noon, nakikita talaga namin, 'pag nagpunta kami sa dagat, 'yung mga pinangingisdaan namin, nawala na, ginawa nang fish pond. Kung mapalaot naman kami, wala kaming mahuhuling isda kasi nando'n 'yung mga dynamite fishing, nando'n 'yung malalaking barko," Ballon said.
(Back then, whenever we went out to sea, we'd see our fishing areas vanishing and becoming fish ponds. Whenever we went farther out, we couldn't catch any fish because of dynamite fishing or because the big ships were there.)
At the height of the crisis, Ballon looked to his family and realized that he had to do something.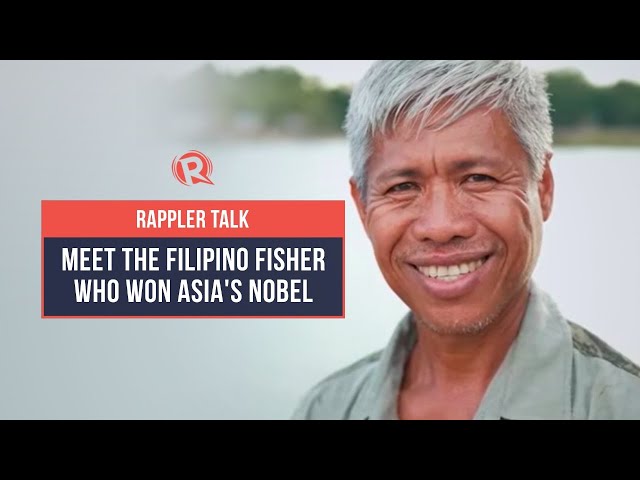 "May mga anak ako. May pamilya rin ako na umaasa rin [sa dagat] araw-araw," Ballon said in a Rappler Talk interview. (I have children. I have a family who also rely on the sea every day.)
Members of the Kapunungan sa Gagmay ng Mangingisda sa Concepcion, of which Ballon is the leader, also looked to him for help.
"Can't we do something? Who would help us?" Ballon said, recalling the questions he got from his fellow fisherfolk back then.
"So parang, bilang chairman nila, parang inaatang nila sa akin na may gagawin talaga ako. At 'yon naman ang values ko na dahil sa simbahan, kailangan 'yong buhay ni Kristo, siyempre aral ng simbahan, kailangan dadalhin mo ang tupa mo sa magandang damuhan," said Ballon, who is a Christian.
(They relied on me as their chairman to do something. And those are my values: as the life of Jesus Christ and the teachings of the church taught me, you need to bring your sheep to greener pasture.) 
One day, while roaming around their ponds, Ballon noticed that crabs and other water resources were living in some of the mangroves in their area. This gave him the idea of encouraging his fellow fisherfolk to plant more mangroves.
The International Union for Conservation of Nature (IUCN) described mangroves as "structurally diverse ecosystems, sustaining high biodiversity as well as rich seafood supplies." The tangled above-ground roots of mangroves create a habitat for marine life.
According to the IUCN, marine species are attracted to mangrove habitats because of the high food availability, cooler water, and higher oxygen content in the area. The United Nations Environment Programme, meanwhile, said that mangroves provide valuable nursery habitat for fish and crustaceans.
Ballon and his colleagues started planting mangroves every day from 1994 to 1997. In just three years, they were able to plant 50 hectares of mangrove in their town – an initiative that saved their livelihood and became their safety net.
Over time and with perseverance, the amount of their fish catch drastically improved. Before, a single fisherman would catch only 1.5 kilograms of sea resources in eight hours of fishing. Now, he can catch as much as seven kilograms of fish in just three to five hours of fishing.
What was just a simple idea ended up saving the community's drowning livelihood.
Biggest catch
Ballon considers fishing as the main source of his happiness. The fisherman said he's ecstatic whenever his colleagues would have a bountiful catch.
Seeing his fellow fisherfolk succeed in life is Ballon's greatest accomplishment, his biggest catch.
"Parang 'pag wala na ako ngayon sa ganitong programa, hindi na ako masaya. Araw-araw, masaya ako na nakikipag-usap, na nakikitang may nakukuhang maganda at masasarap na isda, nagha-harvest ng talaba 'yung miyembro ko. Ang saya-saya ko roon," Ballon said.
(I don't think I'd be happy if I stopped participating in programs like this. It makes me happy to talk to these people every day and see my members catch good fish and harvest oysters. I'm ecstatic because of that.)
For Ballon, better catch means better chances of surviving the unpredictable waves of life.
'Pag may nakikita akong may hawak na pera o produkto 'yung mga miyembro ko, tuwang-tuwa ako dahil ito 'yung panlaban namin sa kahirapan. Dito, wala nang maaapi, sigurado ako.
Roberto Ballon
(It makes me really happy whenever I see that my members have money or [fish] products because those are our weapons to fight poverty. Here, no one can be oppressed anymore, I'm sure of that.) – Rappler.com