'If we have three eat or three meals in a day, we would be content,' Ballon says
MANILA, Philippines – Filipino fisher and 2021 Ramon Magsaysay awardee Roberto "Ka Dodoy" Ballon on Tuesday, November 30, shared his simple mission in life: to have at least three meals a day.
"I only have one desire for the community that makes me do what I have been doing: to offer myself to help provide [a] better environment, sustainable livelihood, and an empowered community. To realize our vision and mission in life, that is to have three-eight: agahan, hapunan, tanghalian (breakfast, dinner, and lunch). In English, three eat," Ballon said.
"If we have three eat or three meals in a day, we would be content," the Filipino fisher added.
On Tuesday, Ballon, along with four other laureates, received their award from the Ramon Magsaysay Award Foundation. The award is considered Asia's Nobel and the most prestigious prize in the continent.
Ballon, meanwhile, added that more than consuming three meals a day, only sustainable coexistence in their coastal area could satisfy his "real hunger."
"But more than this, I see a hunger that not even three full meals could satisfy. Day after day, I see the need to strive for progress to live a harmonious life, propelled by sustainable and equitable coexistence in the coastal vicinities of Zamboanga Sibugay," Ballon explained during the awarding ceremony.
In August this year, Ballon was named as one of the 2021 Ramon Magsaysay awardees. Other laureates include Muhammad Amjad Saqib (Pakistan), Firdausi Qadri (Bangladesh), Steven Muncy (Southeast Asia), and Watchdoc Indonesia (Indonesia).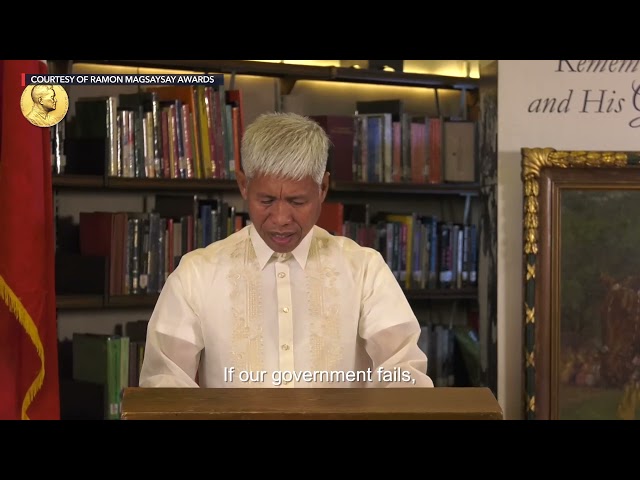 The Ramon Magsaysay Award Foundation recognized Ballon for his "inspiring determination in leading his fellow fisherfolk to revive a dying fishing industry by creating a sustainable marine environment for this generation and generations to come, and his shining example of how everyday acts of heroism can truly be extraordinary and transformative."
Ballon leads in the conservation of natural resources in their area situated in the Sibuguey Bay. He also helps communities improve their income through livelihood programs.
As their fish catch dwindled in the 1990s, Ballon led his fellow fisherfolk in planting mangroves that served as shelter for aquatic animals. Their project improved the fish harvest from an average of 1.5 kg per fishing trip of eight hours, to as much as seven kilograms in just three to five hours. – Rappler.com