Ini adalah kemenangan pertama bagi Dovizioso dan Ducati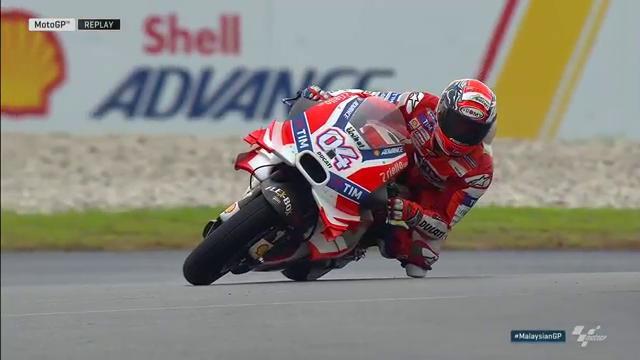 JAKARTA, Indonesia — Andrea Dovizioso menjadi pembalap MotoGP kesembilan yang memenangi Grand Prix musim ini. Pembalap tim Ducati itu menjadi yang tercepat dalam balapan di Sirkuit Sepang, GP Malaysia, pada Minggu, 30 Oktober.
Ini adalah kemenangan pertamanya sejak 2009.
Balapan sempat ditunda sekitar satu jam akibat badai yang mengakibatkan trek basah dan licin. Namun Dovizioso yang memulai balapan dari pole position berhasil mempertahankan posisinya hingga lap ke-19.
#MotoGP

Incredible! #DoviOnCloud9 @AndreaDovizioso STORMS to his first victory for @DucatiMotor!#MalaysianGP https://t.co/rYywYOccJf

— MotoGP™ (@MotoGP) October 30, 2016
Meski demikian langkahnya dari lap pertama hingga akhir tak selalu mulus, karena pembalap Yamaha, Valentino Rossi, berulang kali menyalipnya. Bahkan ketegangan berlanjut hingga beberapa lap terakhir.
Pemenang balapan sebelumnya di Philip Island, GP Australia, Cal Crutchlow, gagal mengejar Dovizioso dalam balapan kali ini. Begitu pula dengan juara musim 2016, Marc Marquez. Otomatis, balapan GP Malaysia hanya dikuasai oleh Dovizioso dan Rossi —yang finish di posisi kedua.
Namun, Rossi melakukan blunder tikungan pertama di lap ke-15, membuat Dovizioso leluasa memimpin jalannya balapan dan membuat jarak yang sulit dikejar oleh The Doctor.
#MotoGP

#AD04
#VR46
#JL99#MalaysianGP pic.twitter.com/XjzB6z1cEZ

— MotoGP™ (@MotoGP) October 30, 2016
Hasil ini memastikan Rossi menjadi runner-up musim 2016, di belakang Marquez.
Sedangkan rekan setim Rossi di Yamaha, Jorge Lorenzo, finish di posisi tiga GP Malaysia. Marquez sendiri finish di posisi sebelas.
Seri balap MotoGP terakhir akan digelar di Valencia, Spanyol, pada 13 November mendatang.
—Rappler.com