Melalui slogan komunikasi, Safety, Style and Beauty, komunitas Queenrides menggandeng Road Safety Association dalam menyelenggarakan 'Safety Riding Course' bagi para perempuan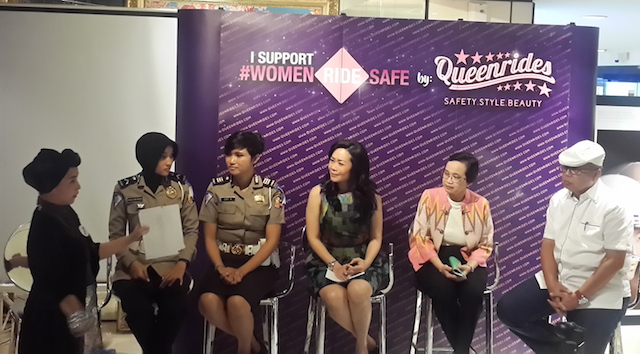 JAKARTA, Indonesia – Seratusan perempuan memenuhi salah satu kafe di sebuah mal di bilangan Jakarta Selatan, Minggu sore (20/11). 
Mereka tergabung dalam komunitas Queenrides, sebuah perusahaan sosial rintisan berbasis teknologi yang menjadi platform khusus perempuan di Indonesia.  
Bertepatan dengan Hari Mengingat Korban Kecelakaan Lalulintas Sedunia, Queenrides meluncurkan kampanye #WomenRideSafe.  "Misi kami adalah mencegah  tingginya angka kecelakaan pada pengendara perempuan," kata Iim Fahima Jachja, pendiri dan CEO Queenrides.
Melalui slogan komunikasi, Safety, Style and Beauty, Iim dan komunitas Queenrides menggandeng Road Safety Association dalam menyelenggarakan Safety Riding Course dan Lenny Agustin, salah satu  desainer perempuan dalam merancang Safety Riding Outfits. 
"Platform offline kami telah mengedukasi berbagai komunitas perempuan dan telah menjangkau lebih dari 1.000 perempuan," kata Iim. 
Queenrides membangun komunitasnya, dengan melakukan kegiatan bertajuk Ngopi Cantik Queenrides.  Komunikasi melalui media sosial mendatangkan sekitar 230 ribu anggota.
Survei yang dilakukan Honda Motorcycle pada tahun 2014 menunjukkan bahwa 42 persen pembeli motor Honda adalah perempuan.  Data dari Direktorat Lalu Lintas Polda Metro Jaya menunjukkan bahwa jumlah kecelakaan di jalan raya yang melibatkan perempuan naik sebesar 49,5 persen (4.445 kejadian) pada tahun 2015, dengan perbandingan peningkatan kecelakaan yang terjadi pada perempuan dan laki-laki sebesar 5:2. 
Indonesia saat ini tergolong sebagai negara dengan tingkat kecelakaan tertinggi di dunia, dengan tiga orang meninggal setiap satu jamnya, karena kecelakaan di jalan raya.
Peluncuran kampanye #WomenRideSafe dimeriahkan oleh peragaan busana jaket yang nyaman dana man bagi perempuan pengendara sepeda motor, kelas kecantikan, klinik aman berkendaraan, dan bincang-bincang. 
"Mempunyai Surat Izin Mengemudi saja tidak cukup.  Kita harus memastikan apakah kita benar-benar sudah siap untuk berkendara," kata Noni Purnomo, CEO Blue Bird Group yang menjadi salah satu pembicara dalam bincang-bincang itu.
Direktur Jenderal Perhubungan Darat, Pudji Hartanto, mengapresiasi upaya yang dilakukan Queenrides. 
"Pemerintah tidak mungkin melakukan edukasi pengendara kendaraan bermotor sendirian.  Mendidik perempuan untuk berkendara secara aman artinya mendidik seluruh keluarga," kata Pudji Hartanto yang juga hadir dalam acara. 
Pihak kepolisian juga mengirimkan perwakilannya dalam acara ini, seraya mengingatkan cara aman berkendara, termasuk tidak memangku anak kecil, sampai jangan bertelepon sambil menyetir.
Iim Fahima mengatakan, pihaknya akan meluaskan upaya edukasi berkendaraan yang aman ke seluruh Indonesia. 
"Saat ini kami masih fokus untuk edukasi di perkotaan, terutama bagi perempuan harus berkendara untuk menuju tempat bekerja mencari nafkah untuk keluarga," ujar Iim. 
Untuk mencari tahu tentang cara berkendara yang aman, kamu bisa mengunjungi situs resmi Queenrides. – Rappler.com.