Pola hit and run yang dilakukan pelaku membuat polisi kesulitan mengidentifikasi pelaku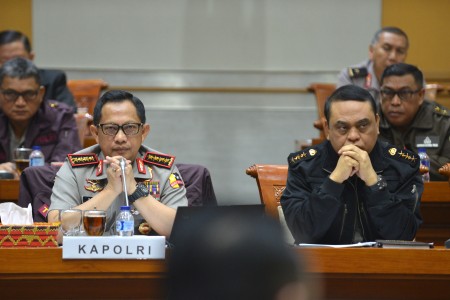 JAKARTA, Indonesia — Kapolri Jenderal Muhammad Tito Karnavian mengatakan hingga saat ini KPK belum mengirimkan tim penyidik untuk menangani kasus penyiraman air keras terhadap penyidik KPK Novel Baswedan. 
"Kami sudah menawarkan kepada tim dari KPK untuk bersama-sama melakukan verifikasi hasil-hasil penyidikan polisi. Tapi sampai hari ini, belum dikirim tim itu," kata Tito saat dengar pendapat (RDP) yang dilakukan antara Polri dengan Komisi III DPR di Gedung DPR, Kamis 12 Oktober 2017.
Tim investigasi gabungan sebelumnya telah dibentuk untuk mengusut kasus penyiraman air keras yang menimpa Novel Baswedan. Tim rencananya terdiri dari penyidik Kepolisian dan KPK.
Tim ini nantinya akan memverifikasi kumpulan saksi, melakukan olah TKP, serta mempelajari barang bukti yang ada pada polisi. 
Polisi sendiri, kata Tito, sudah melakukan upaya konfrontasi dengan saksi tertuduh. Ia menyampaikan bahwa saksi tersebut sempat disidik atas kesaksian Novel. "Lebih dari 50 saksi diperiksa ada lima diamankan tapi kelimanya tak terkait," kata Tito.  
Disinggung mengenai lambannya penanganan kasus Novel,Tito mengatakan cepat lambatnya tergantung informasi yang didapatkan oleh kepolisian. Maka dari itu, Kapolri Tito menilai bahwa pengusutan kasus ini memiliki level yang sulit, ketimbang mengungkap kasus terorisme pengeboman di Bali. 
Pengeboman di Bali yang melibatkan sebuah komplotan atau kelompok orang membuat penyelidikan menjadi lebih mudah. 
Kesulitan dalam pengungkapan kasus ini, Tito melanjutkan, dikarenakan pola hit and run yang dilakukan oleh para pelaku. Pola ini dimaksudkan sebagai sebuah serangan yang dilakukan pelaku dan langsung melarikan diri pada saat yang bersamaan. 
Kapolri juga mencontohkan kasus-kasus hit and run yang membuat pengungkapan pelaku membutuhkan waktu yang lama. Contoh seperti kasus pengeboman molotov kepada Kedutaan Besar Myanmar di Jakarta dan rumah ibadah di Yogyakarta yang hingga saat ini belum terungkap, layaknya kasus Novel Baswedan.
Hingga hari ini, sudah 6 bulan kasus penyiraman air keras terhadap Novel Baswedan belum juga terungkap. Novel disiram air keras oleh orang tak dikenal di dekat masjid dekat rumahnya.
Sekarang, ia masih menjalani perawatan yang intensif di rumah sakit Singapura karena kerusakan pada indera penglihatannya. —Rappler.com