Tiga bulan setelah kematian Chester, Linkin Park membagikan episode 'Carpool Karaoke' yang direkam enam hari sebelum kematian sang vokalis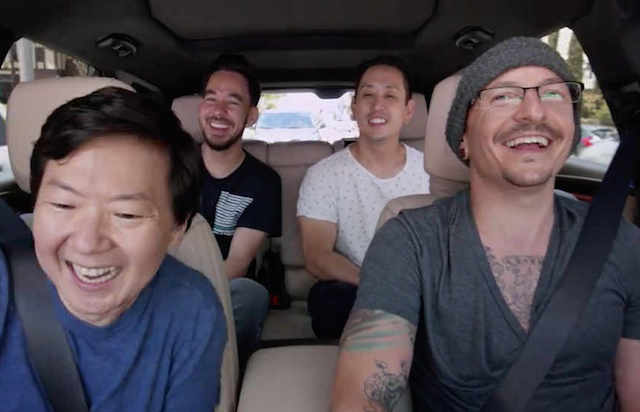 JAKARTA, Indonesia —Hanya berselang beberapa hari sebelum kematiannya, vokalis Linkin Park, Chester Bennington sempat menjalani syuting program Carpool Karaoke. yang tayang di Apple Music.
Kamis, 12 Oktober, akun resmi Linkin Park di Facebook membagikan video tayangan Carpool Karaoke tersebut pada penggemar.
"Dengan restu dari keluarga Chester dan personel band, kami membagikan episode ini yang kami dedikasikan untuk kenangan Chester," tulis sebuah pesan di awal tayangan.
(BACA JUGA: 5 hal tentang vokalis Linkin Park Chester Bennington)
Episode ini sungguh menghibur sekaligus mengharukan penonton. Ada bagian yang menguras emosi saat Chester berujar, "Ini mungkin adalah hari terbaik dalam hidupku," saat berkendara bersama rekannya sesama personel Linkin Park, Mike Shinoda dan Joe Han serta komedian Ken Jeong.
Bersama, mereka menyanyikan beberapa lagu Linkin Park seperti Numb dan In The End serta beberapa lagu milik musisi lain seperti Hey Ya! milik Outkast dan Under the Bridge milik Red Hot Chilli Peppers. 
Tayangan ini direkam tanggal 14 Juli 2017, hanya berselang 6 hari sebelum kematian Chester pada 20 July 2017 yang ditemukan meninggal dunia di rumahnya di Palos Verdes, Los Angeles. Chester mengakhiri hidupnya dengan menggantung diri di usia 41 tahun.
Saksikan tayangan selengkapnya lewat video di atas. —Rappler.com