Di tengah perjuangannya meraih gelar juara, bahu dan lutut Kevin sempat berdarah akibat terjatuh di lapangan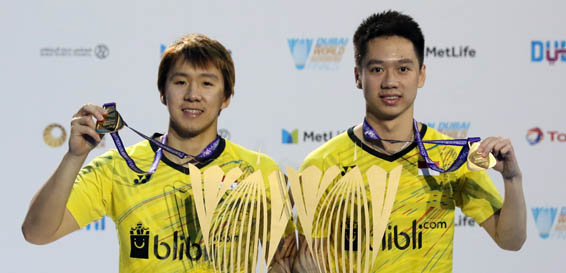 JAKARTA, Indonesia – Perjuangan pasangan ganda putra Indonesia Kevin Sanjaya Sukamuljo/Marcus Fernaldi Gideon untuk meraih gelar terakhir di kejuaraan Super Series tahun 2017 tidak sia-sia. Duet yang dijuluki The Minions itu sukses memboyong gelar ketujuh di penghujung tahun di ajang BWF Dubai World Super Series.
Ini merupakan pencapaian yang luar biasa, apa lagi Kevin/Marcus berhasil menembus babak final sebanyak sembilan kali.
Sebelum meraih juara di BWF Dubai World Super Series Finals 2017, mereka juga sudah menyabet gelar juara di All England Open Super Series Premier 2017, India Open Super Series 2017, Malaysia Open Super Series Premier 2017, Japan Open Super Series 2017, China Open Super Series Premier dan Hong Kong Open Super Series 2017. Di babak final Dubai World Super Series, Kevin/Marcus berhasil menaklukan pasangan ganda asal Tiongkok Liu Cheng/Zhang Nan dalam dua set langsung dengan skor 21-16 dan 21-15.
Lalu, apa komentar keduanya usai menyabet gelar super series ketujuh?
"Kemenangan kali ini benar-benar terasa spesial, sangat luar biasa buat kami bisa dapat hattrick kedua kalinya tahun ini. Kami bisa dapat gelar ketujuh selama satu tahun. Saya tidak pernah menduga bisa dapat tujuh gelar super series dalam satu tahun. Ini baru pertama kali. Kami benar-benar tidak menyangka, jadi ini benar-benar mukjizat," ujar Kevin seperti dikutip dari situs PBSI pada Minggu, 17 Desember.
Seperti yang disampaikan pemain peringkat satu dunia itu, di tahun 2017, Kevin/Marcus berturut-turut sudah menjadi kampiun di China Open dan Hong Kong Open.
Kemenangan ini sekaligus membalas kekalahan yang menyakitkan yang dialami oleh The Minions atas Liu/Zheng di final Denmark Open Super Series Premier 2017. Saat itu, Kevin/Marcus tidak dapat tampil maksimal karena Marcus mengalami cedera bahu.
"Kuncinya, kami sudah belajar dari pertemuan terakhir. Walaupun saat itu kami kalah karena bahu saya sakit, tetapi yang namanya kalah ya kalah. Jadi, sekarang bagaimana caranya kami harus menang dari mereka," tutur dia.
Perjalanan The Minions untuk dapat ke podium juara di turnamen Dubai World Super Series tidak mudah. Mereka sempat dikalahkan Takeshi Kamura/Keigo Sonoda (Jepang) di penyisihan grup A. Kondisi Marcus pun sempat tak 100 persen fit karena otot lehernya bermasalah sejak latihan di hari pertama di Dubai.
Saat laga final semalam pun Kevin sesungguhnya tengah menahan sakit akibat terjatuh di pojok lapangan di awal game pertama. Akibatnya, bahu dan lututnya berdarah, sehingga harus dibalut plester usai penyerahan medali. Namun, semangat juang kedua pemain ini begitu luar biasa sehingga Liu/Zheng tidak dapat berbuat banyak di lapangan.
Marcus pun menyebut dukungan dari supporter dan publik Indonesia di Hamdan Sport Center turut menjadi suntikan semangat.
"Terima kasih kepada semua masyarakat Indonesia yang suka badminton. Jangan bosan-bosan ya dukung kami," kata Marcus.
Selamat untuk Kevin/Marcus!
– Rappler.com