Disagree of you will, but know that they will fight for him. Because fighting for him is fighting for their future.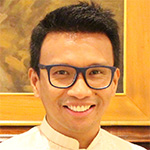 Harry Roque, Imee Marcos, and Philip Salvador were among the front acts before his arrival. They did not sing but they had the same message: Mahal na mahal kayo ni Tatay Digong.
As if the reminder was necessary.
Of the 2,500 in attendance, a big proportion were domestic workers. This was to be expected. Majority of Filipinos in Hong Kong, after all, are in household service. And everyone knew that to get out of work on a Thursday was not an easy feat. But they did.
All for tatay.
As if it was also necessary, OFWs were reminded that they were modern-day heroes. Labor Secretary Bello asked if they knew why they were heroes. With much enthusiasm, he claimed that "if it were not for OFWs, the Philippine economy would have collapsed long ago." The country is thus thankful for all their sacrifices.
All this was music to Filipino ears. 
Barangay fiesta
But it was not just one political speech after another.
The audience was treated too to a series of special numbers – a showcase of the best of Filipino talent in Hong Kong. The repertoire was all too familiar: Delilah, New York, and, of course, My Way.
At one point Imee Marcos, Harry Roque, and Mon Tulfo even got carried away to dance with the crowd.
Nothing was surprising. It was your typical barangay fiesta – loud and fun. Only that all these took place in Kai Tak, a terminal for cruise ships.
With effortless creativity on the part of Filipinos, the waiting hall became a fiesta hall. Think of barangay gymnasiums converted for a similar purpose.
And the people were fired up in time for his arrival.
It was the perfect atmosphere to welcome not just a rockstar. Tatay Digong is your loving father who will do whatever it takes to keep you safe.
He deserved nothing less.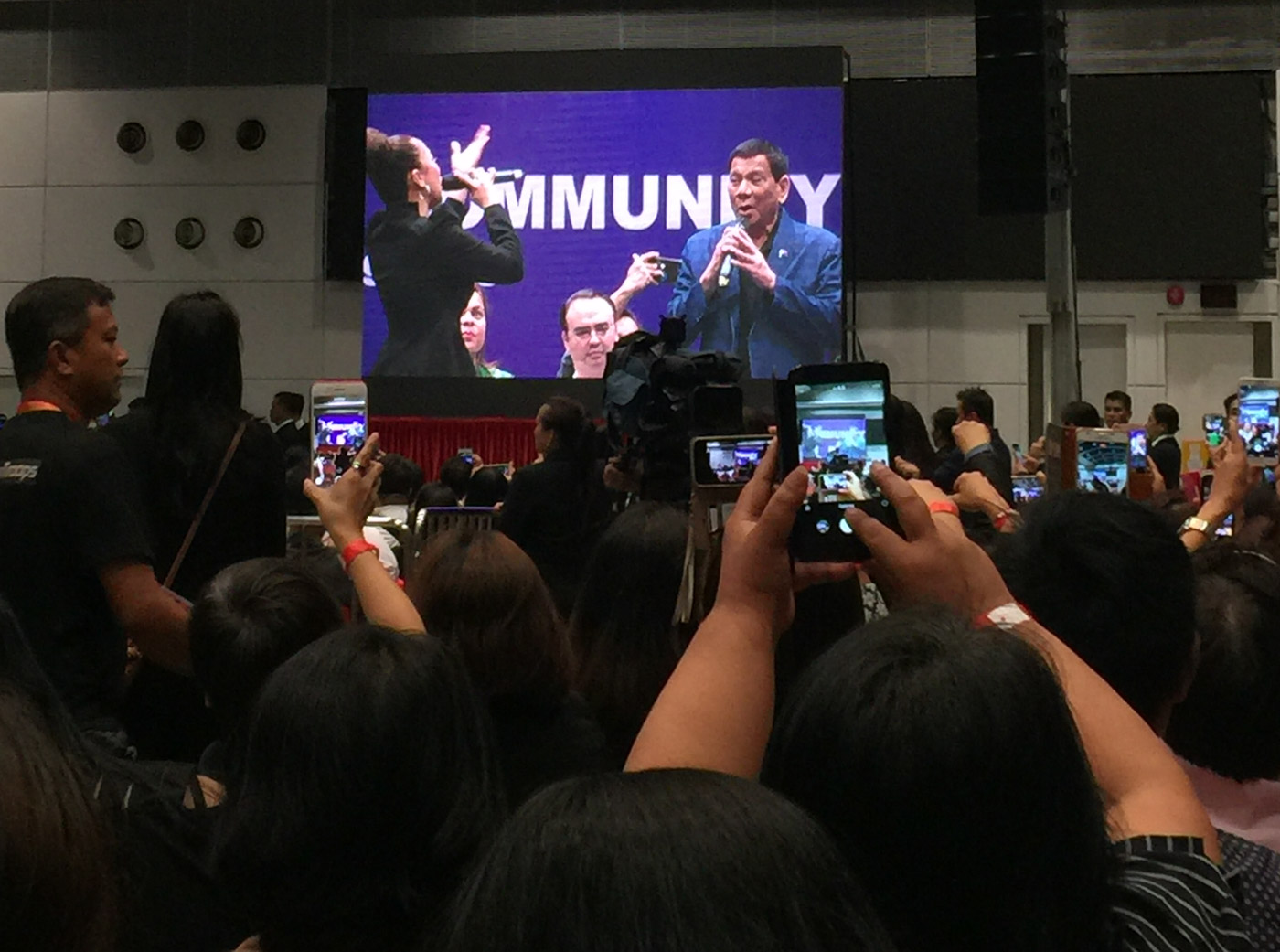 His speech
Tatay Digong did not fail them.
As expected someone sang You Raise Me Up. But it was Ikaw that caught his attention. As if on cue, Duterte readily took the microphone to sing along. By the time the song ended, the large screens were filled with the faces of teary-eyed Filipinos in the audience.
The emotional atmosphere was perfect for Tatay Digong to begin his speech. He was ready for it.
Immediately he talked about his negotiations with Kuwait. He divulged that soon he would sign an agreement with its government to make sure that OFWs there would receive a day off every week and retain their passports.
The crowd cheered. OFWs in Hong Kong know the importance of these basic, hard-earned privileges.
Duterte also reminded the audience that his presidency was all about eradicating corruption. "If you go home now, wala nang magbukas ng bag sa airport. Wala na ring tanim-bala." (Gone are the days of opening bags in the airport and of planting bullets in your luggage.)
The crowd cheered again.
These accomplishments might seem trivial to outsiders. But to OFWs these were necessary for their safety and security. To them the airport for a long time had been mired not just with inefficiency but corruption that took advantage of their vulnerabilities.
Finally, Duterte brought up his crusade against illegal drugs. He repeated his well-rehearsed lines: "Do not destroy my country. Do not destroy our young people. I will kill you."
Make no mistake about it. That was not revolting for the audience.
On my way out I spoke with Yollie, a domestic helper from Sta Cruz, Manila. She was very pleased to report that her neighborhood is now a safe place. "Okay lang ang mga napapatay, drug addict naman sila eh." (The deaths are okay, they're addicts anyway.)
Yollie smiled a lot, you'd would think she is the nicest aunt ever.
Returning the favor  
Filipinos in the audience knew how to return the favor. 
When one domestic helper received a stern message from her employer to go home immediately, she insisted she would stay. She then told me she was willing to pick a fight if need be.
A gentleman behind me wondered out loud if some Filipino reporters were present. (Yes, he singled out Rappler.) In the same breath he said he was prepared to hit them with his water bottle. The lady next to him assured him that there were far more people in the audience ready to defend the president. 
This is Barangay Hong Kong. 
For its people Duterte's charm and his promises are one and the same. It pays to be reminded that he got 65% of voters here. To them he is what the Philippines needs to keep it strong and safe from its enemies. To them he is a great president and a dependable tatay. 
Disagree if you will, but know that they will fight for him.
Because fighting for him is fighting for their future. – Rappler.com
Jayeel Cornelio is a sociologist at the Divinity School of Chung Chi College, The Chinese University of Hong Kong. Follow him on Twitter @jayeel_cornelio.