This is AI generated summarization, which may have errors. For context, always refer to the full article.
Edward Snowden cannot go to Germany, said his lawyer, because he can lose temporary asylum if he crossed Russian borders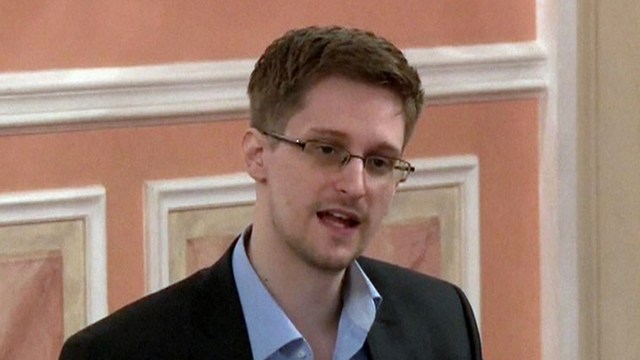 MOSCOW, Russia – US intelligence leaker Edward Snowden is ready to talk with German prosecutors in Russia, his lawyer said on Friday, November 1, after the fugitive met a German lawmaker over his evidence that Washington spied on Chancellor Angela Merkel.
The former National Security Agency (NSA) contractor, who was also due Friday to begin work at an undisclosed Russian Internet firm, was granted asylum in Russia in August to the fury of the United States, where he faces trial.
"Snowden will not go to Germany. This is not possible because he has no right to cross Russian borders," lawyer Anatoly Kucherena told the popular Echo Moscow radio.
"If he does that, he can lose temporary asylum."
But the Kremlin-friendly lawyer added: "Within the framework of international agreements Snowden can give testimony in Russia but this should be decided by the German authorities."
On Thursday, Snowden met with Green party lawmaker Hans-Christian Stroebele for three hours over reports that the US spied on the German government.
Kucherena said Snowden's meeting with Stroebele was "not bad," adding that the German lawmaker had asked the American whether he could be a "witness in the case".
A picture of Snowden and a beaming Stroebele meeting at an undisclosed location in Moscow was posted on the website of the German lawmaker on Friday.
The fugitive handed the German lawmaker a letter addressed to the German government, the Bundestag lower house of parliament and the Federal Public Prosecutor, Stroebele's office said. 
'Heartened by the global response'
Reports based on leaks from Snowden that the NSA listened in on the communications of dozens of foreign leaders, including Merkel, have provoked outrage in Germany and across Europe.
In the letter, a copy of which was posted on Stroebele's website, Snowden said he was prepared to provide details of US spying to Germany and his was "heartened" by the global response to his leaks despite the unrelenting US pressure.
"I hope that when the difficulties of this humanitarian situation have been resolved, I will be able to cooperate in the responsible finding of fact regarding reports in the media, particularly in regard to the truth and authenticity of documents," he wrote.
"I look forward to speaking with you in your country when the situation is resolved."
German interior minister Hans-Peter Friedrich said in Berlin on Friday that the government would like to speak to the American.
Kremlin spokesman Dmitry Peskov declined to discuss Snowden's contacts with Germans.
German public television ARD said Thursday Snowden had met Stroebele in a secret location with two journalists.
"He proved that he knows many things. He is willing in principle to help shed light" on the spying, Stroebele told the station, adding Snowden declared his willingness to testify in Germany or in Russia.
Some German lawmakers had called on Snowden to travel to Berlin to give evidence on US spying that extended to eavesdropping on Merkel's mobile phone.
'Snowden under Russian control'
Snowden spent more than a month in a Moscow airport before receiving a year-long temporary asylum in August after exposing massive surveillance by the NSA.
President Vladimir Putin has said Snowden was welcome to stay in Russia as long as he did not harm US interests.
Russian security expert Pavel Felgenhauer suggested Russian security services were likely to control Snowden's access to foreign officials.
"I believe Snowden is fully under control of Russian security services," he told AFP. "Security services and the Kremlin will decide what he can and cannot say publicly."
Also Friday, Snowden was expected to begin work at an undisclosed Russian Internet company. (READ: Snowden hired to work on Russian website: lawyer)
He had received a job offer from the country's top social network VKontakte (In Touch) after receiving asylum in Russia.
The media-shy founder of the Russian equivalent of Facebook, Pavel Durov, publicly offered Snowden a post in August.
Kucherena has said earlier this week Snowden would begin work for a major Russian website on Friday without providing further details.
"We do not comment on this information," VKontakte spokesman Georgy Lobushkin told AFP on Friday.
Two other major Russian Internet companies, Mail.ru Group and Yandex, have earlier said they did not hire Snowden.
Kucherena has said that while his client was comfortable in Russia and learning the language he needed to get a job because he was running out of money. – Rappler.com