This is AI generated summarization, which may have errors. For context, always refer to the full article.
"The possibility of sanctions is nothing but an attempt at bullying," said Russian Foreign Minister Sergei Lavrov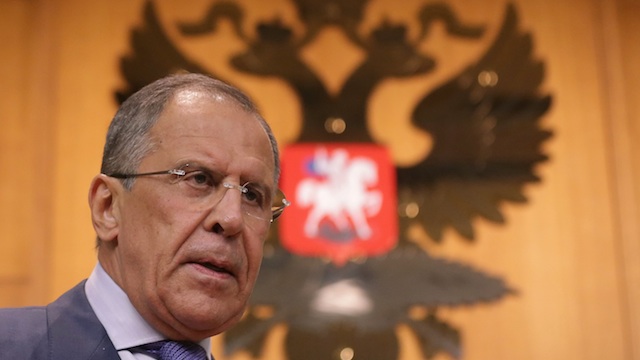 BAGHDAD, Iraq – Russian Foreign Minister Sergei Lavrov on Thursday, February 20, condemned threatened sanctions against Ukrainian officials as an "attempt at bullying," as an overnight truce in Kiev descended into renewed bloodshed.
"The possibility of sanctions is nothing but an attempt at bullying," Lavrov said during a news conference in Baghdad, in remarks translated from Russian into Arabic.
The US State Department has announced it is imposing visa bans on about 20 senior Ukrainian officials "complicit in or responsible for ordering or otherwise directing human rights abuses."
Western pressure was set to mount still further on Thursday when the European Union considers its own measures during a meeting in Brussels.
France said ahead of the meeting that sanctions would be prepared specifically against those responsible for the violence.
The Thursday clashes in Kiev shattered a truce that Ukrainian President Viktor Yanukovych had called the day before in response to violence that killed more than two dozen people in less than 48 hours.
The latest deaths bring to at least 54 the number of people killed in Ukraine since the start of the week, according to health ministry and AFP counts.
Ukraine's crisis was initially ignited by Yanukovych's shock decision in November to ditch an historic European Union trade and political association agreement in favour of closer ties with Kiev's historic masters in the Kremlin.
But it has since evolved into a much broader anti-government movement that has swept through both the pro-Western west of the country as well as parts of its more Russified east and exposed the deep historical fault lines between the two. – Rappler.com